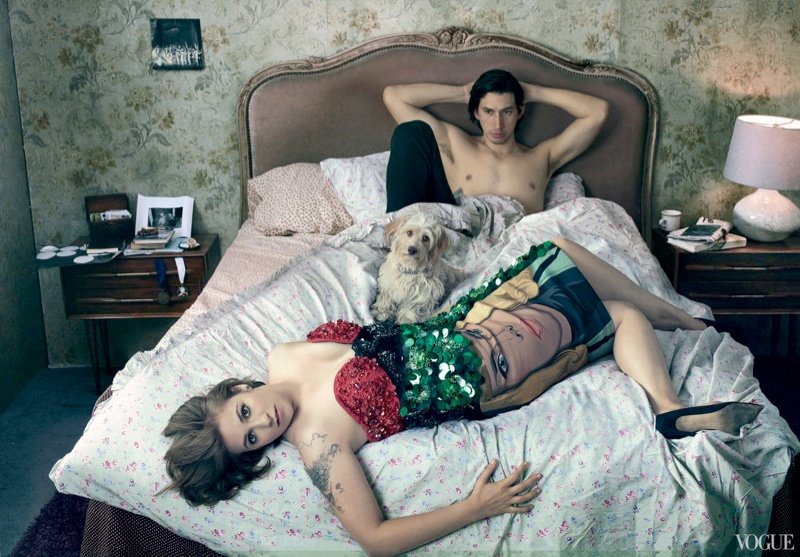 (picture credit: Apart from the 3rd in row from top to end – Vogue US via Fashiongonerogue)
(picture credit for commented 3rd pic: Jezebel)
SO WHAT headline again for the second time in just three days. But it just fits this case very well.
As a still critical but favouring GIRLS series "spy" (I woudn't call myself a loyal fan yet though I might call GIRLS a Weekly Favourite at some point), I couldn't ignore what happened over here in the big, liberal and mean Internet world: Jezebel rolled on the neverending photoshop-discussion with the release of Lena Dunham's Vogue shoot.
For all of those who lived under a rock and couldn't care less during the past days: Lena Dunham of her self written series GIRLS (the opposite of Sex and the City's perfectly looking, always well dressed, well payed Carrie Bradshaw) has scored a Vogue cover. Photographed by Annie Leibovitz, Dunham, who's not ashamed of showing her rather untrained body and "real" appearance, was also featured in a pretty typical US Vogue editorial.
Shortly after this release, Jezebel offered incredible 10k to anyone who came out with the REAL pictures of this shoot as it was quite obvious that these perfectly looking Vogue ones were not representing reality.
Generally, I noticed that photoshop seems to be the new size zero debate, the substitute in times where fashion bloggers are not interesting enough to be mocked about and hated on (wait for it – Fashion Week hasn't started yet), the filler of "The word 'plus size' is discriminating and so mean" discussions. It's the perfect (feminist?) drama creation per se.
And although I don't like photoshop too much as well (blame it on my poor grade I received last year when it was part of one of my courses and the fact that I still don't want to afford this programme to retouch my dark circles for the outfit posts), I really can't hear and read these whiny complaints any longer.
This photoshop debate has reached a wimpy peak. Sad, concerning and with a pinch of fun at the same time.
First of all: Who the fuck would pay 10k for "just" unretouched pictures by someone who quite obviously has agreed to be featured in a professional, glossy magazine editorial? Don't tell me "Jezebel" now, that's obvious.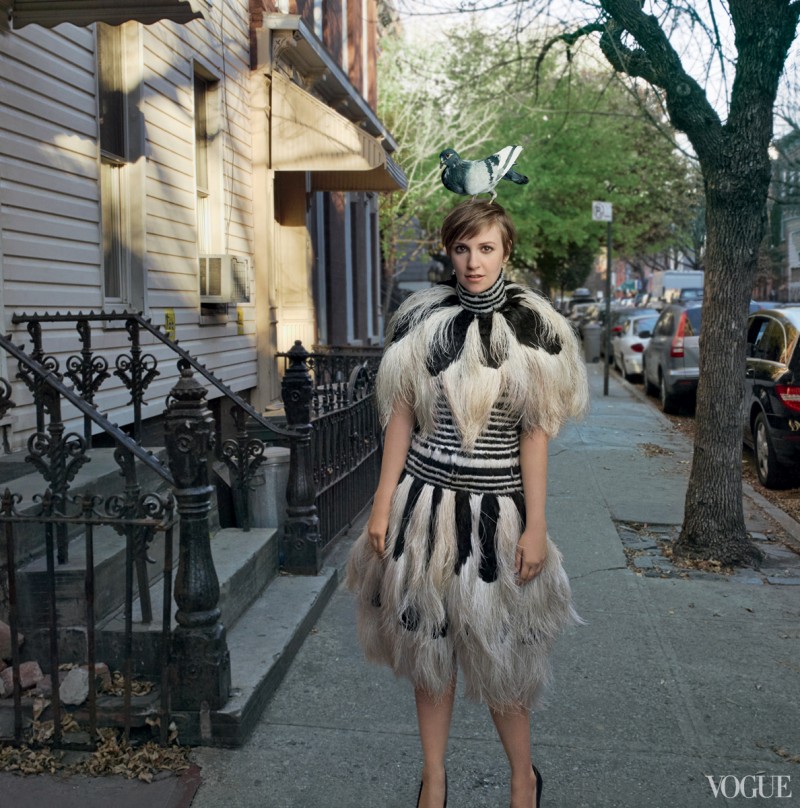 The news flash might be extremely shocking for those who feel better off by seeing their Dunham doll in her rather unconventional looks but it was her and none else (at least that's what I believe – she's quite a strong character) who agreed to do this shoot, therefore agreed to Vogue's style of creating editorials and covers.
This debate is the outburst of common boredom of the Internet's multitudinously weird users.
It really makes everyone who blah-s about this photoshop incident look like a pitiable idiot – someone who's obviously feeling offended by the industry's abilities to create absolutely wonderful images.
Because that's what it is to me. I'm not saying that I adore these photoshopped incidents when they erased a model's arm (by accident and stupidity!?) or that I find it really great to see perfect skin, skinny waists and all these personal-insecurity-pushing alterations in pictures all the time.
But it fits very well to what I said previously in this post about Monica Belluci's beautiful pictures: I honestly enjoy editorials and generally pictures, which are sometimes unreal and leave space to reflect on them.
If I want to see reality, I look into the mirror at 4am after a heavy night out. Or just take the tube and look in front of me, to my left, to my right just to decide in which order I'd categorize the worst dressed, ugliest people. Or I log into my Facebook account and see what former friends are posting and finding attractive enough to use as a profile pic.
Get what I want to say? It's ridiculous to debate on this Dunham feature (though I probably did so as well now #shame #contradictionseverywhere). She's clearly ok with it and she agreed to be put into an "all perfect everything" scene for once!
Vogue stands for glossy things, a sometimes utopian fashion world and above all a different engagement to society's influences and current state.  Whether you like it or not is so freaking unnecessary. And 10k for un-retouched pictures just to make you and everyone else who falls under this category feel better is a ridiculous new way of (mostly?) women trying to work against women.
Maybe it's just me who sometimes really prefers to look at perfectly looking people and pictures even if I know that they're not real. Therefore I plead:
Leave Dunham & Vogue alone! LEAVE THEM ALONE!
(I maybe join his club beneath and ask him to do a video for Lena Dunham & Vogue. He's quite convincing, isn't he?!)