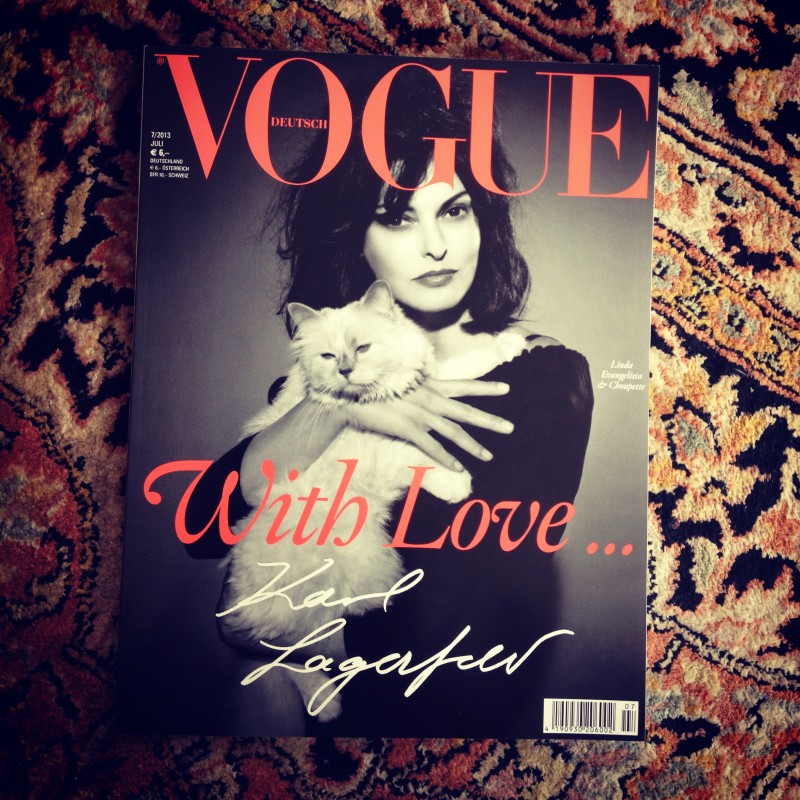 "If you're on Vogue, you've made it", they say.  So there's no wonder that King Karl's dearest feline has finally and fully established itself as the ultimate superstar on the modeling horizon.
Striking a pose together with Linda (who wears a rather unbrushed, ok let's give it a fashionable term and say "undone", hairy look on top), the Lagerfeld feline has never shown a more relaxed attitude as a cover model for the Conde Nast bible .
I'm not quite sure whether I feel ridiculous and sorry (mostly for myself but also for you) when analyzing the facial expressions of a purring white fluffball but I had a little laugh when looking at her and interpreting that slightly arrogant French "Je ne m'enquiète pas" while wondering about Linda's hair-do.
It generally seems like there's a little cat thing going on right now.
Not only that Choupette seems a final pro with previous appearances in Grazia and Harper's Bazaar (funny thing how quickly a pet, or respectfully in this case: Fury muse of the designer, can become a successful contributor to the industry while loads of human beings are a little more treated like animals), her big competitor Grumpycat has also made it (only virtually though!) on a photoshopped Prada ad (click here). 
Or think about Charlotte Olympia's greatly loved cat-loafers, Topshop's paper cat bags, Agent Provocateur's awkward "come her pussy pussy pussy" film featuring a cat searching and lingerie wearing Poppy Delevigne … it's all about the meowing attitude-queens.
I wonder where that cat mania will lead us to (maybe to more cuddly moments?!)  but I also honestly enjoy this pretty cover (shot by Karl Lagerfeld himself of course). I'm happy how German Vogue remains one of the few Vogues not featuring the 2398th celebrity (or the Upton-boobie-monster, which is kind of an animal, too) but instead chose a real 90s goddess alongside a more contemporary furier one.
Have a nice Thursday … and remember that cat fights are not a valid component in this feline movement.
(But in case you are: You better be queen Choupette; you better get your paws clean and don't bare your pretty teeth for a mangy street puss any further..;))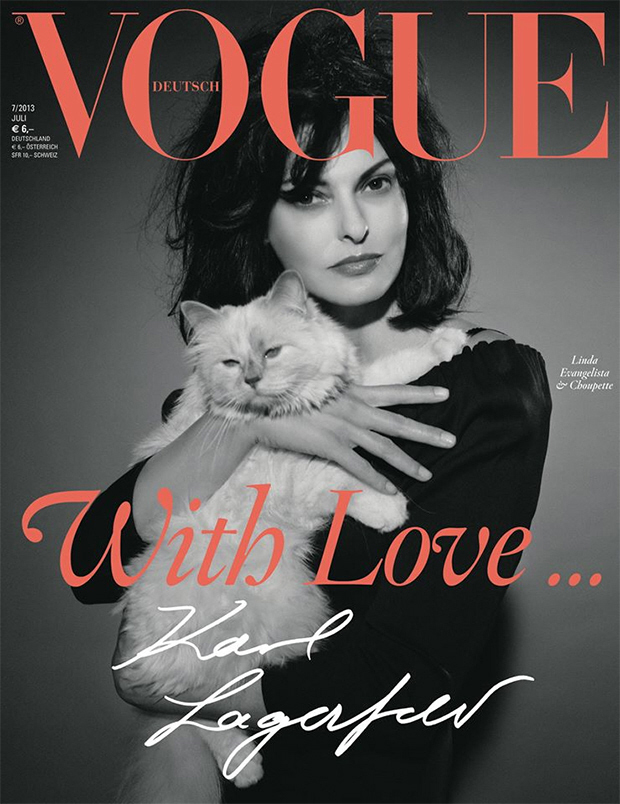 Picture credit: Courtesy of German Vogue