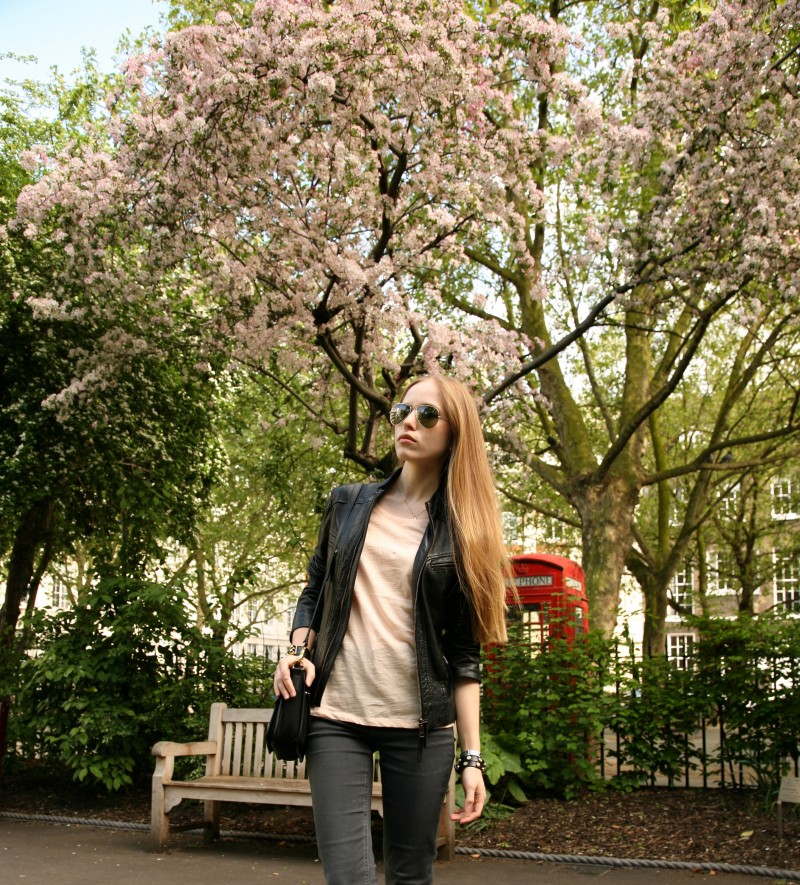 I'm halfway through hell aka. final deadline time and it seems like this has completely taken over my life for the past week (it should have maybe done earlier!).
That also explains why nothing really happened over here and while the blog lacks of its normal procedure in posts  (and especially pictures), I'm also having a good little point in my semi-miserable student life right now.
The camera is back, which makes me not only incredibly happy and looking forward to upcoming, better times (1 week left & I'll be done with this semester!) but also allowed me to immediately use it again yesterday.
It seemed like London Instagramers flooded the feeds with #cherryblossom the past few weeks and I couldn't resist but to follow the cherry-blossom-picture obsession for a moment, too. Having said this, I'm off to announce the new post on Instagram now … using #cherryblossom of course! ;)
Have a nice Sunday & see you soon again with a little more regular updates.
Leather jacket: Hallhuber,T-shirt: H&M, Jeans: Just Female, Bracelet 1: Hermès, Bracelet 2: Tory Burch, Sunnies: Ray Ban, Bag: & Other Stories, Shoes: Buffalo