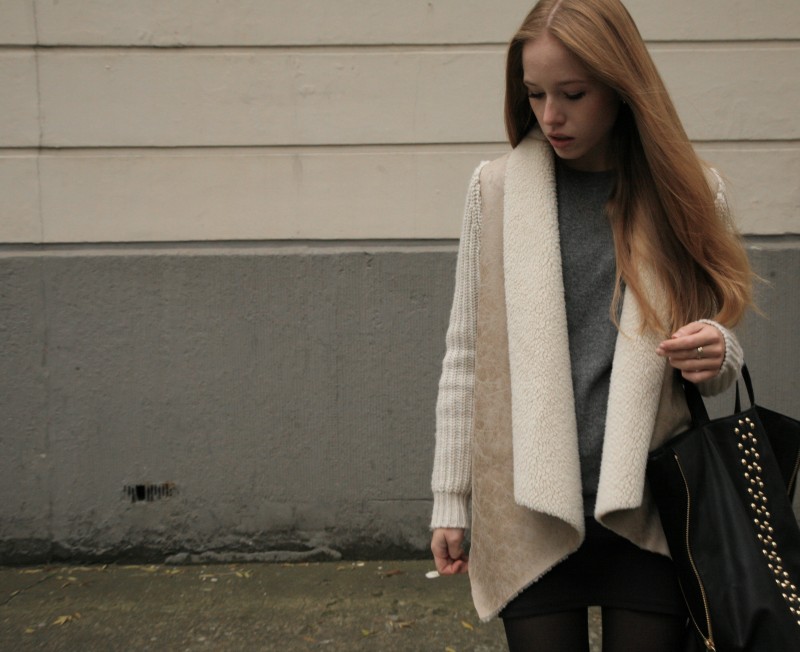 Have you met Ted? No? You should!
Since I was walking around in my burgundy loafers (which was just a few days ago!), the weather has changed drastically from surprisingly warm to unsurprisingly windy and cold.
Hah, and I really thought I can laugh about the winterish conditions elsewhere.
Just the right time to get Ted out again – my super super warm, soft and beyond comfortable jacket I bought last year.
The reason I called it Ted? In all of its fluffiness it just reminds me of a teddybear.
(I was always a very creative name choosing person .. what do you expect of someone who called her first pet (the cutest, black, little, round bunny with hanging ears) FLUFFY since it was… *surprise surprise*…. fluffy!?)
I could live in this jacket throughout the winter (let's hope I'm not really doing this).
As I thought about being rebellious against all odds (which was a very stupid thought!), I went for a skirt I must have randomly packed when moving.
When did I lastly wore it?! I can't really remember but as I'm very complicated when it comes to skirts, I wasn't surprised about this blind passenger in my closet.
Well, luckily it moved with me. I thought about giving it a try again and mixed it with a normal sweater to leave it a little low-keyed.
Body-conscious mini skirts and high heels seem to be an issue for me .. I rarely like it but together with Ted it worked quite well.
Jacket called Ted: River Island
Pullover: Benetton
Skirt: Topshop
Bag: Zara
Shoes: Manas Lea Foscati