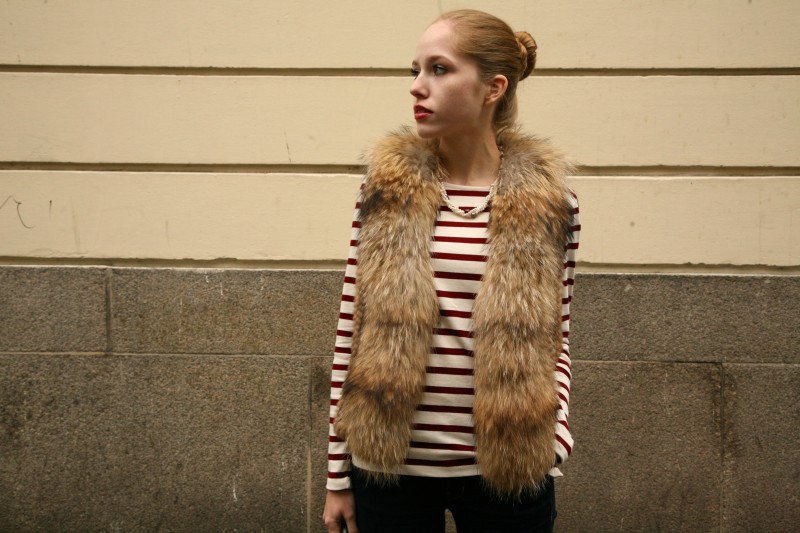 What did I say about my burgundy likes and personal hesitations?
Forget about it, because it seems as if my burgundy leather trousers, which literally were heaven sent, have received some sisters.
I mentioned my loafers in some posts earlier but never really got to wear them – why not doing so on a surprisingly (crazy) warm day in mid-October?!
Feeling to be a little more matchy, I pulled that striped top (I'm a true stripe-girl) and just combined these pieces to normal denim.
The denim was a result of my sudden aim to bring my fury friend into this look – although this outfit was just meant to accompany me to uni, I still was in the mood to get it a little styled up yet not too much for daytime (that's why these jeans were coming out).
I love these moments where everything seems to be so easy when getting up and just intuitionally knowing in which mood I am.
(Other than in 80 % of the cases where I cry over my unfair limited closet-life I have as a little uni girl)
That's why I naturally took these beautiful pearls as accessories part. I barely wore them in the past, which I somehow regret when looking at these pictures.
They are a very good friend's present for my birthday years ago and I always loved looking at them.
Yeah, looking.
The pearl-issue and me is quite easy and still it never gets off me. At some periods I feel like pearls are not fitting my attitude but then again I think something like "It's timeless, elegant and always chic..".
And that's what it seriously is. You just can't go wrong with pearls..whenever, wherever you are. It's like the LBD, the 2.55, the big black shades or a good pair of black ballerinas.
But that's the the case with the normal pearls.
When it comes to such a combination, then I hesitate, let myself not really get into a freedom area to try it. Which is somehow dumb because this type of a pearl necklace is not really crazily different and not only wearable at certain occasions.
For this day, I just ignored all my thoughts on my personal pearl dilemma  (what the fuck am I talking here ?! / first world problems at their best!) and just went for it instead of thinking about how I feel today and whether it fits me or not.
I just did it. And I felt good. :)
Fur Vest: Hallhuber
Top: Massimo Dutti
Jeans: Hallhuber
Necklace: Gift from a precious friend
Bag: J. Crew
Loafers: Ovyé