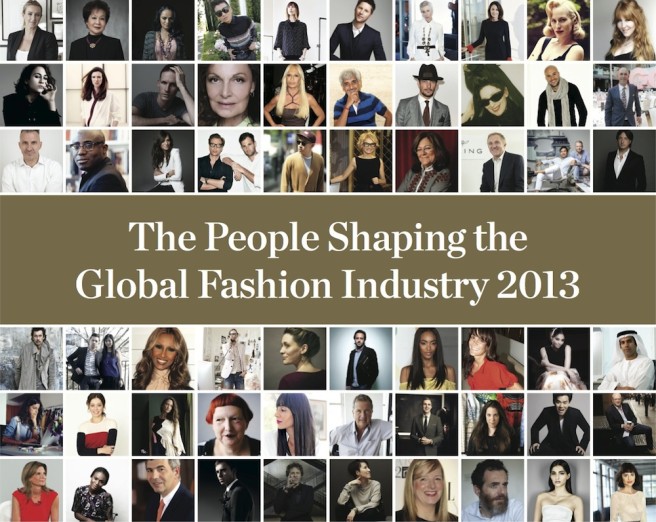 The weekend has almost arrived, I'm back to London and there's probably no better way than to start off with this fantastic chart Business of Fashion (yep, again) has created.
While Fashion Week is still running wild, BoF set up a live, visual index covering "the talented shapers of the global fashion industry" (calling it therefore "BoF 500" makes a lot more sense now I guess).
It's basically an online profile, a CV and a social media tracker & analyzer of each mover and shaker BoF has listed as important and it should eventually give a much better overview of who does what in this big spectrum.
"No other industry has a cast of characters as passionate, diverse and interesting as those who influence and animate the business of fashion, from business titans and daring young designers to power princesses and discreet behind-the-scenes catalysts, in cities from New York to Paris to Beijing and beyond."
(Business of Fashion, BoF 500, 2013)
I think this is probably one of the most organized, interesting and summarizing ways to bring analyzed and well ordered information to public without confusing.
Next to being able to see how many followers your favourite model, editor, stylist, catalyst, retailer or designer (or anyone else being important – there are so many different jobs out there.. you probably take a look yourself) has on different social media channels, there's also the (to me at least) most interesting way to go through a small but thorough biography.
So, to put it in very sober words, it's like being able to stalk the shakers and makers in fashion at one place without having to search for different social media accounts or other general information on different sites.
"Latest news" covered on Business of Fashion about the chosen person, additional vital statistics, "related people" also being covered under "BoF 500" and connected to that person as well as a "live mosaic" with pictures posted on the social media pages used by the particular industry shaker can also be viewed.
If this is not one of the most efficient, informative and interesting ways to unite different online media, then I don't know what is.
Happy reading!
To check out BoF 500, click here.
To read Imran Amed's "Letter from the editor" introducing #BoF500, click here.
(picture credit: Business of Fashion // BoF 500)