Don't want to spoil too much with this weekend's recommendation but Ms. Menkes, on the point as usual, published yet another interesting article last week.
Inviting to reflect on fashion industry's speed in designing, producing and the common "off to the next one" as soon as a collection caught the limelight, "The New Speed of Fashion" also mentions McQueen's demise as well as Galliano's outbreak, which both triggered some big news waves (and as previously seen in the Galliano case still do).
Putting this into context, there appears the question of who actually needs so many different shows a year (up to 10 it can appear as Menkes summarizes) and how designers, retailers and customers keep up with these rather upside-down appearing show scheduling.
"But who needs more fashion and is gagging for yet another show? And how can designers cope, given that even the prolific Picasso did not churn out work like factory-baked cookies?"
It appears much more logical after reading through the article again and not trying to take any other position than the one of the average consumer not being linked to the industry any further than having a (sometimes spontaneous) crave or need to buy something. If at all the customer is even aware of what's"in fashion" and what's in store as, obviously, these two points don't necessarily add up to each other any longer if looking at the seasonal fashion-scenario as a whole.
Furthermore, Menkes made me somehow conclude that it yet again all links to the simplest economic model, supply and demand. The seasonal factors, the target markets and other things affecting and working hand in hand with the processes of designing and producing alongside Menkes-called "big fat corporations" take a major part in this rather complex picture triggering pressure from different sides.
Maybe it's like asking for what has come first, the chicken or the egg, but ultimately, it's a reflective piece of our current state of living (if "narrowing" it down to fashion for this bit).
The full article can be read via New York Times Style Magazine online here.
For more Menkes articles click here.
Have a nice weekend.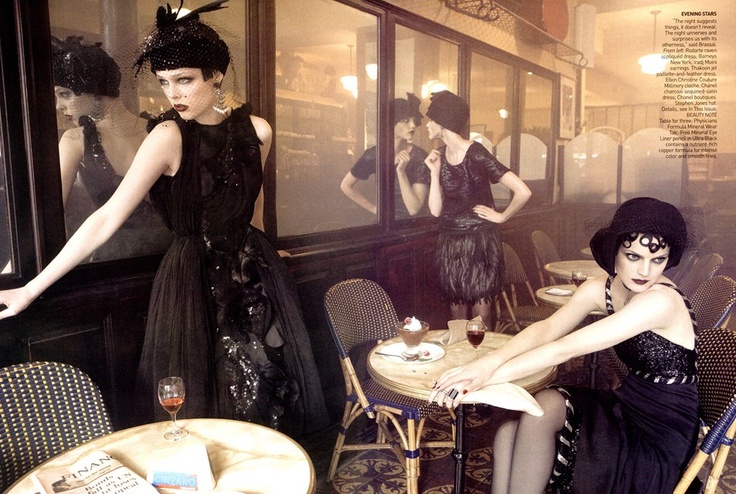 picture credit: pic 1 (cape) – Garance Doré // pic 2 (women) – Vogue US