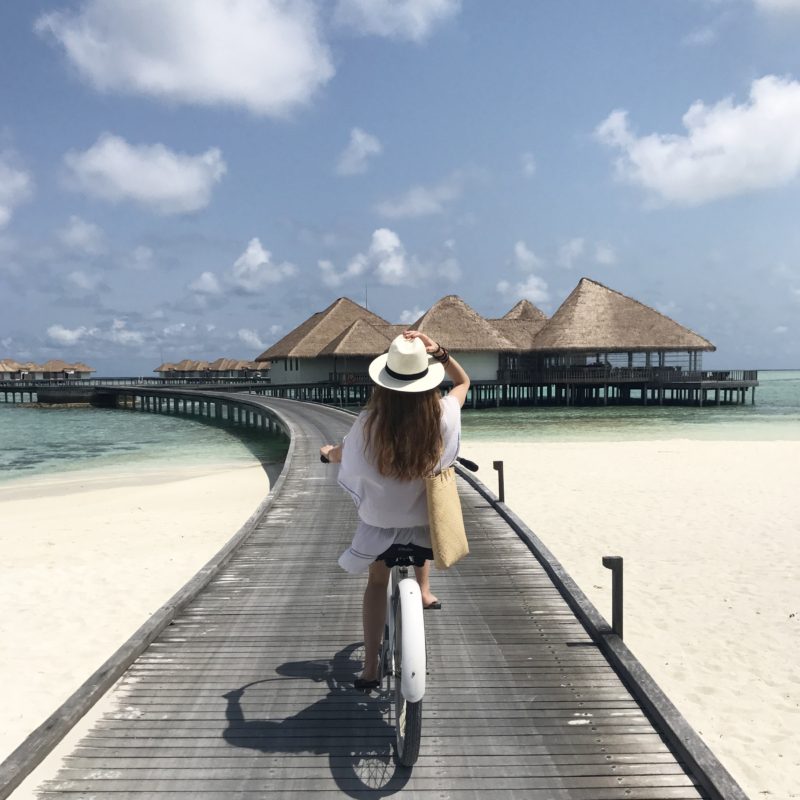 When thinking of the Maldives, there's an oftentimes very clear imagination in one's head:
Crystal-clear and turquoise-dipped water, candy-cotton-white beaches, classic overwater-villas and an undeniable destination of tranquility, peace and relaxation. Ultimately and shortly: a honeymooners' dream come true.
And I can confirm after a week of perfecting "la dolcefarniente" on a little piece of heaven on earth: the Maldives are a place of ultimate luxury and a synonyme for absolute escapism.
A long-lusted after destination of my dreams that I reached much earlier than I planned – because you really don't need your or anyone else's honeymoon to travel there.
Situated in the Indian ocean, south-west of India and Sri Lanka, the tropical nation consists of approximately 26 atolls and over 1000 coral islands, spread across 90.000 square kilometres.
Its  capital is Malé, where we safely landed at the Velana International Airport after a 10-hours-flight from Frankfurt.
Refreshed at our hotel's separated airport lounge, we've been impatiently waiting to board our next, rather unusual but even more so exciting ride to the COMO Maalifushi hotel.
Nestled on the most distant spot across the Indian Ocean, COMO Maalifushi is the first and only resort in the archipelago's southern reaches of the Thaa Atoll and a 60-minute seaplane flight away from the capital.
The unspoilt atoll is known for being a diver's paradise with flourishing reefs and a breathtaking nature, which has been nothing but exceeded from what I expected.
Greeted with coconut water served in coconuts grown on the island (as natural as it could get!), 30-degrees-sunshine-weather and a continuously obliging A-Team-service, we've been introduced to the resort's breathtakingly beautiful island-set-up.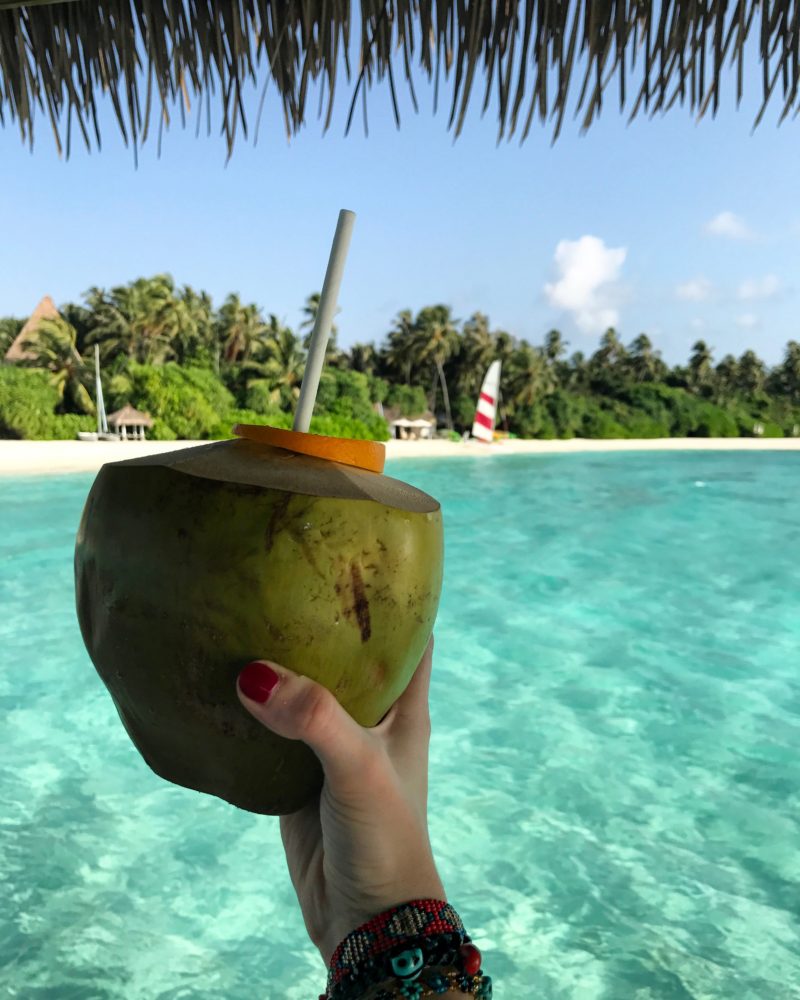 From the first moment you take off your travel outfit, set your separately delivered suitcases aside (20kg maximum to fit in the rather small seaplanes!), you're, almost naturally, encouraged to embrace the absolute barefoot luxury, which an island so far away from the hustle and bustle of the city life, entails.
Set amid the resort's verdant vegetation, the beach villa we stayed at (one of 32 villas spread across the island and designed by Japanese architect Koichiro Ikebuchi) was the perfect combination of rich jungle life, direct beach access and, most importantly, desirable privacy.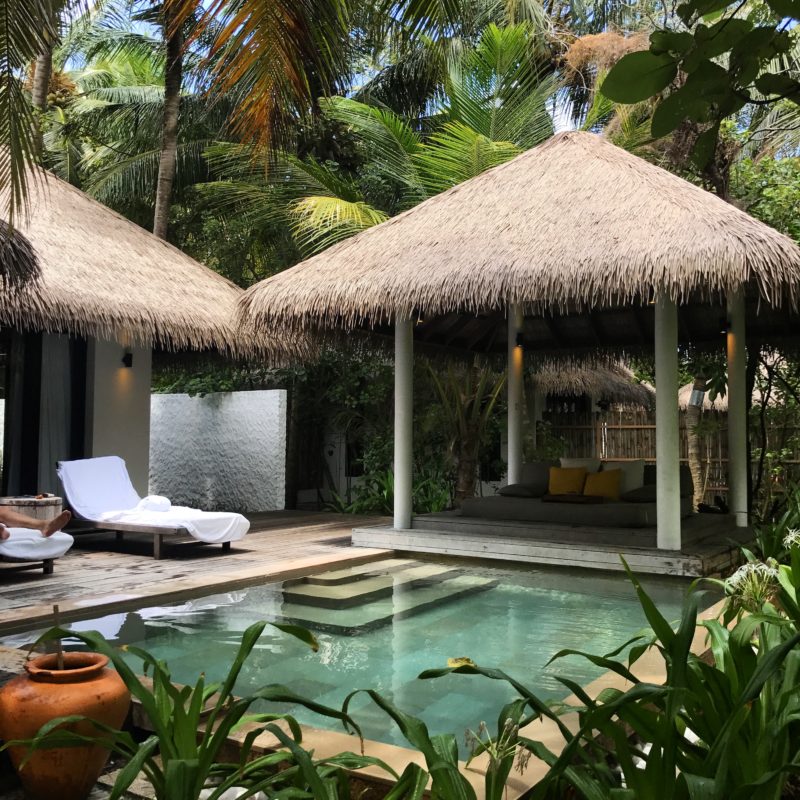 Generally, privacy is an universally agreed association with holidays on the Maldives  and something you won't miss out on if you decided to travel there (hence the honeymooners-infestation).
You just don't go there if you're in need of crazily loaded beaches (who is though? no thanks), kids-loaded pool areas (who wants that anyway unless you have kids) or something like a full moon party (whatever that is…).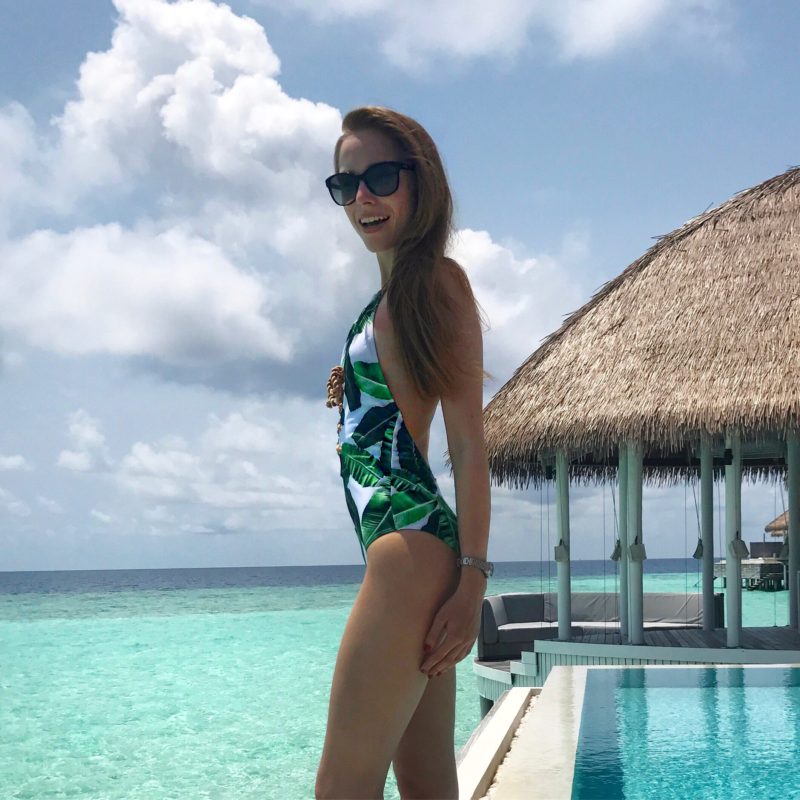 (Palm printed swimsuit by Jaded London *click click*, alternative: bikini-version)
COMO Maalifushi is a place of discretion, rejuvenation and just picture-perfect scenery, which made us find tranquil respite in paradise.
Don't be fooled though – you're being offered program on an hourly  basis if you wish so, which surprised me as I always feared slight monotony after a while in the past when considering the Maldives.
They  daily activities were ranging from being offered to go on turtle excursions and snorkelling trips, organised picnic afternoons to uninhabited islands to deep sea dives, water sports of any imaginable kind, whale shark sighting trips (the main season was almost over when we've been there though) and other exciting things to do.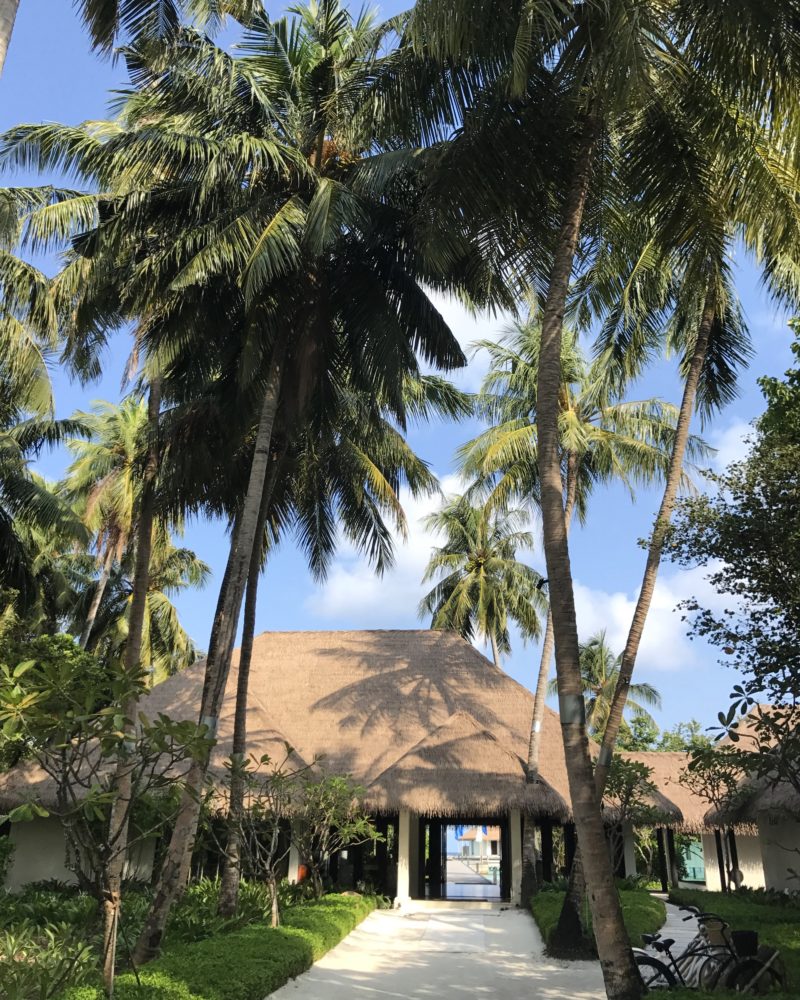 However, I found a little heaven of my own at one place: the COMO Shambala Retreat, COMO Maalifushi's world luxury award 2016 winning spa.
If I wasn't at the almost always completely empty beach (pretending to get a tan) or riding the bike around the island to have lunch or brunch at one of COMO Maalifushi's amazing venues, you'd find me at the COMO Shambala for one of their many diverse treatments. Highly trained spa specialists and therapists offer the most excellent care and will do anything to make you feel just perfectly comfortable during your stay.
I do miss the calming oil scent and the incredible view on the water by just writing down these lines and thinking of the private overwater villas in which most treatments take place.
(For those who are into working out during holidays or being a little more active, there are Yoga classes every morning and evening as well as the possibility to have private sessions along a 24/7 opened gym……..not that you would have ever seen me there at any point ;)).
Let me finish off this post by telling you that the food is simply excellent, regardless whether you dine at the Japanese restaurant Tai, the Maldivian-influenced main restaurant Madi or privately in your villa. I'm so picky with food but there wasn't one choice I didn't like – after all: who can say no to freshly caught seafood, Indian and South-East-Asian influenced creations and other delicious bites?!
To say the last (but not least), I enjoyed this very intimate and first-timer trip to the Maldives extremely and am forever grateful for having had the chance to visit this place. From a simple nature's point of view, there's no place I can even closely compare to what the Maldives will make you experience and the calming, relaxing time we spent there all together has been an absolute pleasure which I don't want to ever miss.
It might have been a week but this one week has been so very decisive to emphasise my values on my "inner circle people". There's nothing (!) comparable to having them all together and as awfully kitschy as it might sound, my heart makes a jump of absolute joy remembering the high quality time we spent together. No matter where you travel to, I do believe that the people (or, sometimes also the absence of them!) around you are decisive for your wellbeing and the memories created. This trip has been special in so many ways for me and I will treasure it as incomparable holidays, which should help me get through the everyday-struggles. Maldives will have a special place in my heart and I do hope that the three people who made this time so outstanding do know how much I love them.