The best trips happen spontaneously!
Wondering what we might do over the long Easter-weekend, we decided to head to Amsterdam for a little break, that won't take too long to reach and just enough to stay away from any work-laptops or emails over a few days.
Ever since I left the chapter "Maastricht" behind me (I tried to convince myself that studying a rather mainstream-subject will definitely make me happy #Left8MonthsLaterForLondon), I somehow didn't have to urge to return to the Netherlands that quickly.
For no particular reason and much to my own disadvantage as I just discovered over these past days. Why? Because Amsterdam is nothing less than a surprisingly beautiful city.
Since we just decided to do something with our free days on Friday night, we quite randomly picked our hotel, Piet Hein, which turned out to be really nice and just right for a short stay. Located closely to the well known Rijksmuseum (if you don't know the art that's displayed inside, you, at least, will be familiar with the famous "I amsterdam"-sign in front of it) Piet Hein hotel, like the majority of Amsterdam, surprises with an enchanting ambience, reflecting great taste for interior.
And speaking of interior; Amsterdam is an architectural gem. Whichever bridge you'll cross (don't ever worry about missing to take a typical Amsterdam-bridge-picture!) and districts you might enter, you'll be surprised to see how classic yet sophisticated (and quite open for random by-passers on the streets and boats ;)) Amsterdammers live.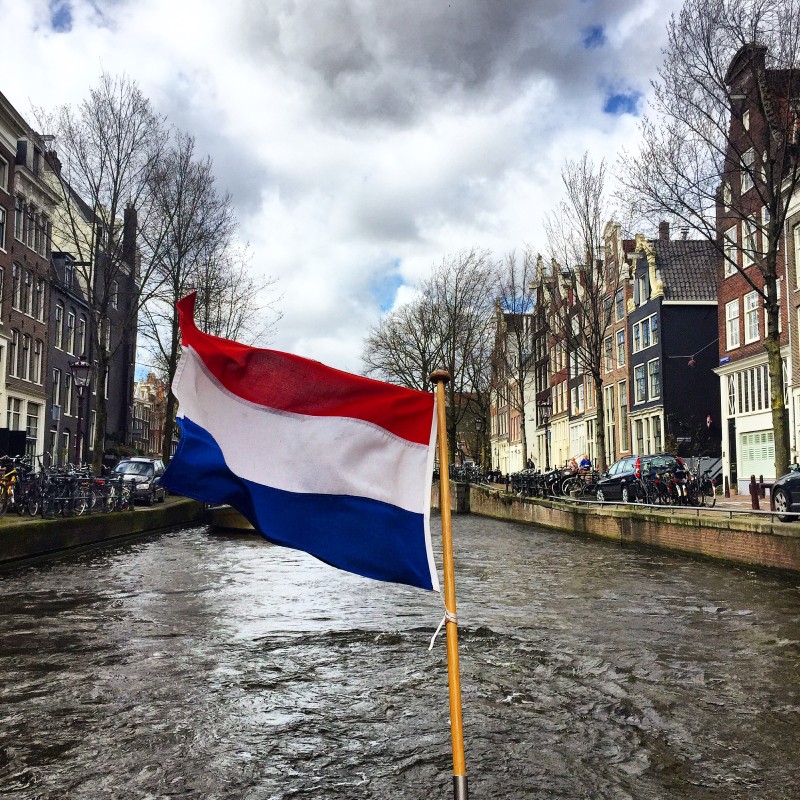 In a preferred anonymous-staying city like London, where you rather not invite any stranger from the street to take a look into your four walls, you totally forget that a decent sense for interior can really make the difference to your own well-being (and those of invitees ;)). An old piece of art, a statement chair or a chest of drawers versus fancy, modern pop-art influences? Amsterdam offers it all – be it in terms of fashion, interior, restaurants or bars!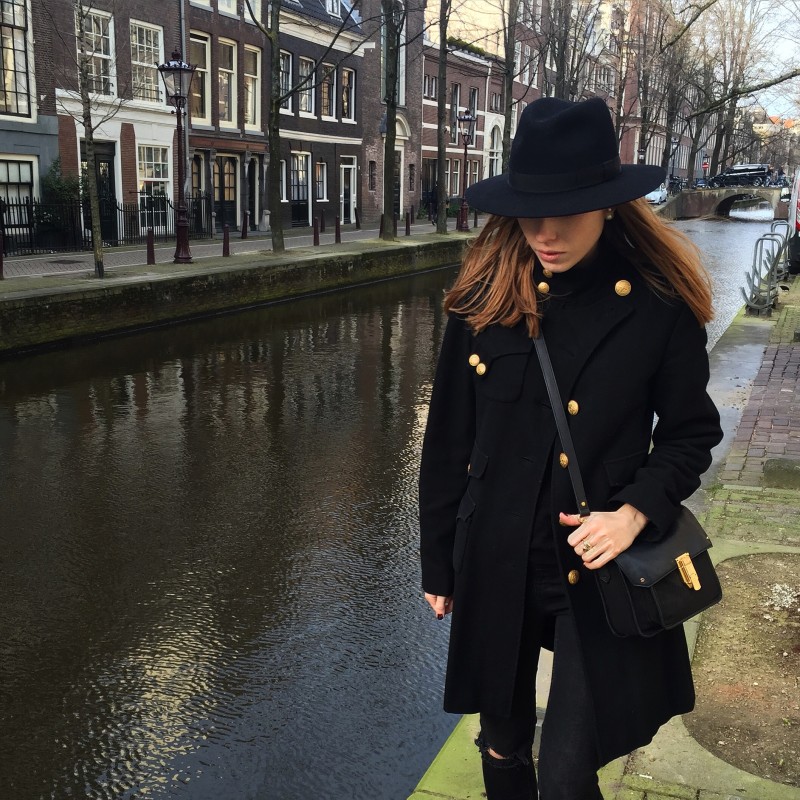 Loving my black fedora hat bei Laird London.
Three favourites: Bargain, Middle-Priced & High-End.
We spent the first dinner at rustic & cozy Haesje Claes (opened in 1974), which we quite randomly stumbled upon in the search for a traditionally Dutch gem. Definitely one of the many good intuitive moves we did – the food was great and the service super kind!
***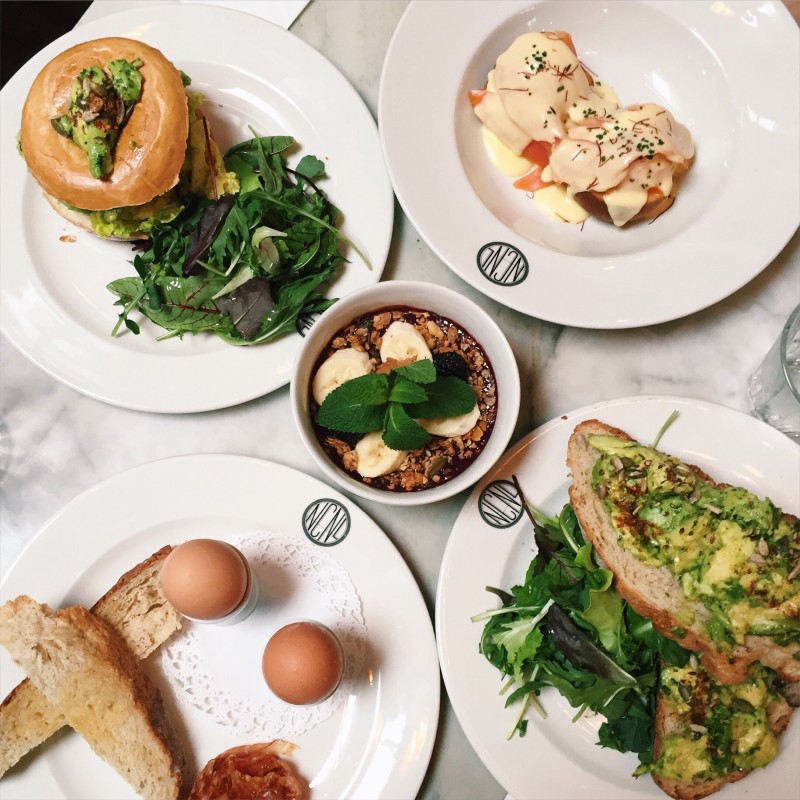 Breakfast at Nacional – Parisian brasserie ambience meets modern art influences.
Opened by Casper Reinders in 2014, this was one was definitely my favourite place and is surely worth a try for lunch or dinner, too. Like an urban clash of Paris and somewhat New York (think of a modern, light-hearted version of classic Balthazar), Nacional's meticulous interior adds a subtle contrast to wooden floors and original French lamps and tiles.
Attention: Breakfast portions are rather huge and your hunger shouldn't be overestimated. We accidentally ordered a little too much (you can't tell from that picture but it was too much) and it hurt a little to return some leftovers. Still – that avocado bread and our shared Acai bowl were definitely worth every overate bite.
My most favourite stripe pullover at the moment is from Scotch & Soda (Maison Scotch) – little skulls on the buttons… call it mine! ;)
(All pictures taken of me by this talented one here  – check his behind-the-scenes pictures of what he usually does when not being forced to "spontaneously" snap me.)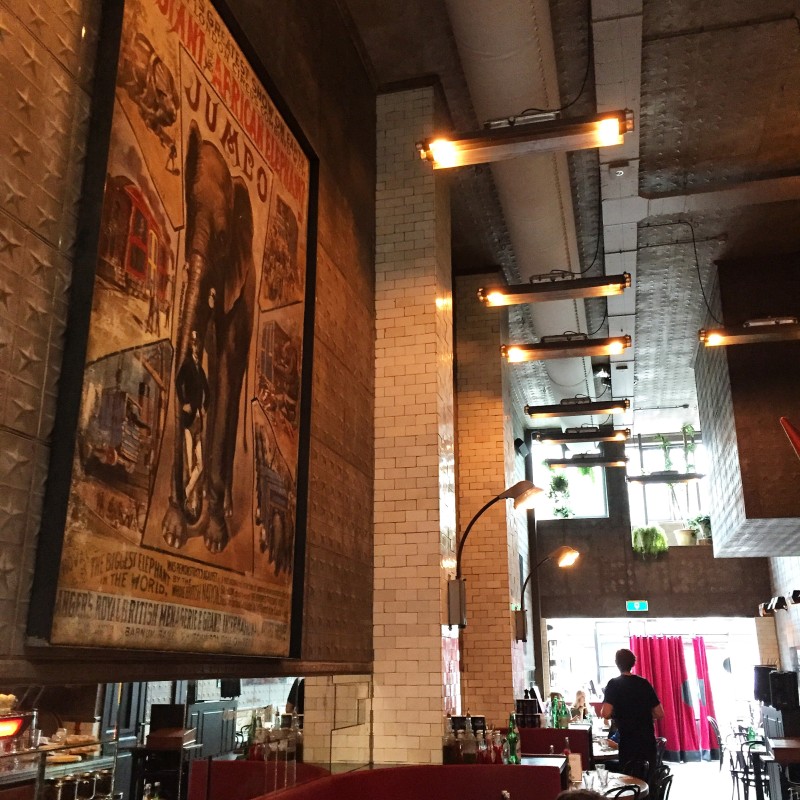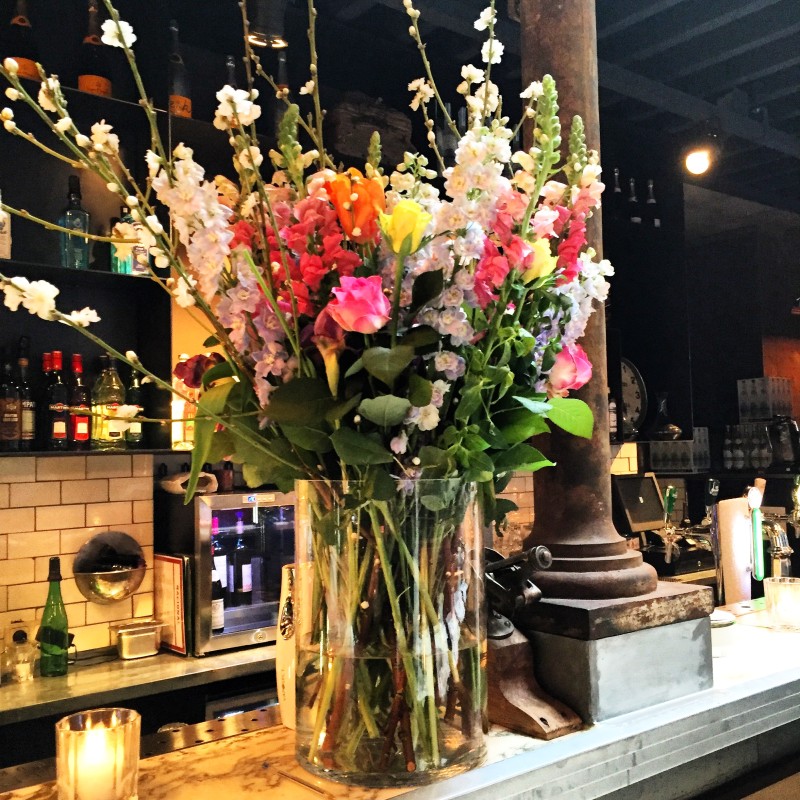 ***
Dinner at Venus & Adonis – the second random stumble-upon was this charming restaurant, located in the heart of Jordaan district. There is no way around ordering a good piece of meat (or surf & turf if you like) at this place.
And who could say no to a tender sirloin (or a rib-eye, rack of lamb, Venus, Adonis or other kinds of steaks and meat) served on rustic wooden boards? Prices are a little higher but only good steaks will come with a reasonable price tag.
(And yes, there are no pictures. After we ended up in  tapas bar "Parra" (fantastic!) before heading off for dinner, things have gotten a bit too wine-induced..)
***
Breakfast at Cafe de Paris – good value for money. Food as well as interior are held simple but are definitely worth a visit if you're looking for uncomplicated & quick breakfast.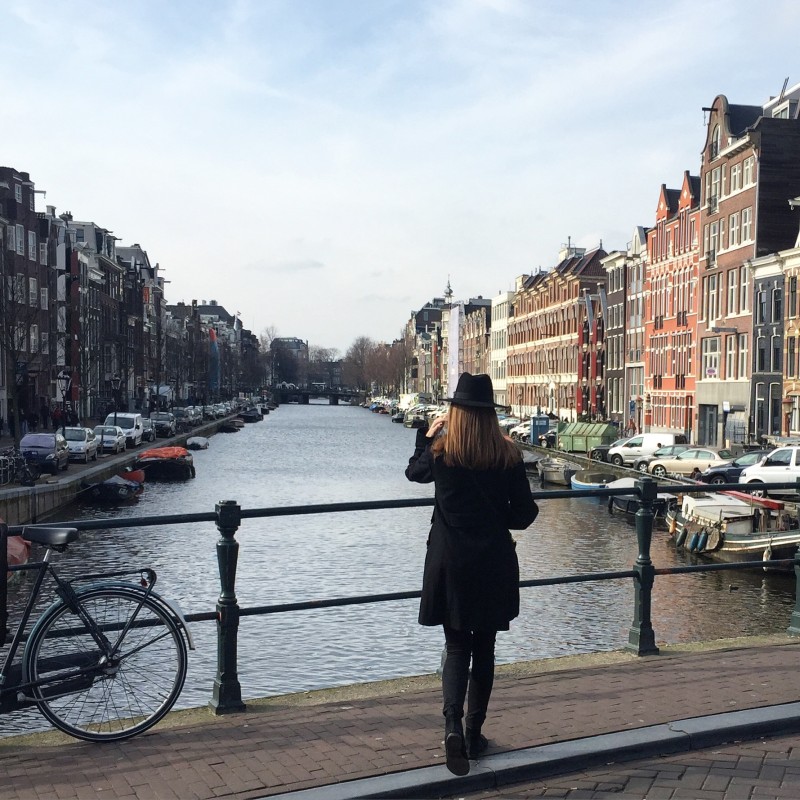 Juliette pour Romeo boutique – lovely boho things, all Ibiza everything.
Since it's been super windy, cold and ..well not sunny all the time, I was quite happy about my black military coat by Annie Hall, the hat and all things that kept me warm instead of just "looking nice". Pretty sure weather has changed in the meantime but that's what I was happy about taking with me: