1. Pullover: Elizabeth & James; 2. Bag: Gucci Dionysus shoulder bag;
3. Suede stretch leggings: Joseph
It seems like Elizabeth & James' feather-y sweater enjoys a glorious moment in the blogosphere (or much more: quite a  successful strategy). And I must admit; that sweater is not your regular knitwear piece!
Elegant, flamboyant and far away from anything basic. I obviously love that!
There's nothing better than an unexpected (feather or fur) twist to a basic pullover, making it appropriate for outfits day to night. And though the price tag is quite another topic, I believe in silly moments and investments into statement pieces now and then.
Just recently, I realized how good feather(-y) details can look in general – if dosed in the right way and not overloaded during day-time.
Feathers add that chic twist to a look, which only requires a good sense of balance in order to not be over-styled. It's probably that swinging dynamic, which differentiates feathers from other embellishments. No shine, no bling, no heavy materials – just an understated but well placed way of adding a decisive statement to a look.
While I'm keeping myself quite busy with my work life at the moment and outfit posts have not been on my agenda at all (I miss that though), I leave this post with my favourite feather options and looks. :)
***
1. Ribbed Cashmere Pullover: Tomas Maier (ON SALE -50%); 2. Feather skirt: Alice + Olivia (cheaper version here!); 3. Ankle Boots: Alexander McQueen; 4. Headband: Noemi B.;
5. Nail polish: Tom Ford (BlackOut)
***
1. Feather dress: Alice + Olivia; 2. Shoulder Bag: Dolce & Gabbana; 3. Heels: Christian Louboutin;
4. Bangle: Alexander McQueen; 5. Headband: Valentino Rockstud;
6. Lipstick: Lipstick Queen (Sinner Red)
***
1. (Shearling ..ok no feathers..) Coat: Elizabeth & James (ON SALE -30%); 2. Denim: J Brand;
3. Overknee Boots: Isabel Marant; 4. Cap: Isabel Marant; 5. Bag: Gucci Dionysus (MY ABSOLUTE FAVOURITE EVER BAG!!!)
***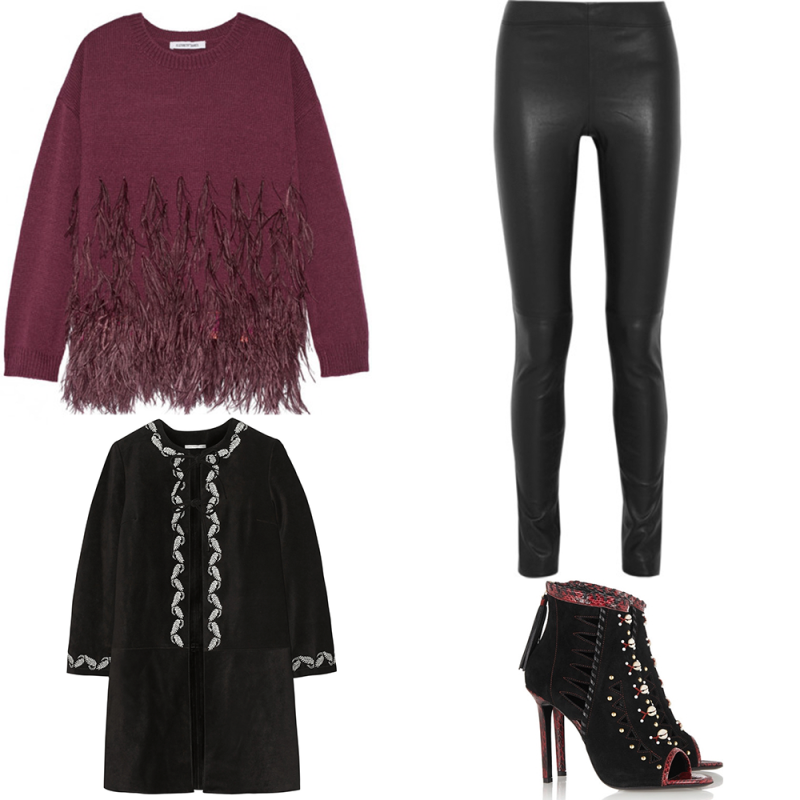 1. Feather Jumper: Elizabeth & James; 2. Embroidered suede coat: Alexa Chung for AG Jeans (ON SALE -50%); 3. Leather pants: Donna Karan; 4. Open-toe heels: Dsquared (sold out but HOT alternative here)
***
1. Feather Pullover: Elizabeth & James; 2. Denim: J Brand; 3. Leather Jacket: DKNY; 4. Bag: Balenciaga;
5. Biker Boots (most elegant version I ever came across): Givenchy; 6. Diamond Ear Cuff: Repossi;
7. Nail Polish: Smith & Cult (Teen Cage Riot) 
***
1. Feather Top: Tibi (similar here); 2. Trousers: Roberto Cavalli (ON SALE -40%);
3. Hat: Maison Michel (similar here); 4. Heels: Tom Ford 
***

1. Suede trousers: Joseph; 2. Feather Top: Tibi; 3. Short Cardigan: T by Alexander Wang;
4. Shoulder Bag: Gucci Soho; 5. White sneakers: Common Projects; 6. Heels: Christian Louboutin
1. Feather Dress: Elizabeth & James; 2. Suede Heels: Gianvito Rossi; 3. Golden shoulder bag: Tom Ford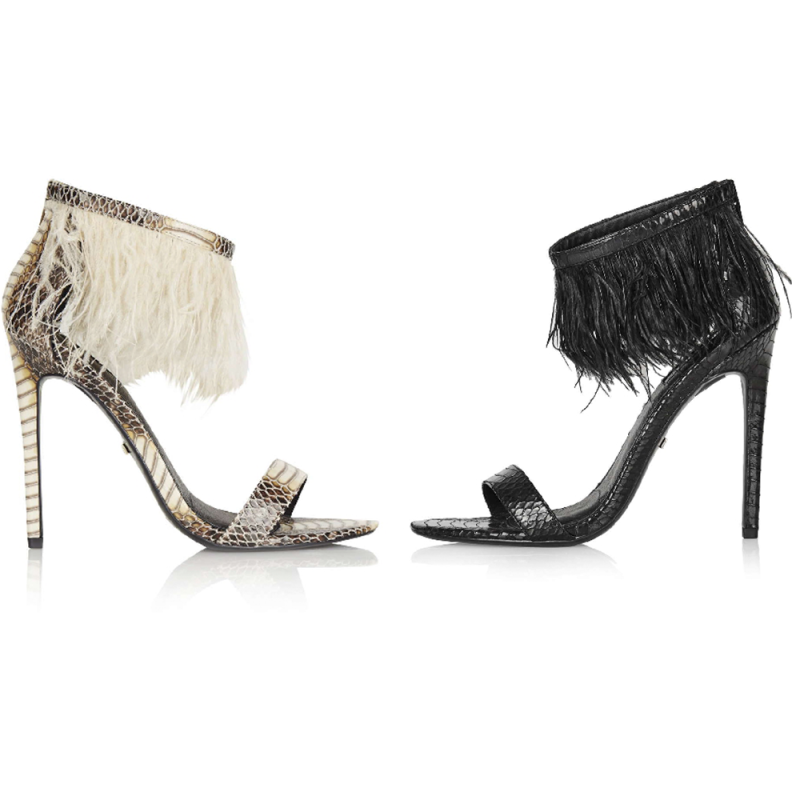 Topshop's feather sandals here (white) and here (black) for those not brave enough (yet) to embrace some a full bird within an outfit… ;)
More options this way: