Being back in Cologne for a few weeks now made me realize how much I miss the London vibe of dressing up properly without any second thought or doubt.
I miss the city whenever I leave it behind, even if it's just for a few weeks, but this time I feel like I miss London as a whole (and so much more than usually) – the city vibe you get the moment you leave the airport and enter the center, the people you come across every day, the diversity you deal with on a daily basis and that competitive, pressurizing lifestyle, which takes and gives so much at the same time… if you ever had the chance to live in this city and get to know it slightly better than what it usually appears to be, then you know what I'm talking about.
In London there are no limits. You wanna sport that onesie? Do it. You take your come-fuck-me heels and some hot skinny jeans for afternoon tea? Why not. You play a drop dead gorgeous corps for brunch after partying the hell out yourself at Cirque or Box last night? Play it well. Yes, do whatever you want but do it well.
People genuinly won't care – part of what can quickly destroy newbies who learn how to survive in this city. And albeit this attitude might irritate at the beginning, you quickly learn that people won't care but they will try to draw conclusions from what you decide to be or wear on that particular day.
That might lead to frustration – you can always be misunderstood. But London challenges with this attitude (prove them right or wrong!) rather than classifies and leaves you in that drawer.
Things are so different here in Germany – wearing an outfit like this "outside" a blog post story almost seems outrageous, let alone speak of these shoes during day time. Unthinkable on German ground for any activities before 8pm. And have you seen how that casual denim was tucked into that sporty skirt? Call the doctor – dressing properly is easily mistaken with something like a flu for German sartorial standards. You might end up being categorized a stuck up bitch, a "Tussi", a "she sure as hell thinks she's something better". Sad, disappointing, sobering but true.
Nonetheless, this look is symbol for how I feel good, running errands on a normal Thursday. It's 100% ATW (with a few centimeters higher) just as much as this also includes electric blue loafers (click post here) and leather pants on another day.
Let me take these pictures as a friendly reminder for myself to embrace my London look wherever I roll.
After all, life is too short for flat shoes and down-dressed looks on a daily basis. ;)
Skirt: Imperial; Shirt: Gap; Bag: Armani; Sunglasses: Ralph Lauren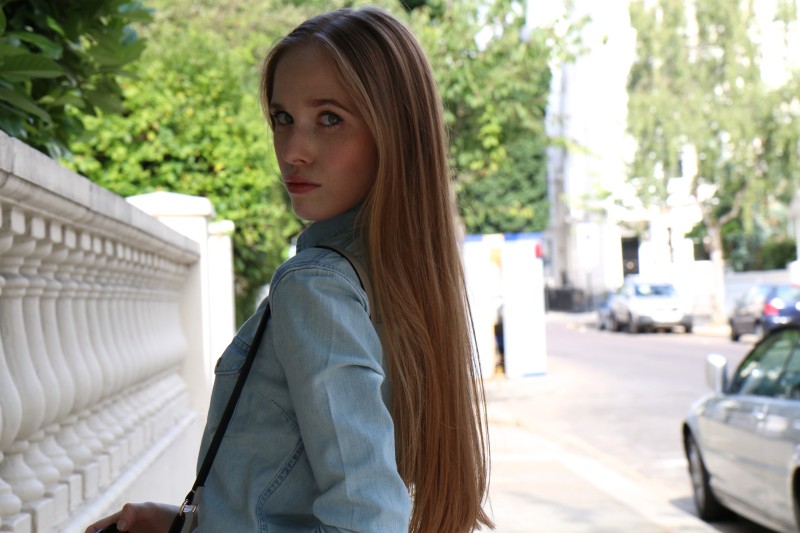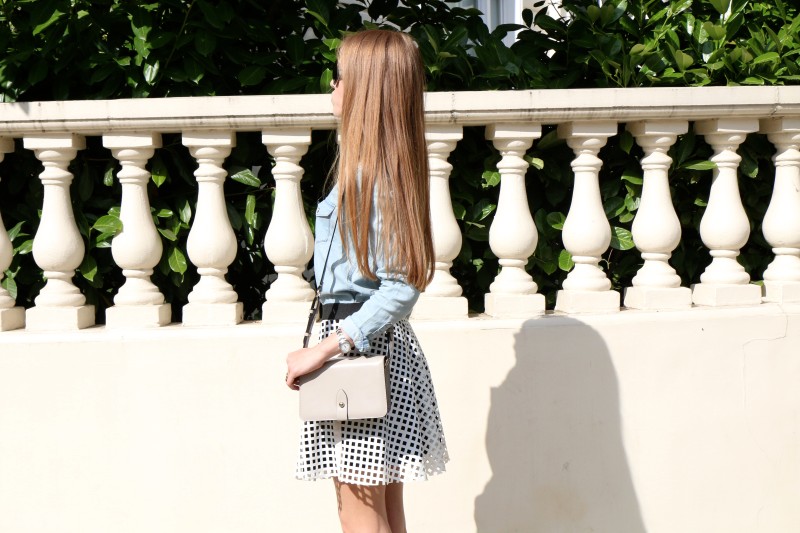 SHOP SIMILAR PIECES FROM THIS POST
[show_shopthepost_widget id="794551″]