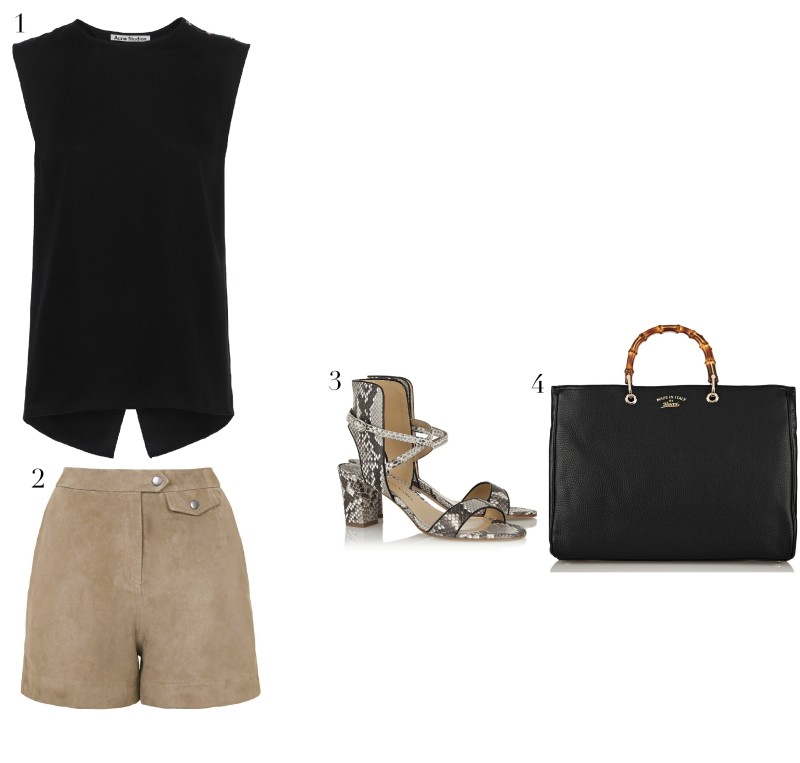 1. Top – Acne Studios Clair Fluid Black Top; 2. Suede Shorts – Topshop high waisted shorts; 3. Mid-Heels – Paul Andrew Lexington python sandals; 4. Bag – Gucci Bamboo Shopper
Versatile, elegant and with a pinch of the returning 70s flair, suede is undeniably one of my favourite elements to sport all year round – but especially at the moment.
Although it might be somewhat of a typical Indian Summer material (just right in time when it's slowly cooling down), I re-disovered how well the smart little sister of our much more common leather versions goes with a range of different pieces in our wardrobes when summer has not arrived yet (properly).
While it seems like suede appears quite easy to find and integrate in daily looks right now (magazines are full with it, online stores wave with "style picks" everywhere I click), I think that the challenge remains to create a look which is not too fall-mood-y and will leave us with a sophisticated note for spring/summer without looking too elegant or Wild West styled (keep that for your festivals…).
The only ruling thought on my mind when pairing my suede staples and considering new ones? Flashy colours for accessories, natural tones for (real suede) statement pieces.
[show_lookbook_widget id="211221″]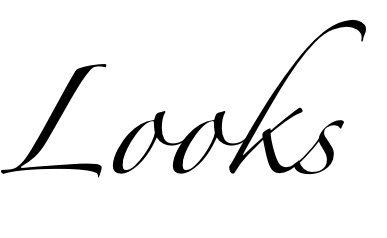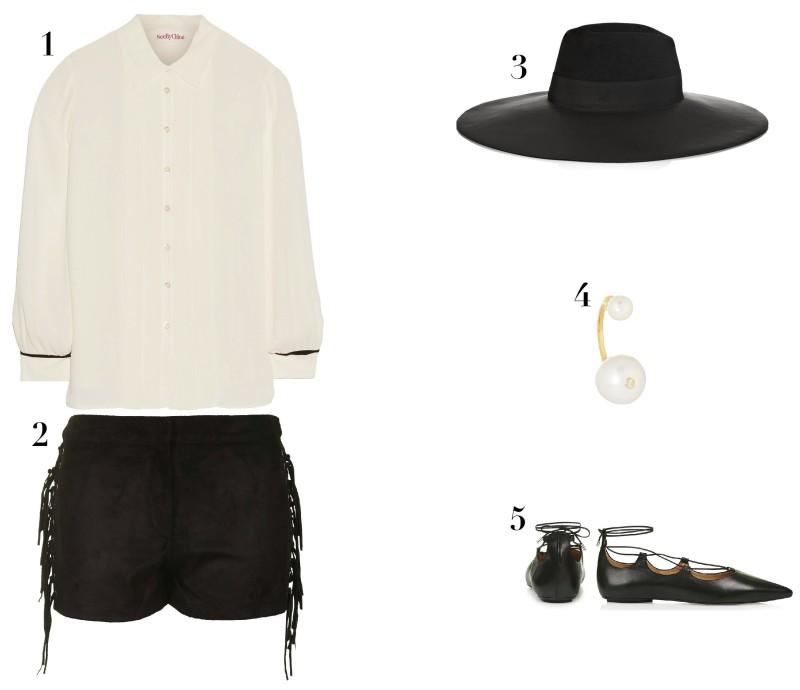 1. Shirt – See By Chloe plated crepe shirt; 2. Suede fringe shorts – Glamorous via Topshop; 3. Hat – Maison Michel Fara grosgrain and rabbit-felt hat; 4. Gold & Pearl Earring – Delfina Delettrez 18-karat earring; 5. Pointy Flats – Topshop Ghillie Pointed Shoes
***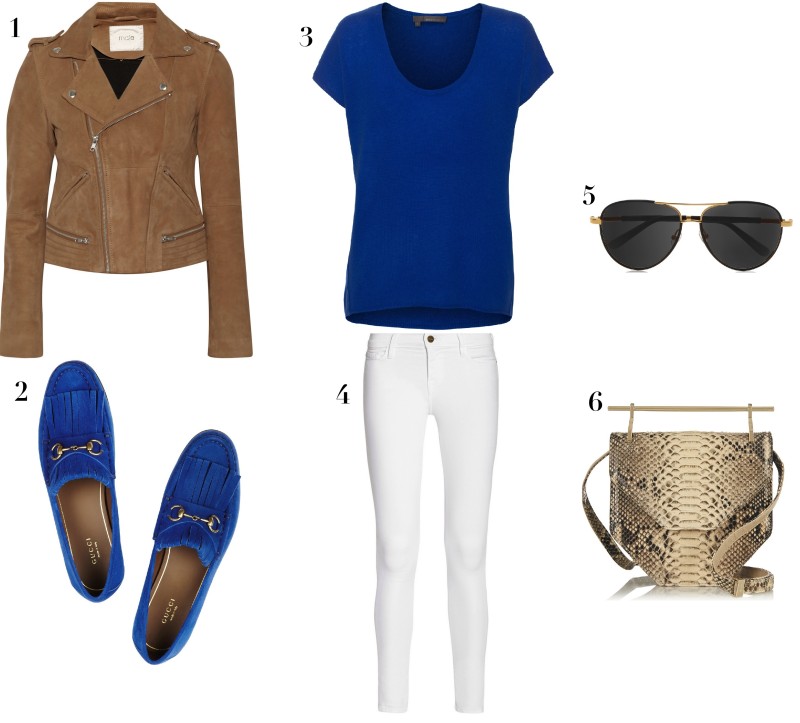 1. Suede biker jacket – Maje Basalt jacket; 2. Loafers – Guccie Horsebit-detailed fringed suede loafers; 3. T-Shirt – 360 Sweater cashmere shirt; 5. Sunglasses – The Row aviator sunnies; 6. Bag – M2Malletier Amor Fati python bag
***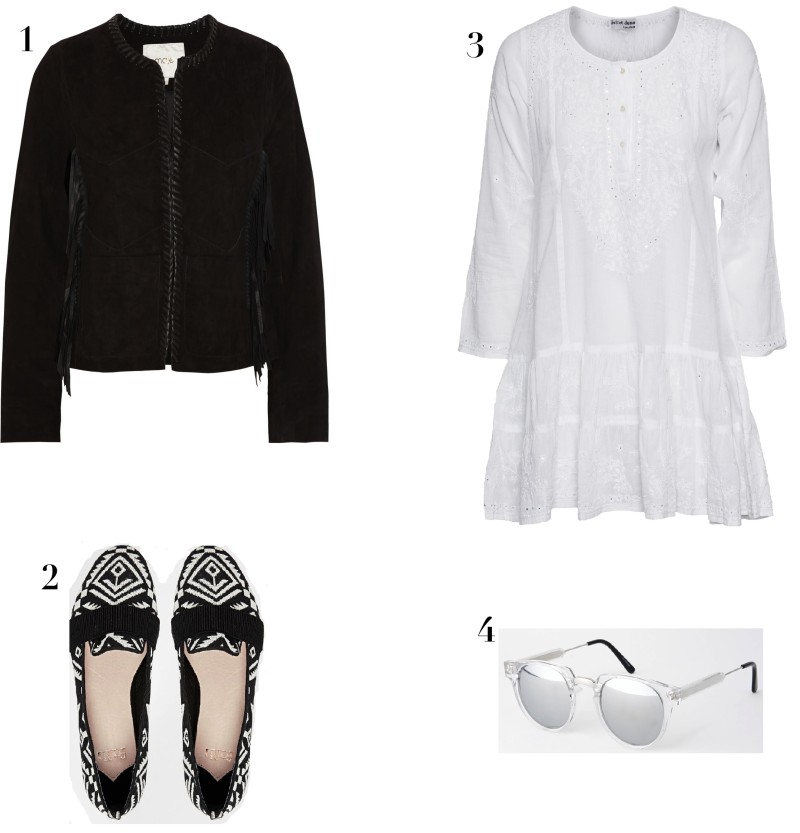 1. Suede jacket – Maje fringed suede leather jacket; 2.Slippers – Faith Austria b/w slippers via Asos;              3. White tunic dress – Juliet Dunn embroidered pleat LWD; 4. Sunglasses – Spitfire Boy2 mirror sunglasses
***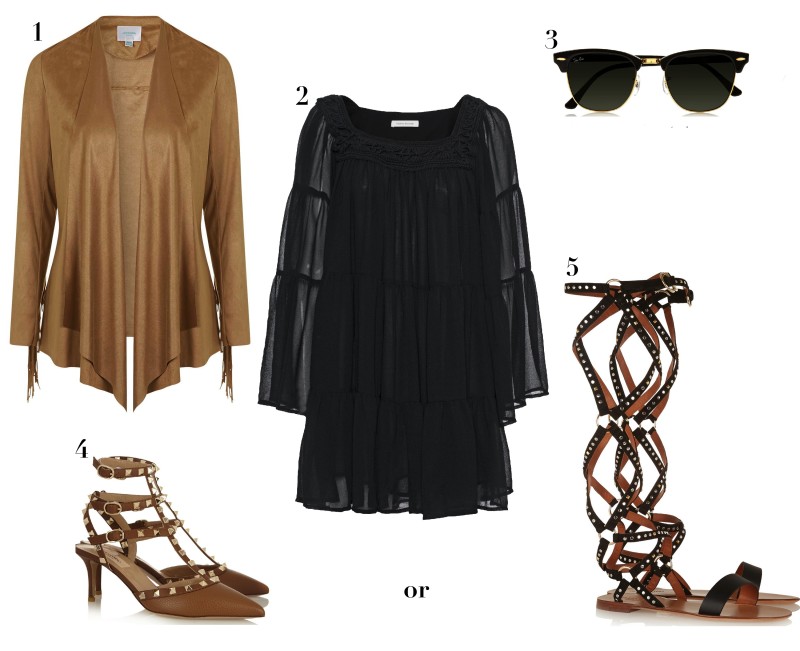 1. Suede jacket – Jovonna Tassel Fringe Jacket via Topshop or in black; 2. Tunic dress – Pierre Balmain stitch volant dress; 3. Sunglasses – Ray Ban New Clubmaster; 4. Rockstud Heels – Valentino Rockstud Heels; 5. Gladiator Sandals – Valentino Teodora studded suede and leather sandals
***
1. Shirt – Karl Lagerfeld silk-organza poplin shirt; 2. Suede shorts – Miu Miu high-rise shorts; 3. Panama hat – Sensi Studio classic toquilla straw hat; 4. Espadrilles via Asos 
***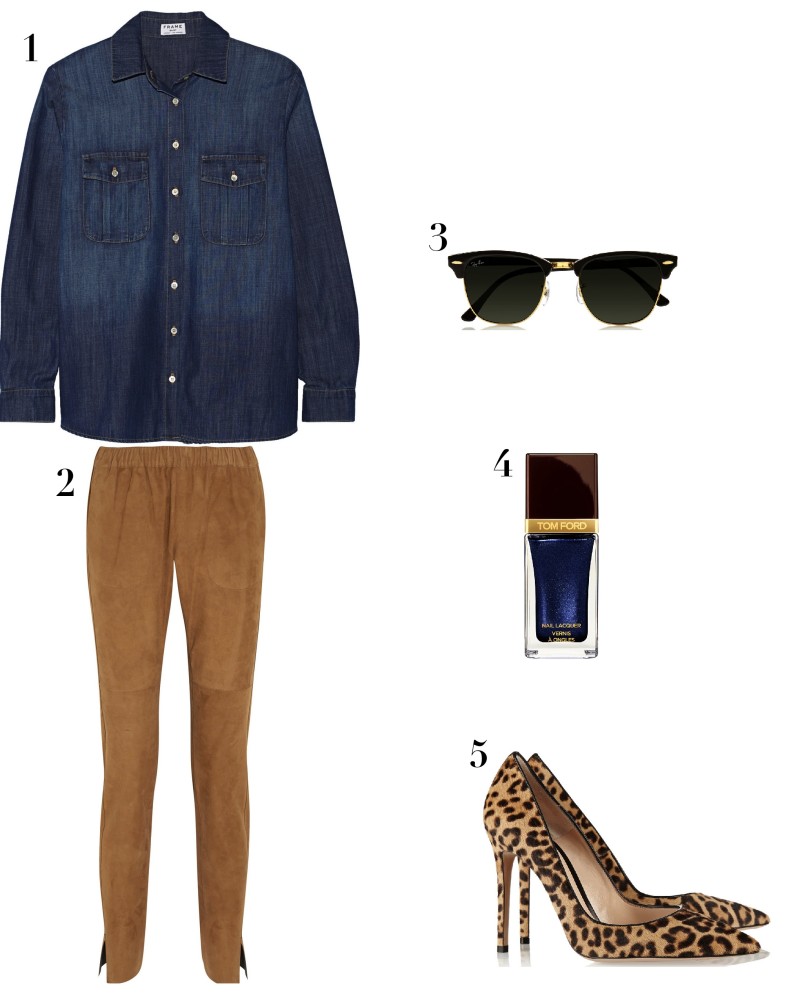 1. Denim Shirt – Frame Denim; 2. Suede trousers – Maje plaisira suede tapared pants; 3. Sunglasses – Ray Ban New Clubmaster; 4.Nail Polish – Tom Ford "Indigo Night" polish; 5. Gianvito Rossi Heels
***

1. White Shirt – Burberry London cotton-blend poplin shirt; 2. Suede button A-line skirt – Topshop;             3. Suede heels – Aquazzura Sexy Thing cutout sandals; 4. Suede pointy heels – Gianvito Rossi pumps
[show_boutique_widget id="254001″]