(Highlight between the few good looks – AW!)
One could easily assume that I've become lazy when it came to shooting street styles this season. Truth is, however, that I even made the effort to travel my way to the other side of the thames, to Tate, to get some decently looking people in front of my lens before Topshop Unique's fashion show kicked off.
Reason for this was not that I'm generally enjoying to chase these venues if I'm not invited (isn't there something extremely ridiculous and sad about this? Or is it just me who generally finds these actions  pointless unless you're a photographer?) but the fact that there were no usable street styles around Somerset House was really becoming a little challenge.
People who might have been to LFW, too, will find this weird – there were enough people dressed in "something" that "somehow" got its attention and would have been worth a shot. Elle, Vogue and whatever else you've got out there on your daily online digest feed have anyhow proven so, didn't they?! But then again, I'm not a street style photographer whose job is basically all about finding some halfway decently looking person, which might end up as "top street style look" on these magazines' online websites.
Instead of just randomly taking pictures, I wanted to get some good ones this time. Some, which I would find really inspiring instead of just taking it as material to share with you and leave it in the "whatever" section.
But it was hard (harder than I ever thought? Maybe I should have not thought about that at all as I just did the past seasons!) and so I ended up with a very small selection of pictures this time. There's probably only one look, which I REALLY liked. The rest was okay. But then again, one just doesn't really like all of the clothes in a fashion show,too, so why would one actually like everything, which is worn on the streets!?
Contrary to "okay" looks and the little disappointments, I made some major sightings (I and 1000 paparazzi ;)) – when Kate Moss arrived, I first of all thought "oh my – who's over there in the car… Rihanna? Cara? Someone I don't care about too much?". But after hearing someone screaming "KATE MOSS", I really started "fan-girling". I ran over, through the mass of paparazzi (all men, bumping each other, weighing the triple of my weight probably and being … well not real gentlemen but that's not their job anyways) and started clicking.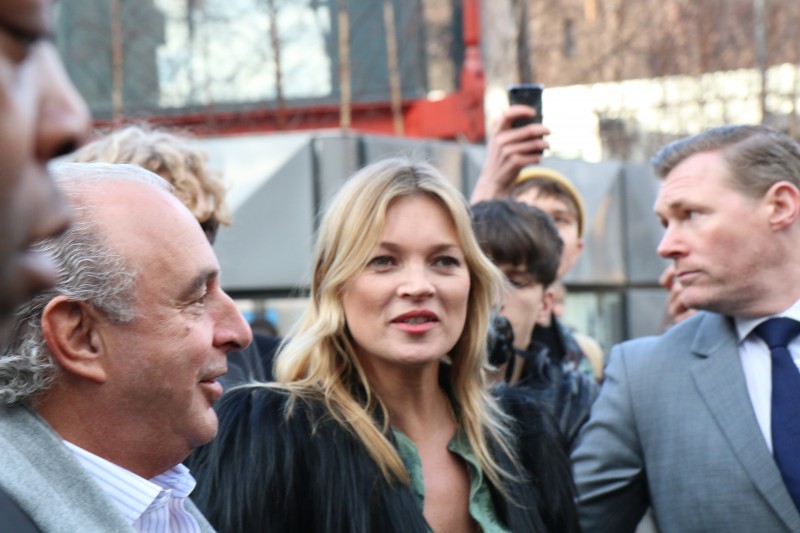 Just half a meter away from me – I really couldn't believe it. You can say whatever you want about my model crush since I'm 13 but she's got something, even in real life. She might not be the heroinCHIC 20-something girl anymore but even her "real" London look didn't fail to inspire. Though I have to admit that such a wild lifestyle truly leaves its marks… only Kate Moss can get away with that no-botox-almost-no-make-up policy and still look cool.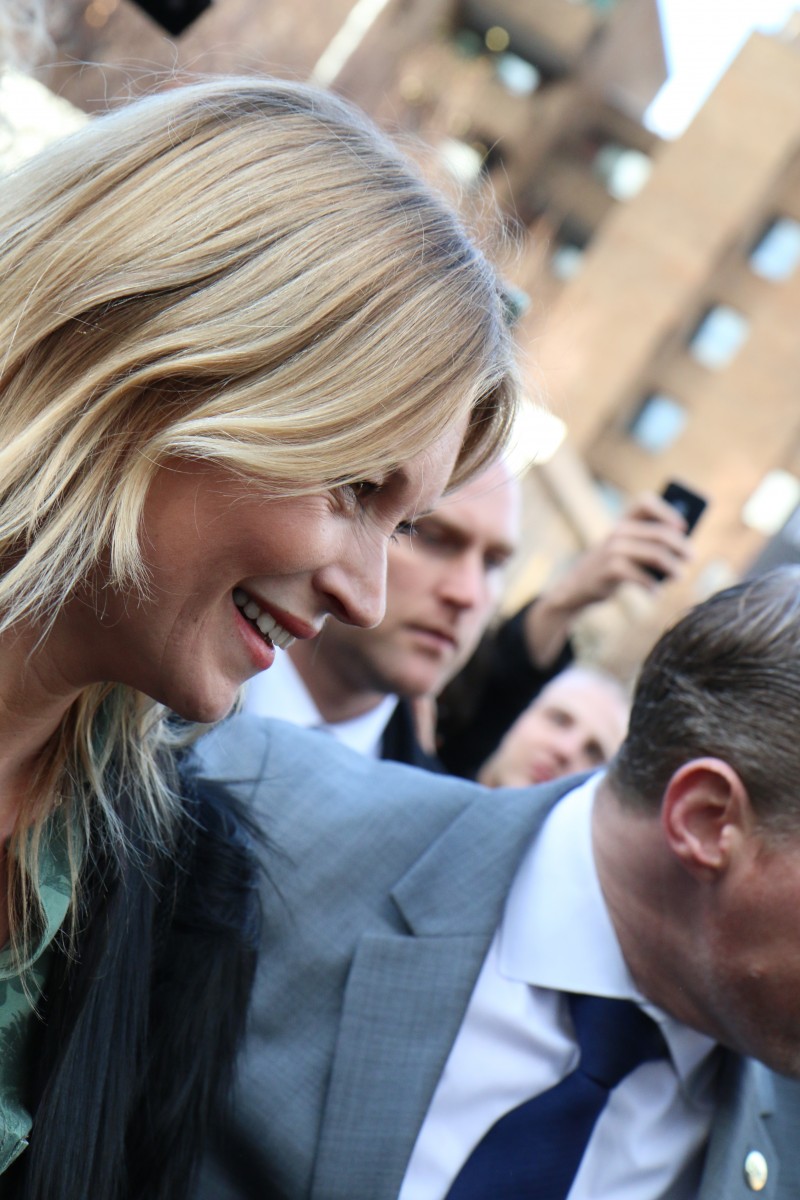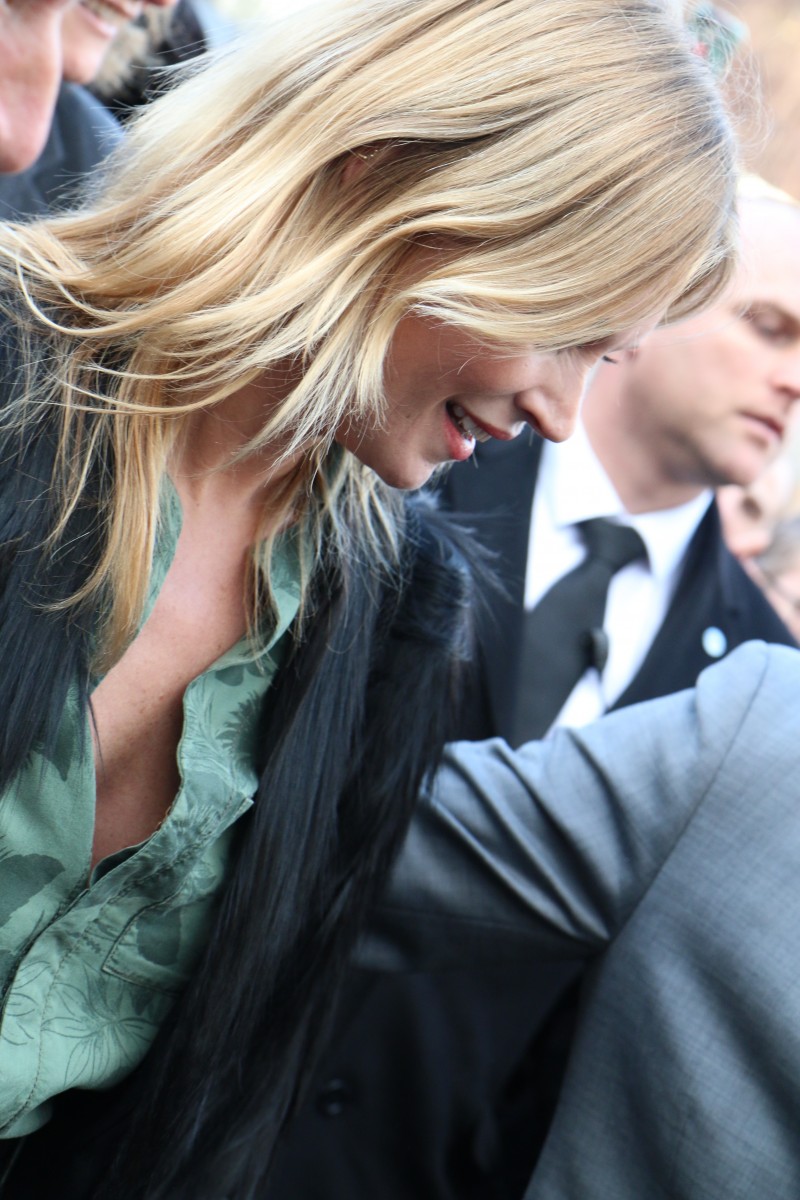 Second major sighting was Anna Wintour and my heart really stopped beating for a mini second. There's not much I can say about these few moments… I just tried to realize all of this and until I did so, she already entered Tate to see the Topshop show in the separated area of the huge hall. I mean… if Anna arrives, the show is about to start.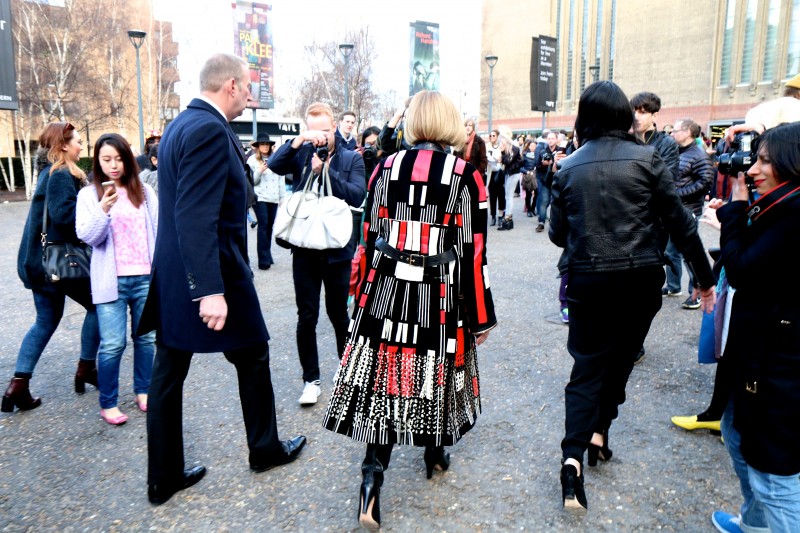 So overall, I'm quite happy that I made the effort to come to Tate to play the undercover street style photographer – seeing these personalities in reality never happened to me before.
Enjoy these few pics – again, sorry, that there are not much more. Maybe I've become just a little picky and stuck up with looks in general. Then again … maybe it's that London look, which I'm not favoring this season. Only Kate can pull that one off. ;)
Have a nice Saturday!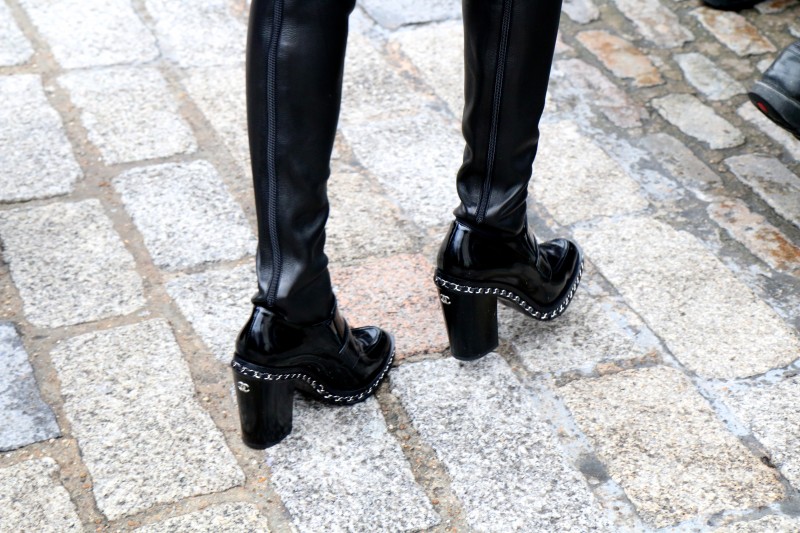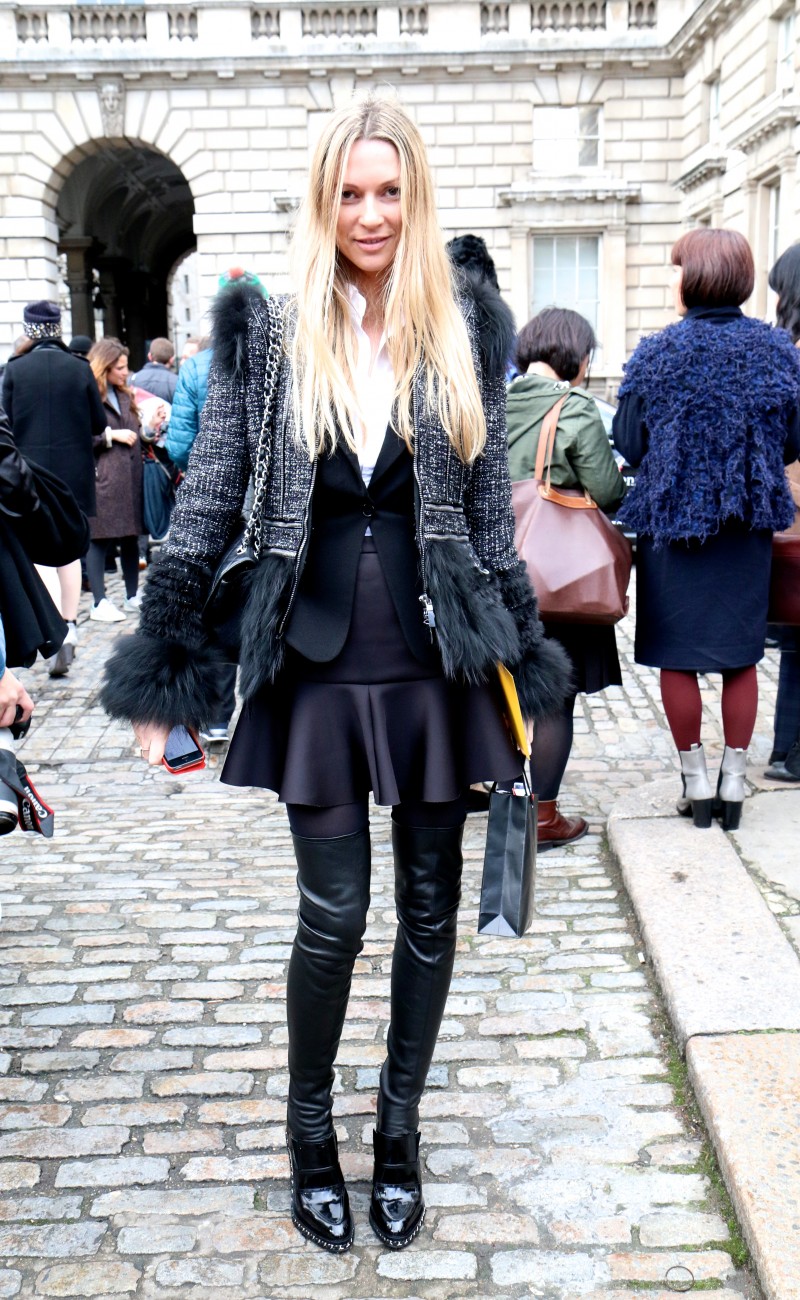 My favourite-favourite-favourite look of this season (the only one spotted at Somerset House). All black everything, a bunch of Chanel-y things, fur, overknees, classy blouse & blazer – and she was even very polite compared to the rest of the people further down.
A beautiful combo of rose tones
Effortlessly cool look.
Those berry shades, a little sparkle, a little fur – perfect!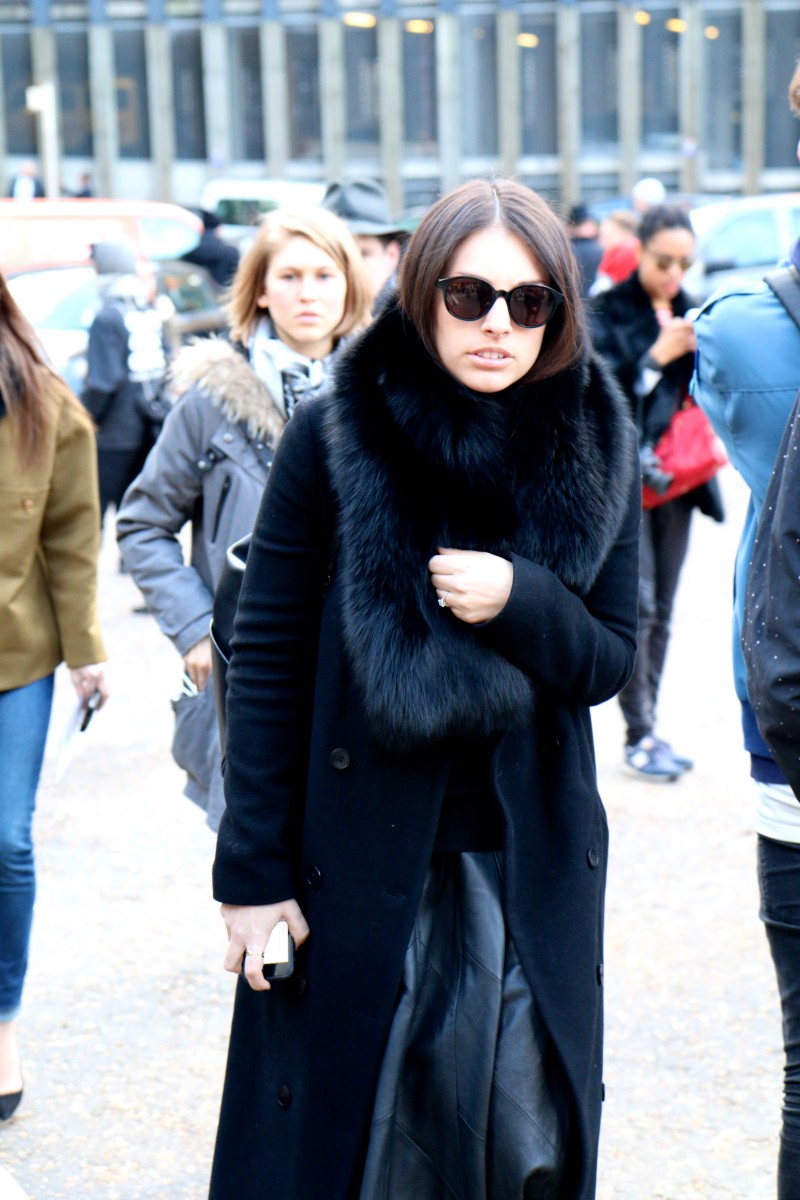 All black & fur never fails too look good. :)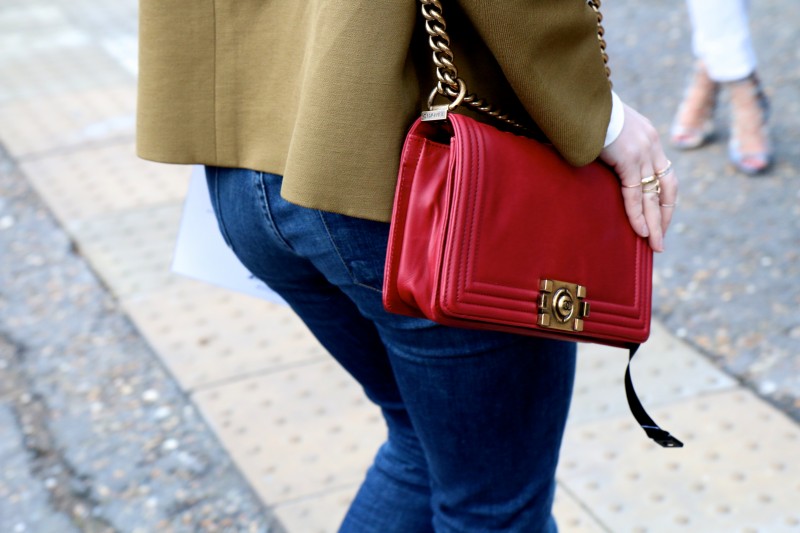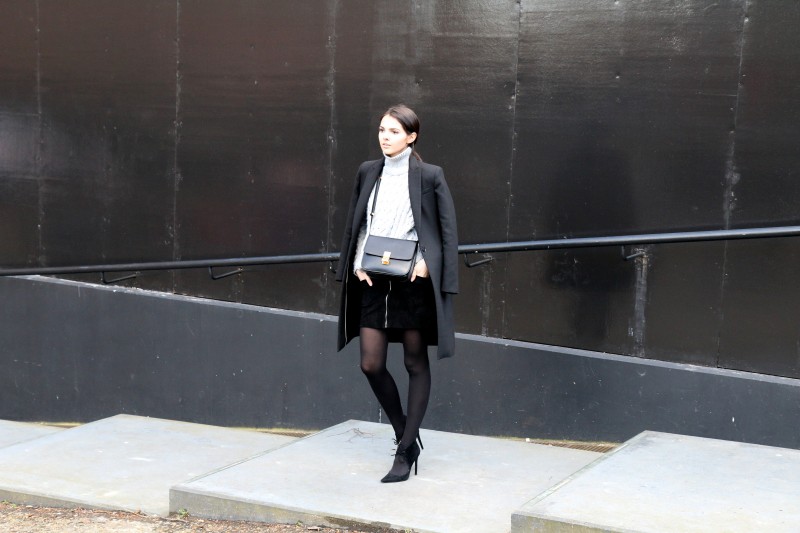 A very clean look – nothing special but well done. The only thing I don't like is the skirt with its silver zip.
Beautiful coat … and beautiful shoes below.
Not too sure about the right and middle look (though they're okay overall) – the left one is really nice!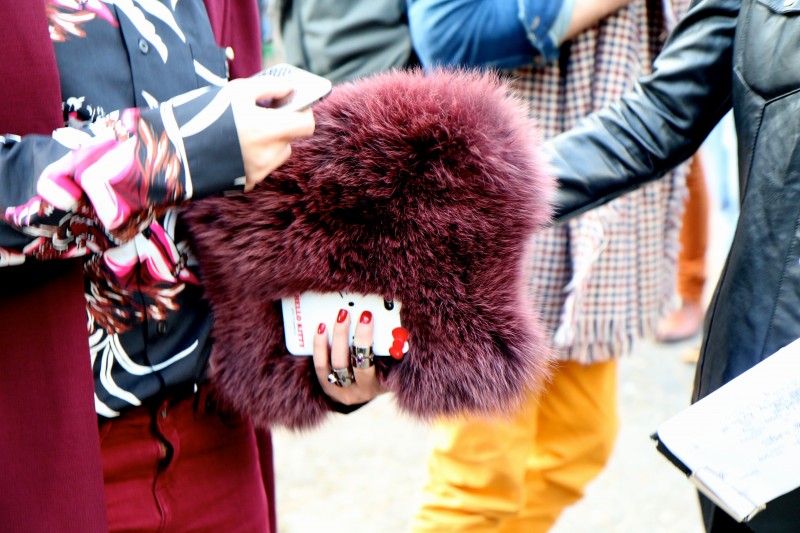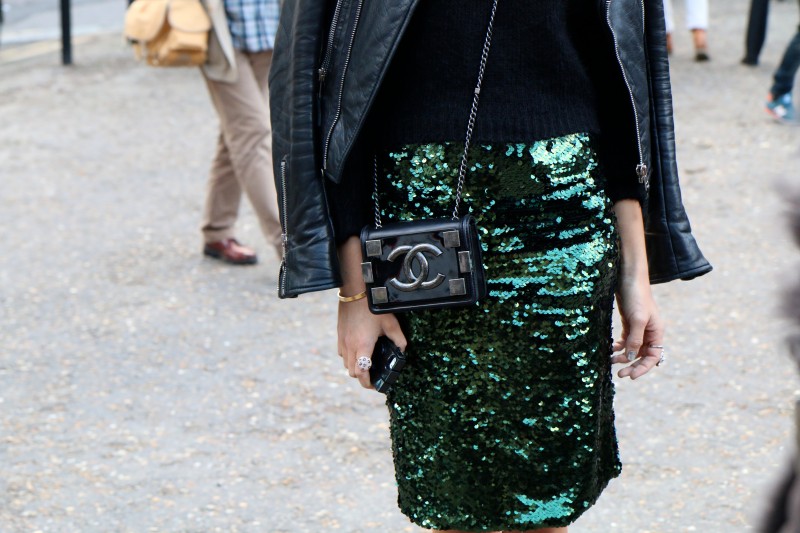 Fake fur is just not my thing but that Zebra bag got some extra points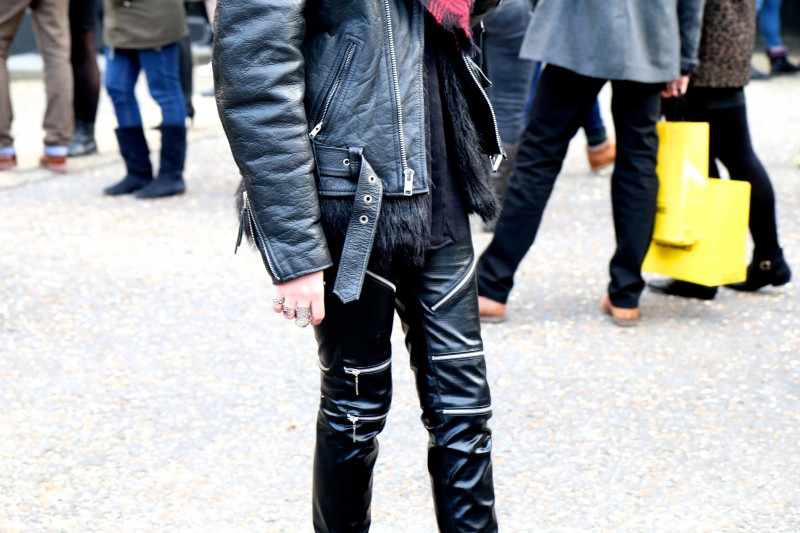 Chloe Norgaard
A beautiful colour for a hooded fur jacket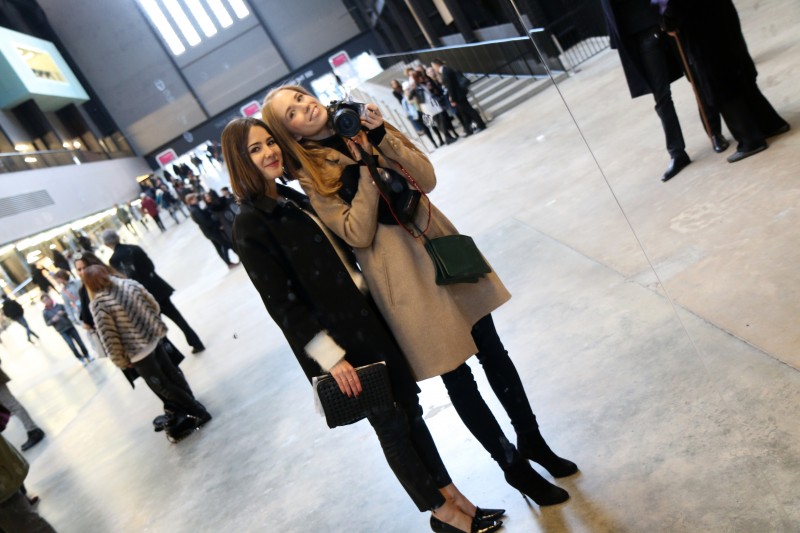 My dear Tabea of Dolcewitafashion and me doing shameless selfies in the Topshop mirror.