Second show on that Saturday was  Sister by Sibling for me and it, surprisingly, turned out to be a show full of little highlights.
Starting with the main thing, the collection (what else), I felt a certain hippie spirit resembling around the different looks, though it was a very chic (high-end) hippie feeling.
Bright pops of colours (no neon though), knits and crochet were key players in balancing the easy-cool breeze of distressed knit dresses and funky color blocking.
Felt hats with glitz accessories on one hand, sharp and peep-toe heels with socks on the other. Just generally, I noticed that socks and heels seem to become quite a thing next season (just thinking of Topshop Unique, too) although I personally still despise this trend.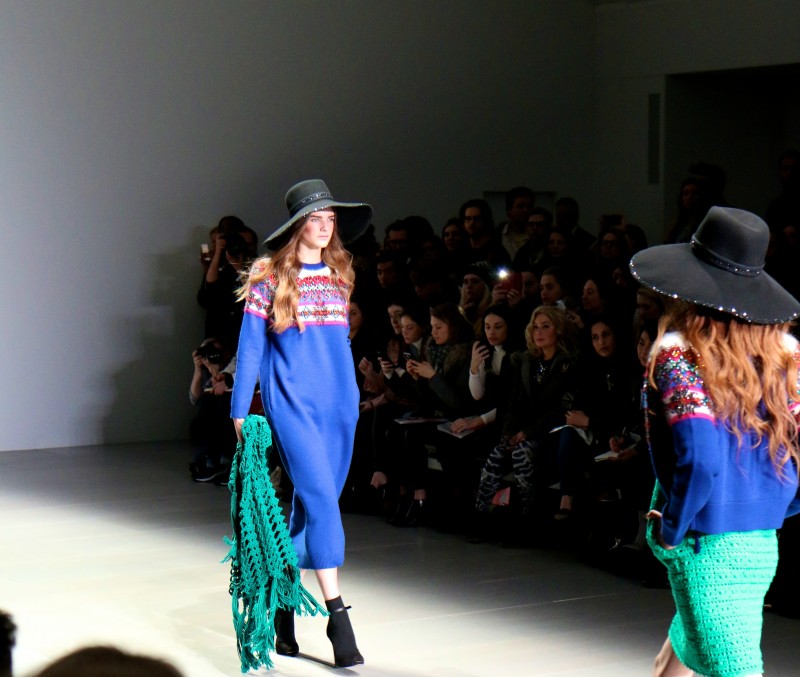 Even the pretty way in which Sibling makes this unconventional combo happen didn't really convince me. But that's probably a very personal matter as I spotted some of my favourite editors and bloggers embracing this sock-n-heels look this fashion week as well.
The crochet pieces in between, mainly bikinis and oversized cardigans (I assume) dragged behind as blankets (it makes sense, doesn't it!?) made me instantly crave for summer – especially the hot pink and white pieces reminded me of Ibiza times.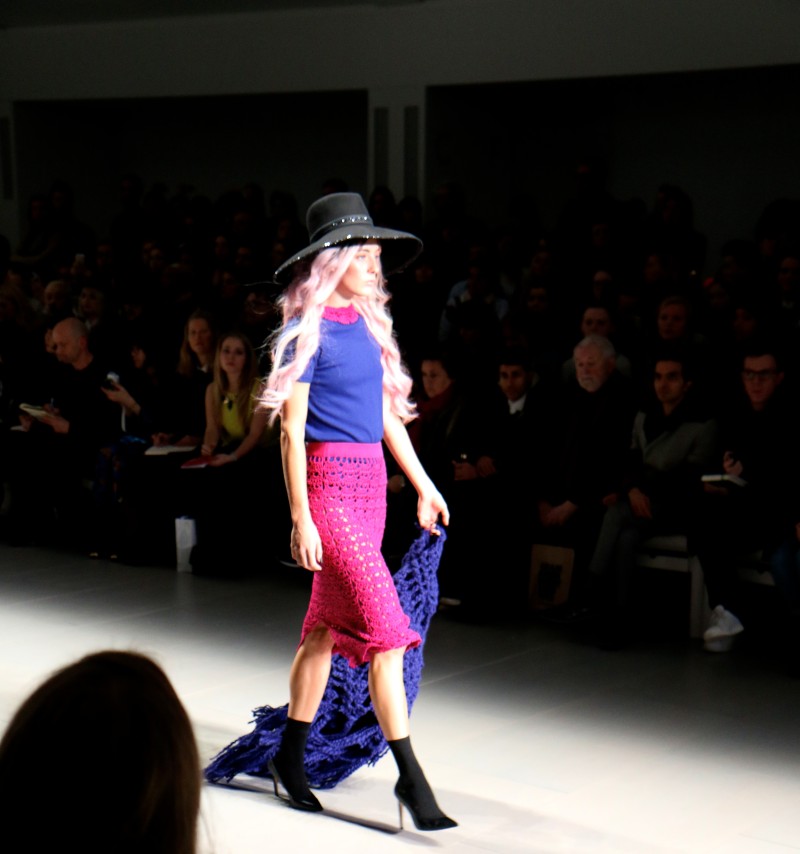 One of these highlights I mentioned, was, apart from the looks, the fact that there was just one row separating me from one of my favorite journalists and icons of all time – Hilary Alexander. One of the definitely most positive people I ever came across at London Fashion Week. She was probably also one of the most influential and important ones I came across, too, which yet again proves my assumption that the really important people in this industry make the biggest difference in the authentic way they behave (contrary to the dozens of arrogant weird ones, who nobody knows).
Then there was also Suzy Menkes, who was just on the other side of the catwalk. I really was on an euphoric state of mind after spotting two of my idols.
The last highlight was quite an entertaining one. Sibling took it very seriously with the distressing of their knit dresses, which gave a very nice effect of what it looks like if you tear a simple knit dress apart.
But have you too ever wondered how to walk in such a risky dress, which might not expose the most common parts but leave you with challenging walking conditions?! Two of these looks by Sibling caused quite some OMG-moments for models, invitees (and probably the designers and PRs themselves?!) when both models had to detangle their heels from the bottoms of the dresses.
One of them was even so fed up that she threw her heels away…
The other girl stopped walking in midst of the runway to get some balance again. But her sweet smile made it all a bit more relaxed…
Frankly, I don't find anything embarrassing with that.
It shows pretty much what every normal person would be dealing with. Although the model in the white dress didn't really seem happy with this situation (I didn't spot her again in the final walk and she also disappeared shortly before making her walk in that white dress further above), I felt that the room was somewhat split between amusement (a natural thing for fashion people, too ;)), few "oh my good"-seconds and a following much relaxed attitude, leaving no other choice to the last model than to laugh it nicely off.
One got the applause (the smiling girl), the other one left quite a weird impression (not going out first, then walking down the runway giving bitchy looks which were probably meant to be looking sophisticated, then not coming back for the final walk … girl, what's going on).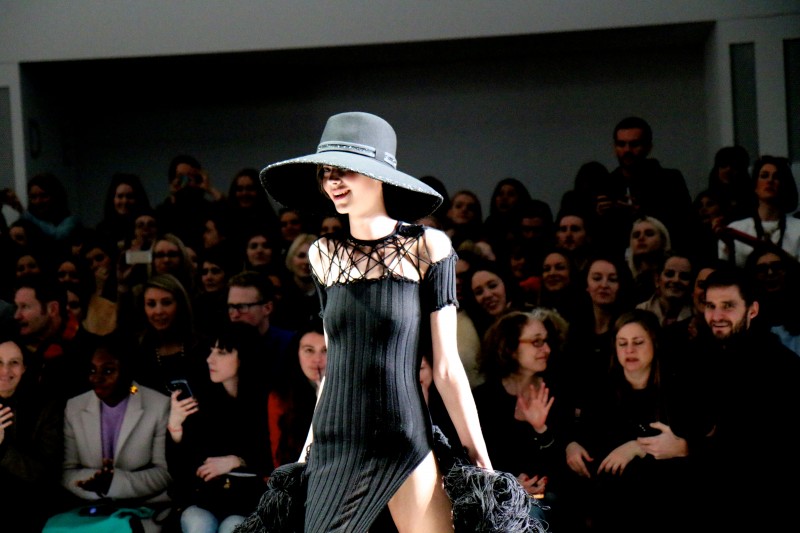 Above all these trends, I especially concluded one thing: A show can be as serious as it wants to – if something goes wrong, laugh it off if the situation allows. :)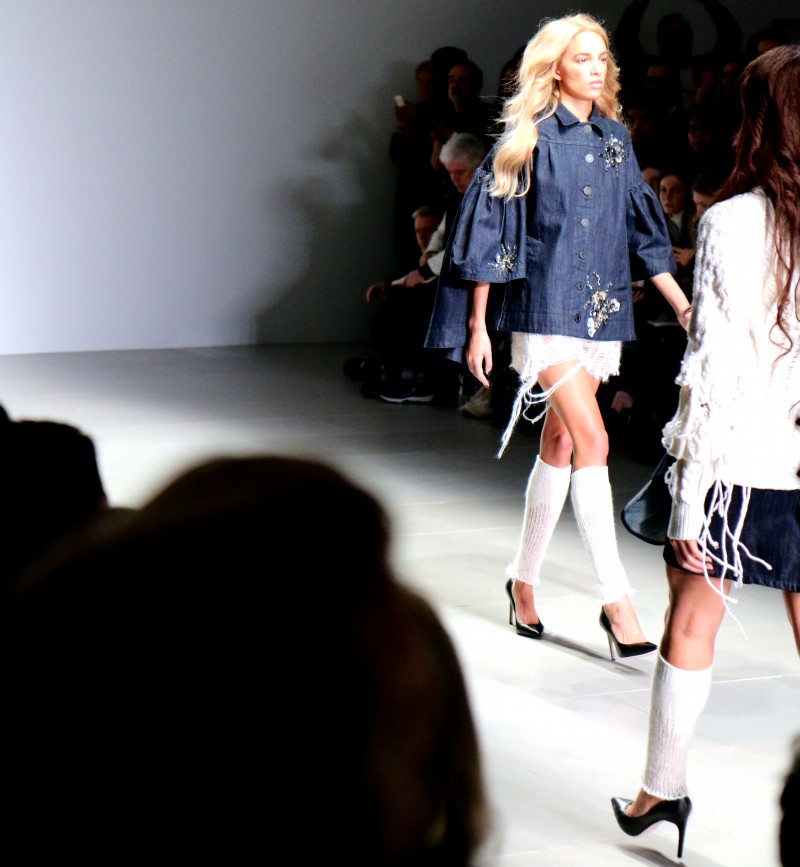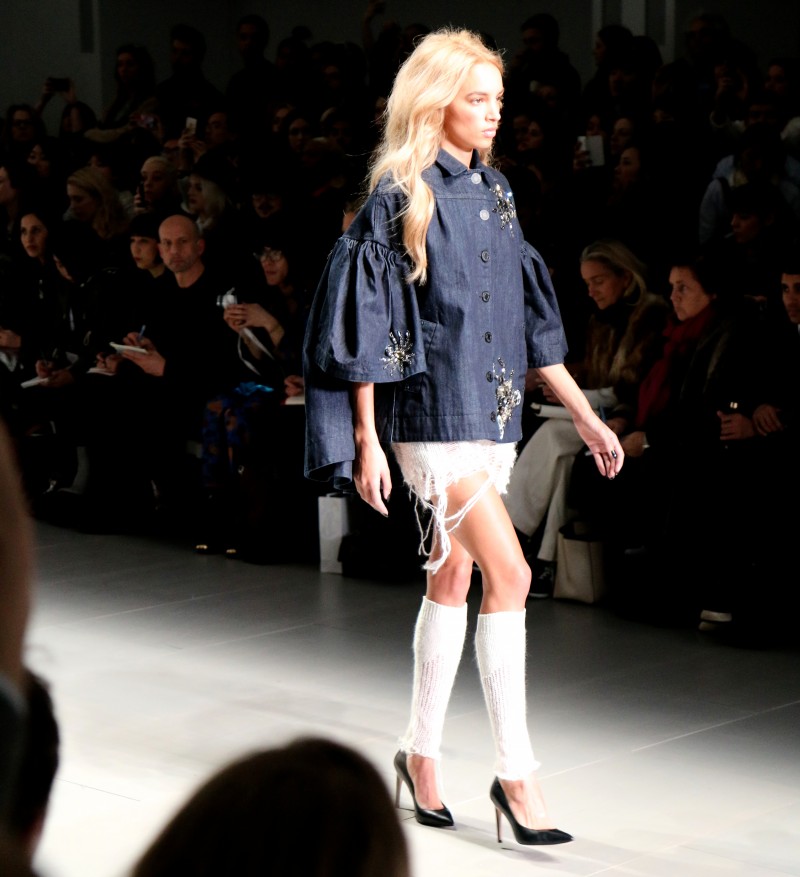 One of the things to note down: Denim & white knit will always look good. Put some sparkling details on & there you go (though I'm not too sure about the leg warmers)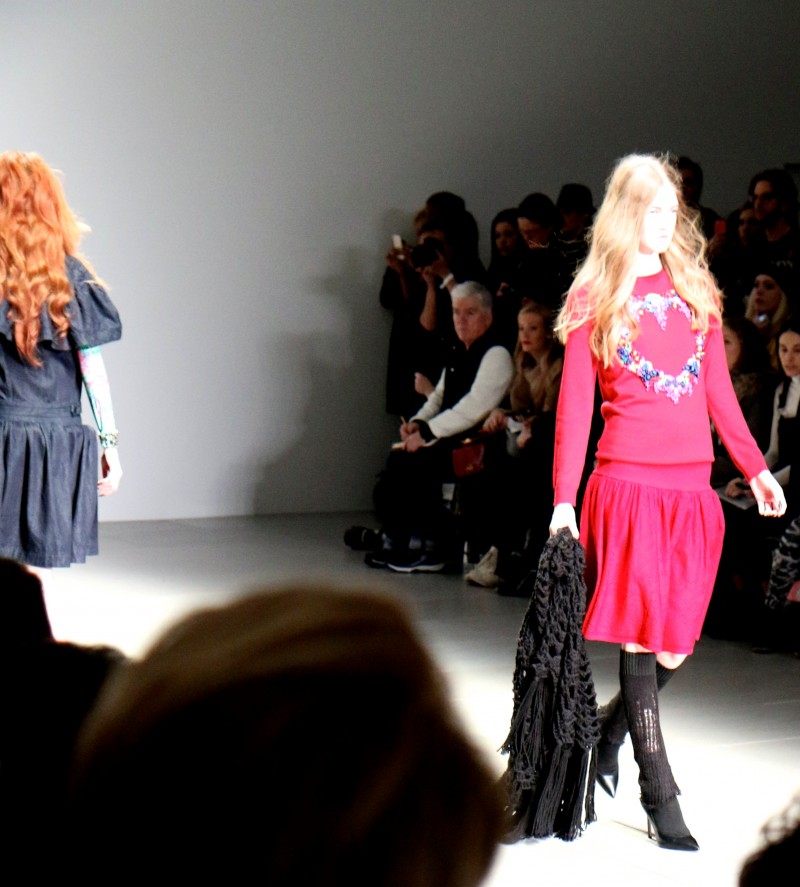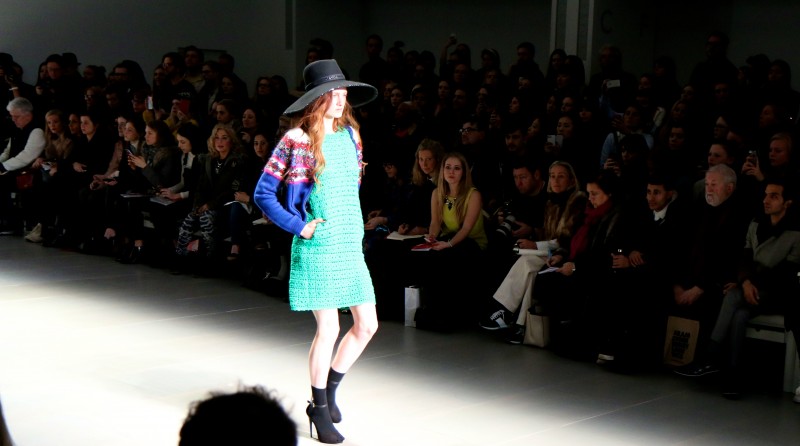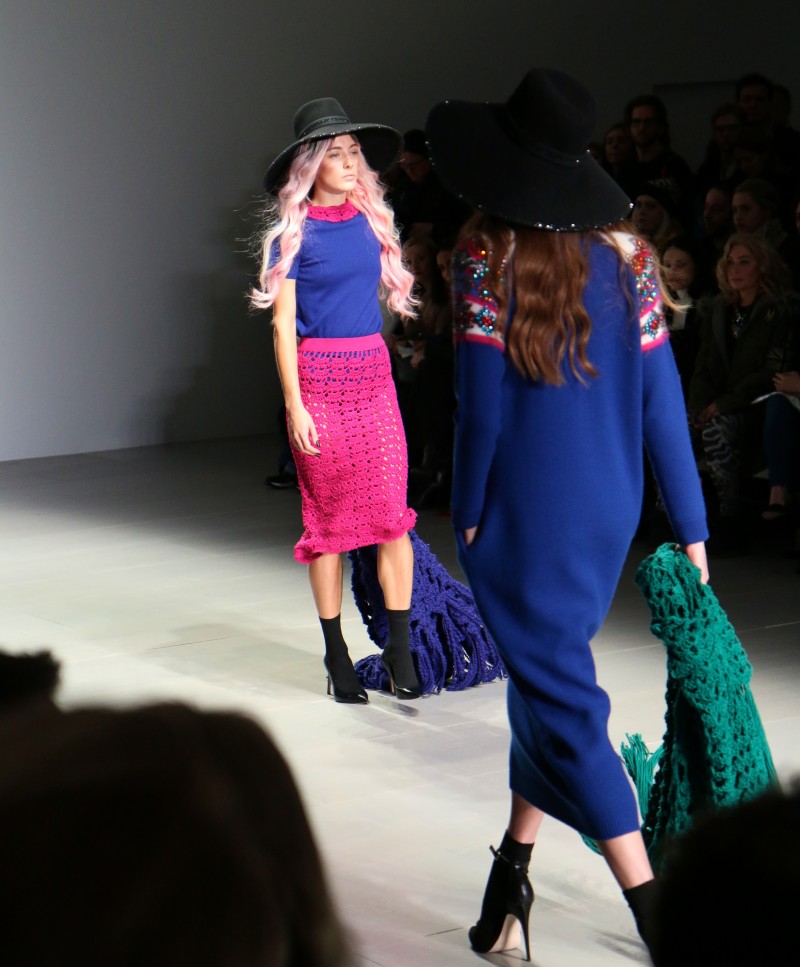 Blue and hot pink!
Flared skirt vs. pencil shaped skirt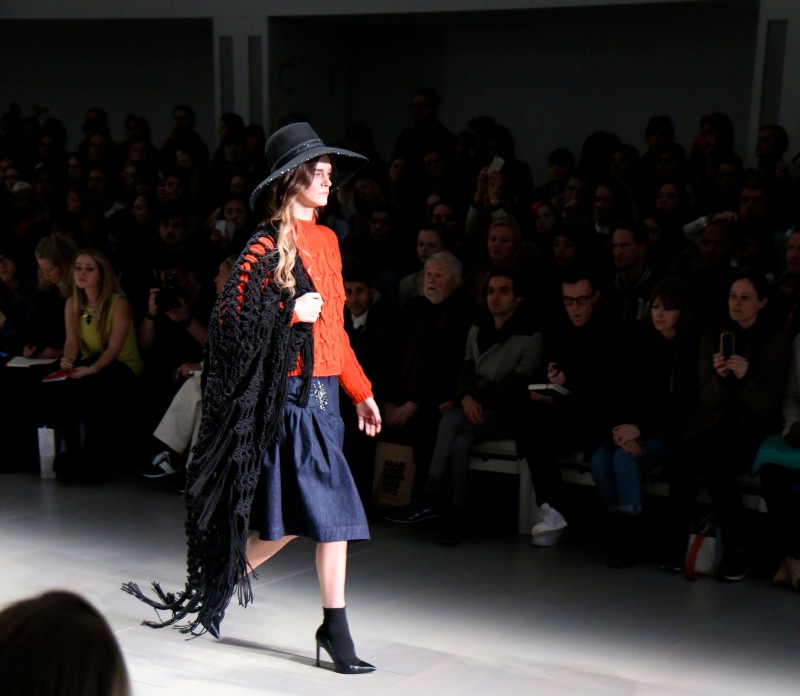 My absolute number 1 look!