Last Saturday, second day of London Fashion Week – and I found myself running through the rain straight to the tent of Somerset House's courtyard to view John Rocha's incredible autumn/winter 2014 collection.
After slight confusion about the people in the front row and after making sure that my camera is all set, I felt nothing but excitement and curiosity when the first model walked down the runway.
Rocha always seems particularly different to the rest of London designers; his way of uniting a twist of avant-garde and an extremely (!) high-end way of creating his pieces (almost in a haute-couture state it seems to me, though it's not! I know) is outstanding.
Taking inspiration from the northern lights of Iceland, Rocha based his fall/winter collection on black, which also leans on Pierre Soulages ("the master of black"), with complementing shades of green, red and grey.
Though this might seem all a little dark-in-dark at first, a certain mood of extravagance and subtle romance was perfectly created with the unmistakable Rocha-characteristic, the ruffles made of organza, which beautifully marked his collection in different ways.
From loosely hanging, flattering ruffles layered on dresses to voluminous XL ruffles tamed with a corset to create a sculpted silhouette, Rocha showed a continuous yet variable way of how to play with them.
The extravagant headpieces, which I associated with black and red roses, may be the perfect thing for the brave ones but definitely added a decisive eccentric statement to the looks.
Handmade raffia lace, georgette and chiffon contributed to a balancing elfin look along some decently outstanding details – velvet flower appliqués and smaller sparkling nuances as the most recognizable ones.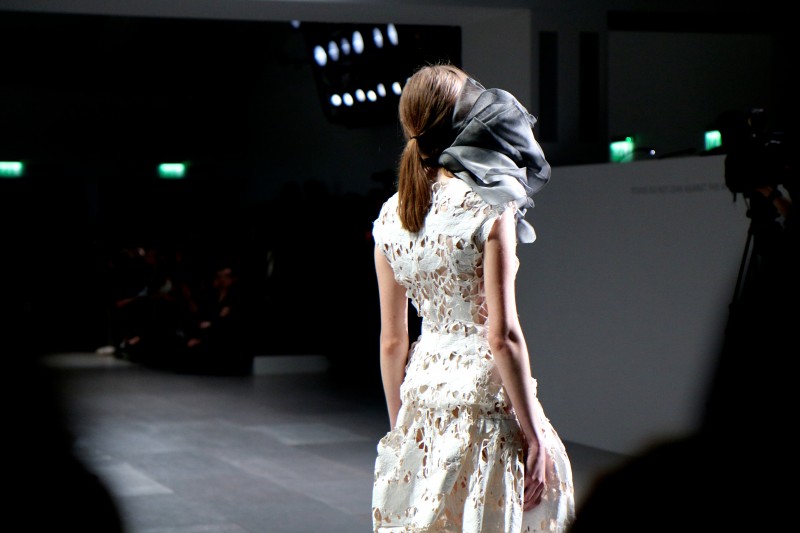 As a classic, Rocha set on tweed. Costumes with a little shiny twists and, again, ruffles created a playful look, which were brought to an even younger level with knee high socks.
The more elegant, less girly variant came in a tweed high waist trousers and an extravagant sheer top, which was adorned by a ruffle bust-to-neck part to cover the necessary – one of my personal favourites.
All in all this collection made me realize how beautiful it is to play with volumes to create a silhouette and combine winter classics (tweed, velvet, an overall shade of darkness) with feminine details (ruffles, flower appliqués, shiny surfaces) to evoke a beautiful fall/winter look.
Until next time, we should probably all note Rocha's imaginations of the next season down. After all, he never failed to contribute in setting the tone, though he always maintains the surprising effect until the last model walked down the runway.