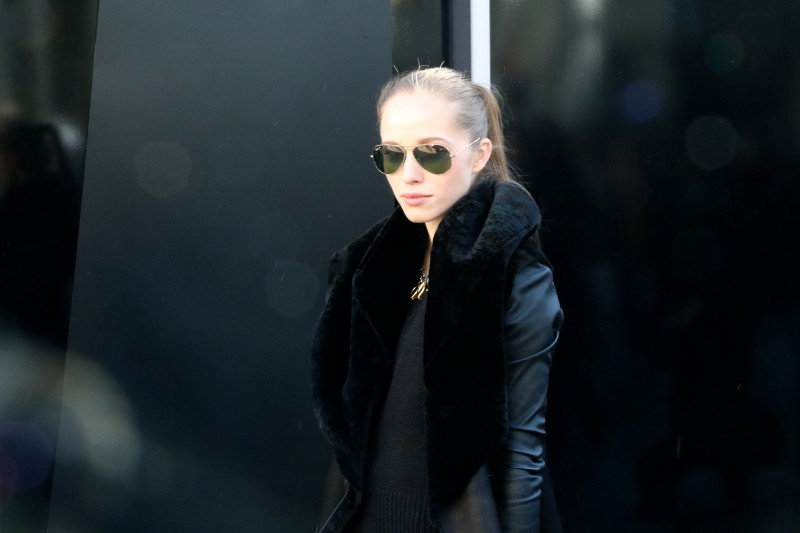 When my feed fills with countless pictures of countless shows, trend predictions, recaps, street style shots and celebrities spotted here and there in this and that designer's front row … then there are just two words to reason this: FASHION WEEK (month, in fact). 
This season, things were all in all a bit different for me personally but I decided to leave these impressions of fashion week generally to the end. I'd rather give a fair insight of it than just some first thoughts.
That's why I won't make you read too much today and rather show you what I decided to put on yesterday. 
All black everything always wins for me (not too much for the photographers, though, who are all about attention seekers around the tent … oh and they were also not into SMILING and LAUGHING people.. – so sorry ;)), so I pulled my beautiful Punto jacket along other pieces, which comforted me and made me feel simply good.
One of these things were Faye Marie Jewellery's pieces of her current collection (remember my interview and post?). The statement necklace ("The swarm of the fireflies") and this ring ("Double firefly ring") added a chic twist to the look, which, without Faye's jewellery, would have been rather basic.
That's why I was especially happy when people came over to ask where my jewellery is from – one guy was even so excited that I had to type it into his phone. Win, win. ;)
Have a nice Sunday & from today, I'm back to normal with blogging – no longer one and the same post for the week! :)
Jacket: Punto, Pullover: Prada, Jeans: Just Female, Jewellery: Faye Marie Jewellery, Bag: Michael Kors, Shoes: Prego
PS: It was freezing & WINDY  – no further explanation needed I guess ;)