Yet another waterfall jacket …. does this make me a freaking repetitive blogger? Probably. But, really, I found this love by coincidence while keeping myself distracted from much more essential things waiting to be done and dusted. Productive procrastinating I'd call it.
After finding the shearling-look alike waterfall jacket on River Island's online shop back in December (post here), I decided to give it another go last week to see what they got in stock. Surprisingly, this love here is also quite similar to my beautiful one I got at Punto in Istanbul back in summer.
The colour is probably as neutral and flattering as it could get for anyone, thus makes it extremely easy to combine to almost everything your wardrobe offers. But who am I telling?! You probably know best.
The clean style, the very restrained applications at the wrist joints and the overall not-too-shabby look – £60 are really nothing for such a well looking, leather imitating River Island jacket.
Check the grey leather-look alike waterfall jacket out at River Island's online shop this way .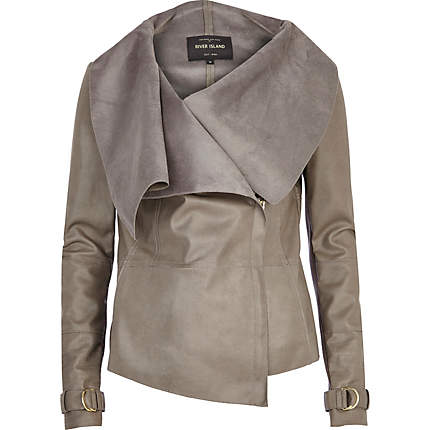 Outfit idea (click on items to shop):