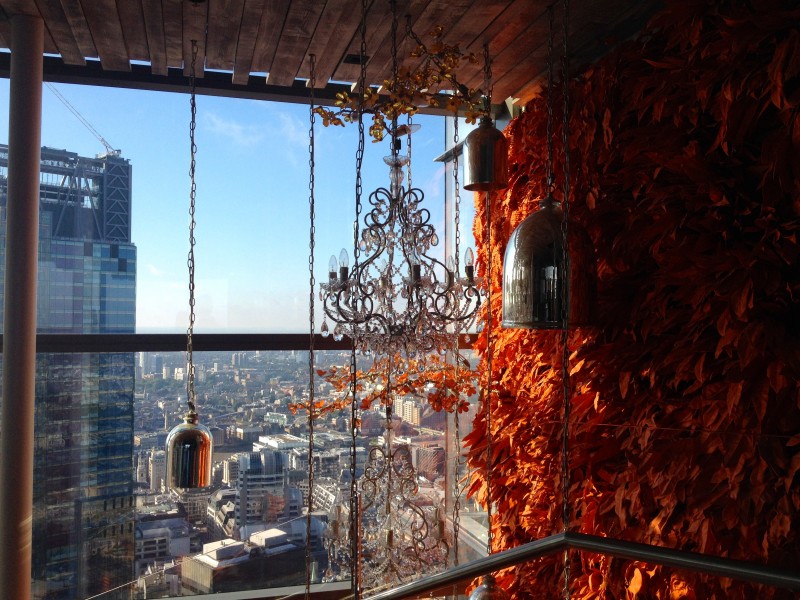 London started to eat above the clouds thanks to a gastronomy hype, "food with a view", which, literally, reached its peak by  the end of last year.
Forget about the dark corners in Mayfair and Soho (which I still love to bits); 2013 was the year of going high up in the sky with reservations required to be made weeks in advance and some rewarding views to be remembered.
There was the much discussed Shard with its restaurants and the debates whether it's really worth the fuss. And then there was the older sister, the Heron tower,which I didn't really recognize until enjoying my first-ever breakfast at Duck and Waffle last October.
A quick resume? There are just few places that could eventually stun your companionship (preferably not a Londoner who's been there already) as much as a nice and relaxing breakfast on the 40th floor at Duck and Waffle (the Heron Tower) on Liverpool Street.
Much to my surprise, we had to wait for our first reservation for four (!) weeks (last time we had to play this reserve-far-in-advance-game was the peak time before the credit crunch in 2008?!) but I can tell: It was worth the wait.
Actually it was so worth the wait that I decided to spend my birthday breakfast up there again in November, followed by several other mornings.
Opened only in 2012, Duck and Waffle is one of these rare fancy places which offer food 24/7. I mean: Seriously 24/7.
I read several articles talking about brokers and party kids flying in during early morning times to grab a quick bite before the first early risers are up again to do their business breakfasts (and later on lunches and afternoon bites and what have you to live a busy life with a fancy bite in between) at this place.
And I got even more curious when I heard of the fantastic view and the endless discussions whether you actually pay for the fact of overlooking London for an hour or whether the food is really worth the hype.
I have a reason I called this post "Breakfasts at …" and this is because I checked Duck and Waffle's all-day/dinner/all-night menu (such a clever attempt ;)) and decided that French-British cuisine will just never seduce my hunger senses.
Those who love foie gras, duck leg on belgian waffles and some other interesting creations will be probably more qualified to rate the place at these times.
But thank God they've got a breakfast menu as well and so, I can tell: The food AND the view is great and I'd obviously come back for both of them.
Some might say that you can't really do anything wrong with breakfasts ("they're all pretty much the same, aren't they?!") but that's just what makes Duck and Waffle a special place; the atmosphere, the ambience and well, yes, also the food.
Needless to say that you should probably go for something which says "waffle" on the menu, I also have to point out the fruit salad. Don't roll your eyes, you've read correctly – fruit salad.
"What kind of useless recommendation is that?!" you might think but the decisive difference is that it comes with a minty note, which really is worth the few vitamins (and yes those fruits do taste differently to my average bowl I'd prepare at home).
Frankly, I'm very happy to pay for all of this (and seriously, I don't really find it much more expensive than having breakfast at other "fancier" places)  if I can surprise friends or family with a slightly different view on London during critical morning times.
(Even I, as an absolute anti-morning person, was cheered up within seconds when entering the glass cube with tiny Tower Bridge and small Gherkin on the right for the first time ;))
To make reservations (IN ADVANCE!!!) and to check out the menu, visit Duck & Waffle's homepage.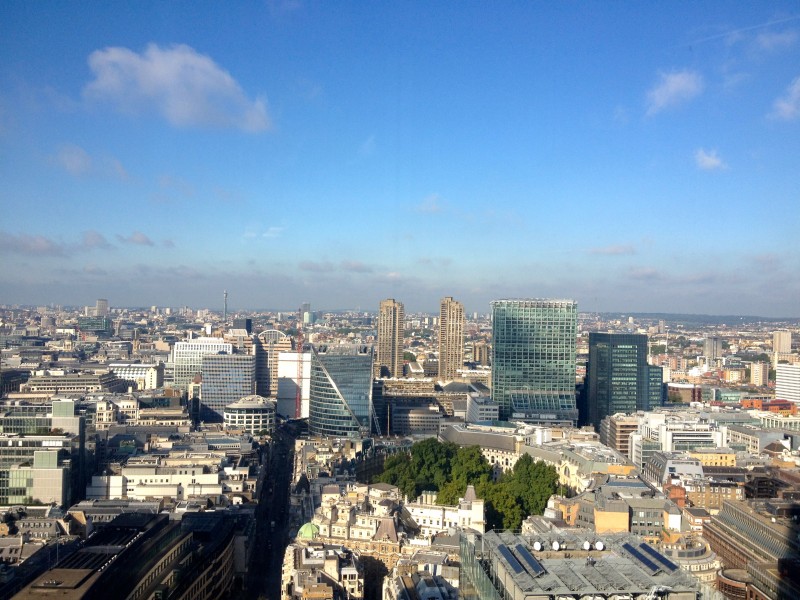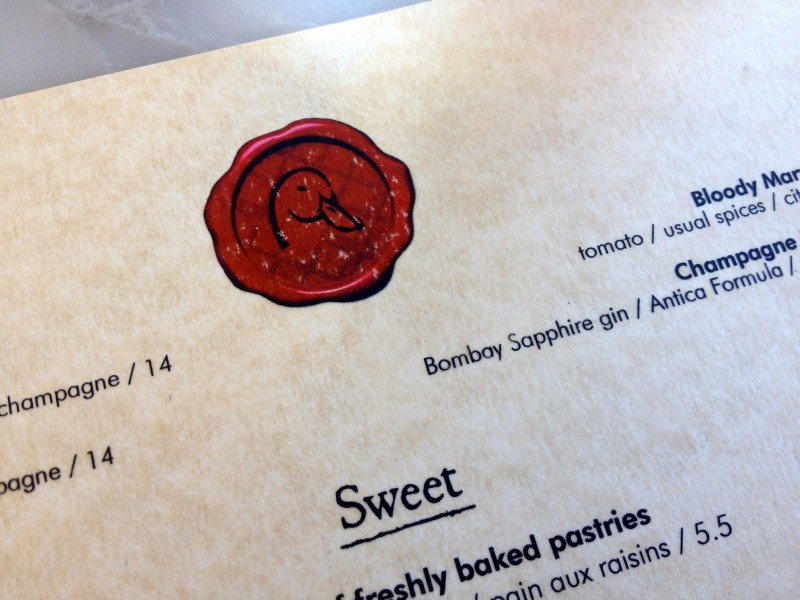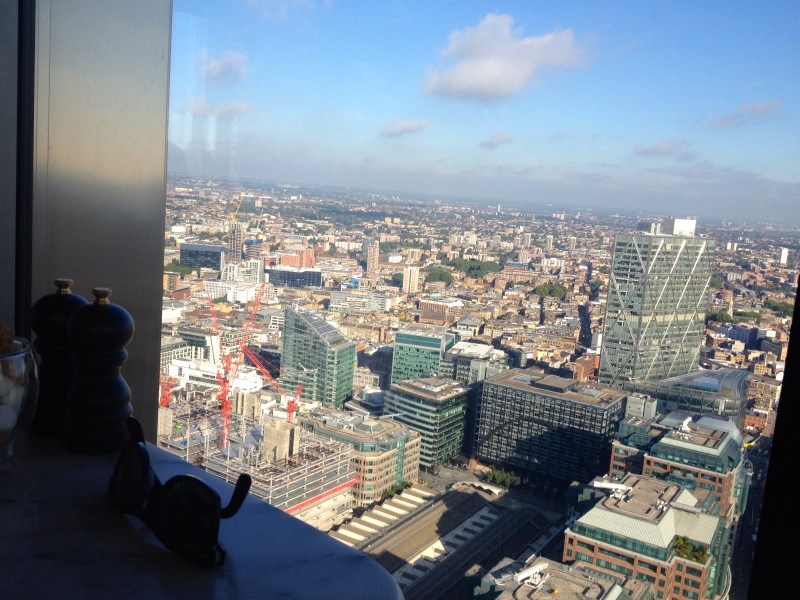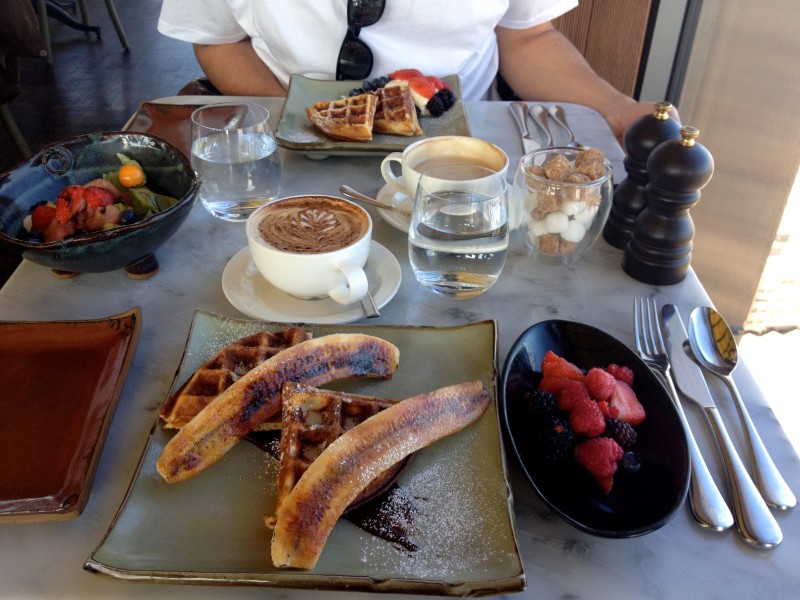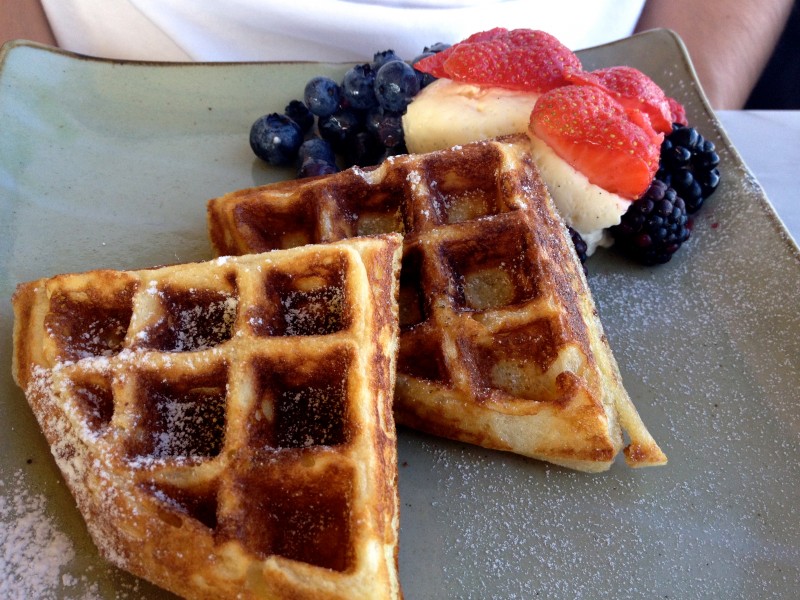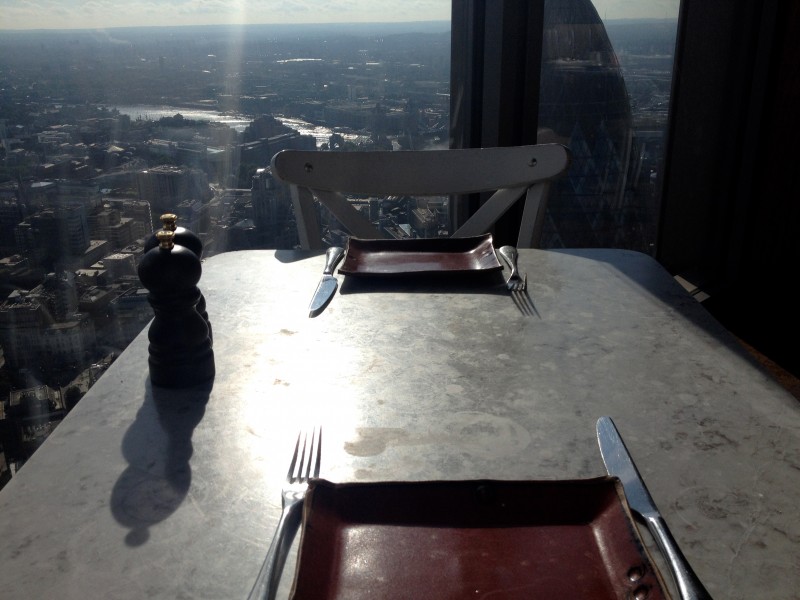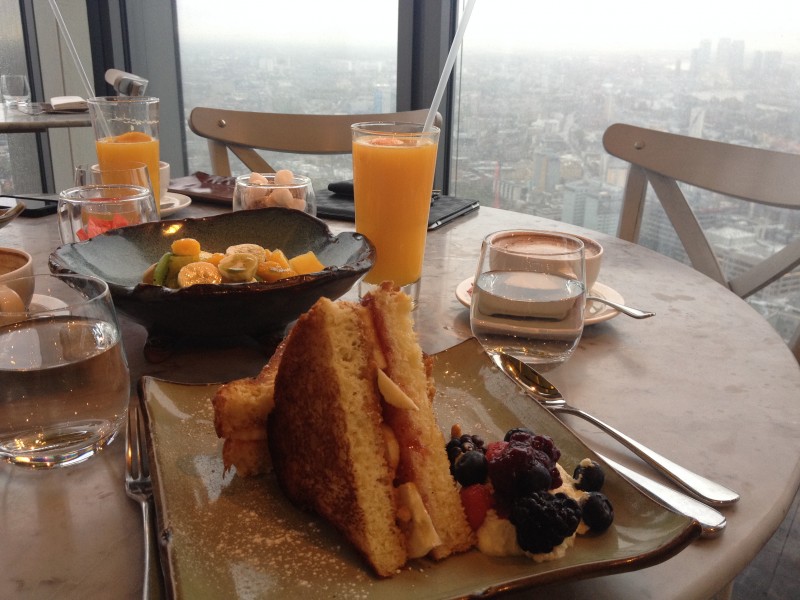 See you next time, ducks!