…I wish I could say that again. As sad as it is but I'm back to reality, back in London and couldn't crave more to go back to dreamy Cape Town.
After having some great, relaxed Christmas days at Madikwe Game Reserve in the felt middle of nowhere (which was good, because there's nothing better than learning that the absence of Wi-fi is not always (!) too bad), I was beyond curious and excited for a little more civilization in Cape Town.
This trip was something we've been looking for in a long time and also a personal desire of my parents since both of them haven't been to Cape Town for 20 years.
My dad used to live and study there, my mum went back with him shortly before I was born, friends are still living there and all in all it was an extremely reminiscing kind of a memory tour for them while it was also about discovering everything from a new perspective again.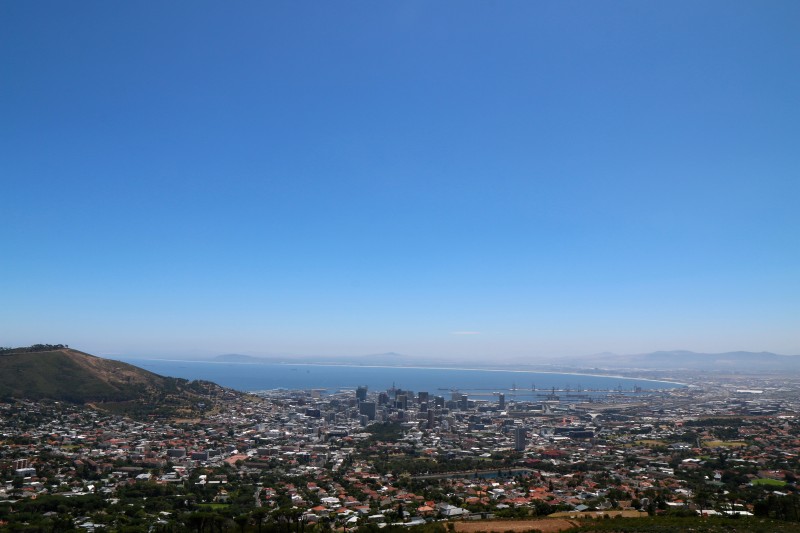 When driving in from the airport, I was greeted by the few skyscrapers and an extremely modern city core before being surprised by the other, beautiful sea side when reaching our hotel in Camps Bay.
It's one of these areas which is adorned by beautifully modern houses and flats built into the hills which are bolder than you'd expect them to be at first.
Our hotel, the POD Camps Bay, was an extremely good choice and a separate post is already in preparation.
So what happened during these days? After waking up every morning with sunshine, 25 degrees and no need for make up or any extraordinary styling, we went off to different places, beaches and had the most relaxed time.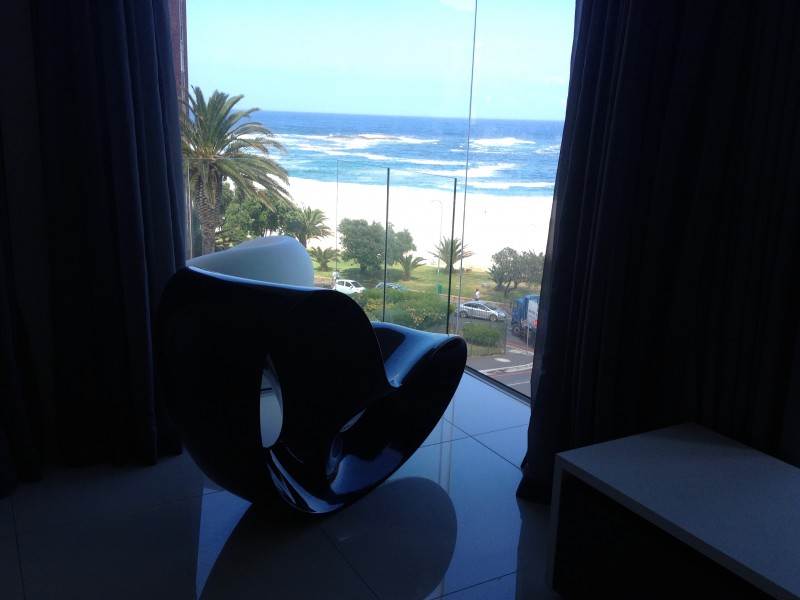 Don't get me wrong; thinking about what to wear on a daily basis is fun as we all know but it's nice to just take a time out from the fashionable part of life and just pretend to be someone who doesn't care too much about the personal outfit.
And talking about fashionable moments: Cape Town has a very own way of dressing. At least when taking a look at the people around me, which is always the best to get a grasp of the bigger picture in a city.
I'd call it a mix of surfer style, laid-back, nonconventional chic and never too much of anything. Maybe not something you'd like to have 365 days if dressing yourself is what you like to do and care about but I found something very comfortable and simply sympathetic about it.
Thanks to one of my dad's friends, we had a car for these days, which made everything much easier as Cape Town city itself is not everything you should see while being there.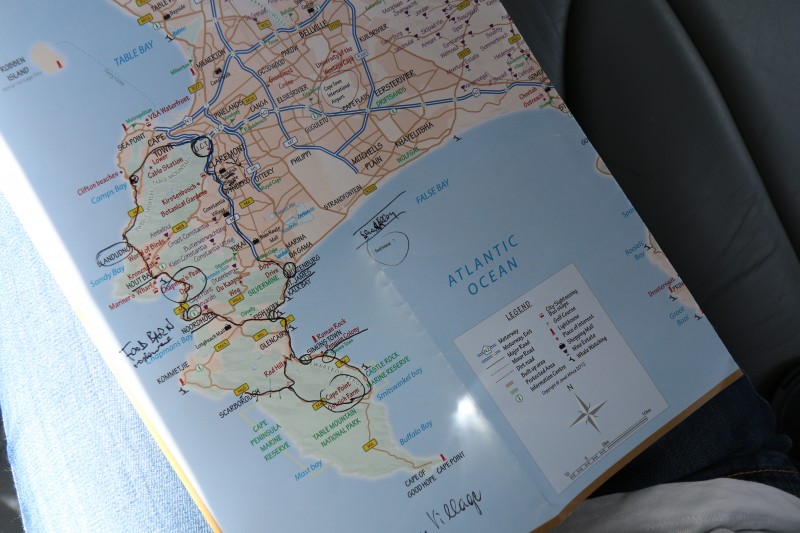 On our first days, we decided to loosely cruise around. Starting at Camps Bay and planning our little stops in between, we easily filled a day with the first round.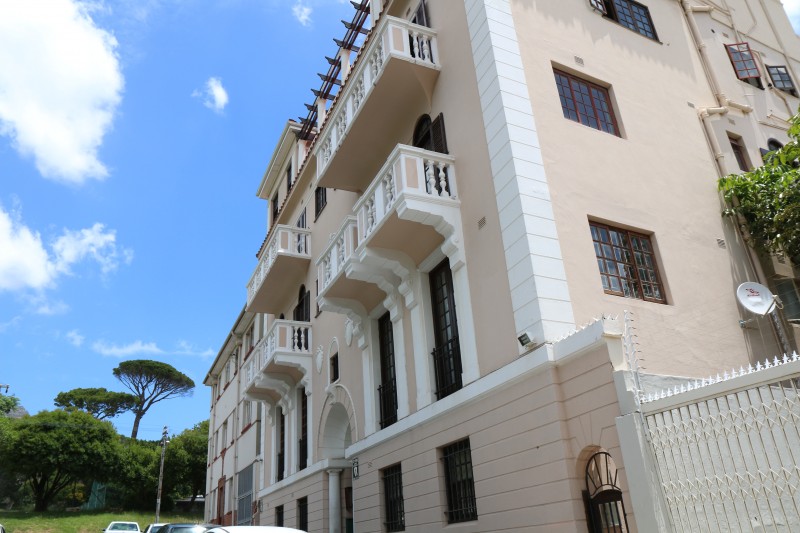 First stop was Gardens. And as if my dad had never left, he found his old flat immediately.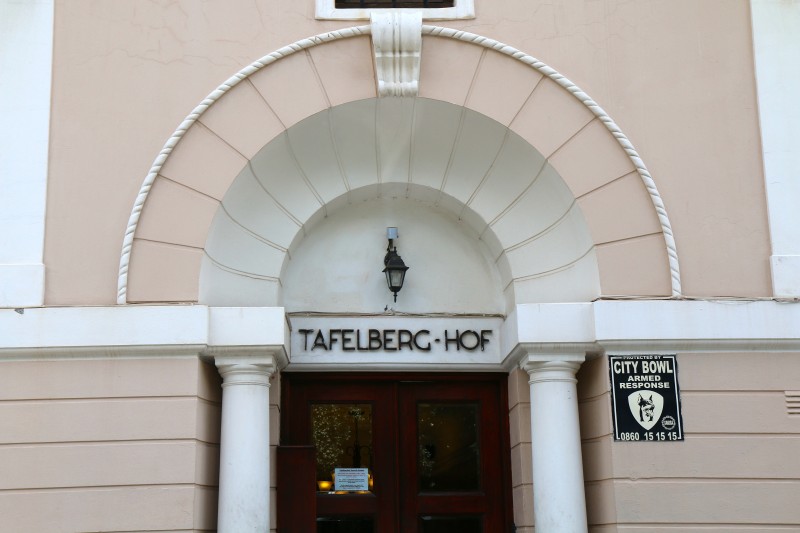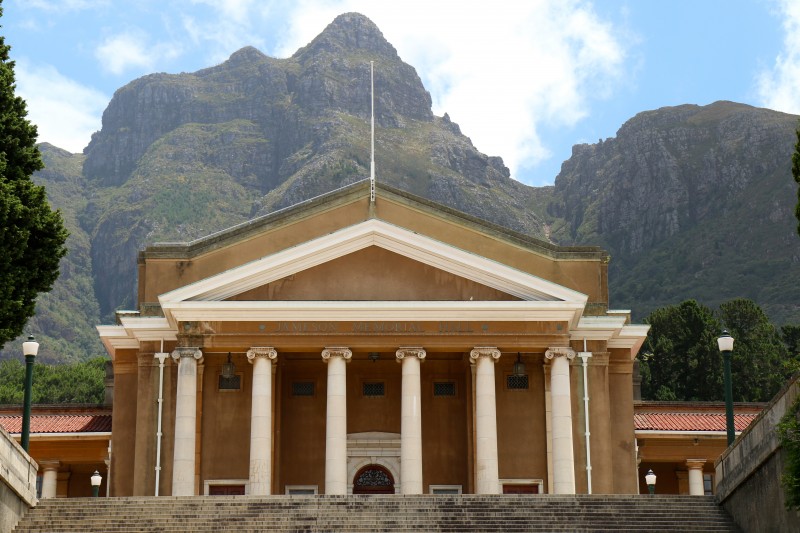 Second stop was UCT, my dad's Alma Mater, which has a beyond beautiful campus.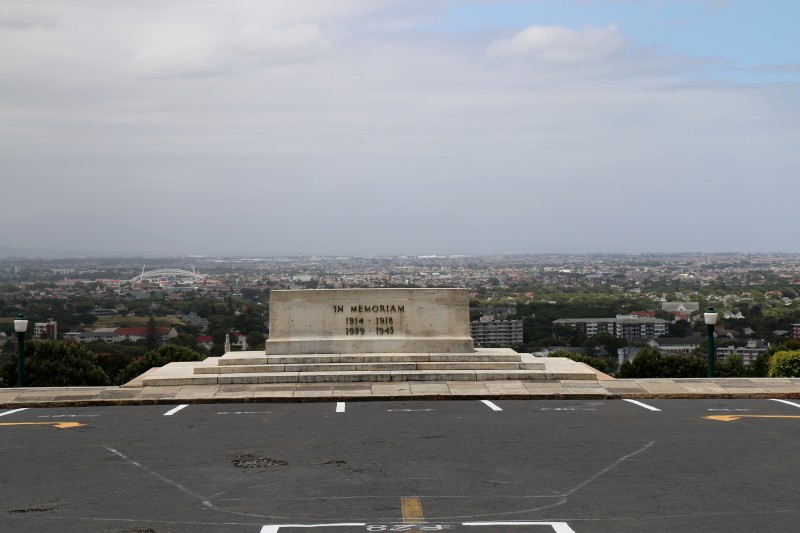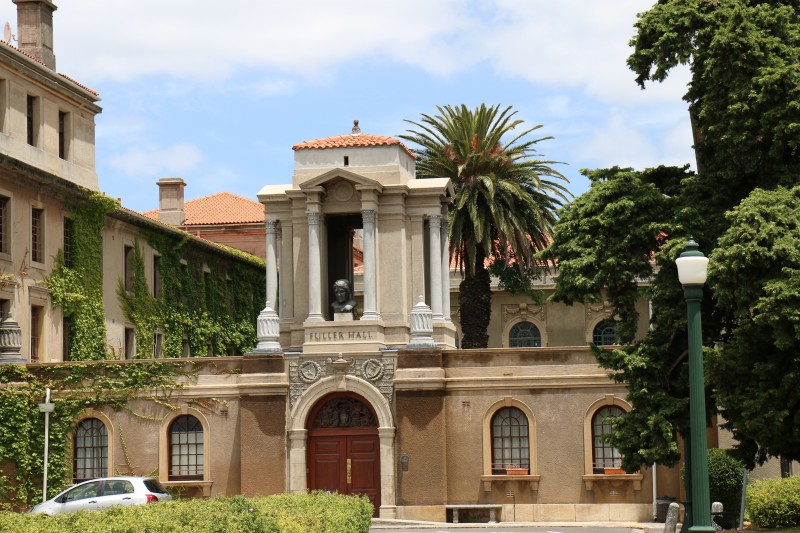 Then we moved on to Muizenberg with its famous colorful little beach huts (so retro) and (a favourite moment) the first signs of shark warnings I ever came across. As a long-term reader of this blog, you might know what a crazy anxiety-fascination I have with these predators.
I think I was the most excited person to read through this nobody-reads-this-ever-sign that educates very well about different shark situations that CAN happen.
So after re-assuring that shark sightings or shark presence was marked with a suspicious "?" (black flag), I went down this beach, watched the brave surfer guys diving head first into the ice cold waves (brave, obviously, also for the minimal chance to get attacked by a shark…but you never know!!!) and little kids being not as half as anxious and sensitive as I am and just enjoyed the moments of a nice summer day.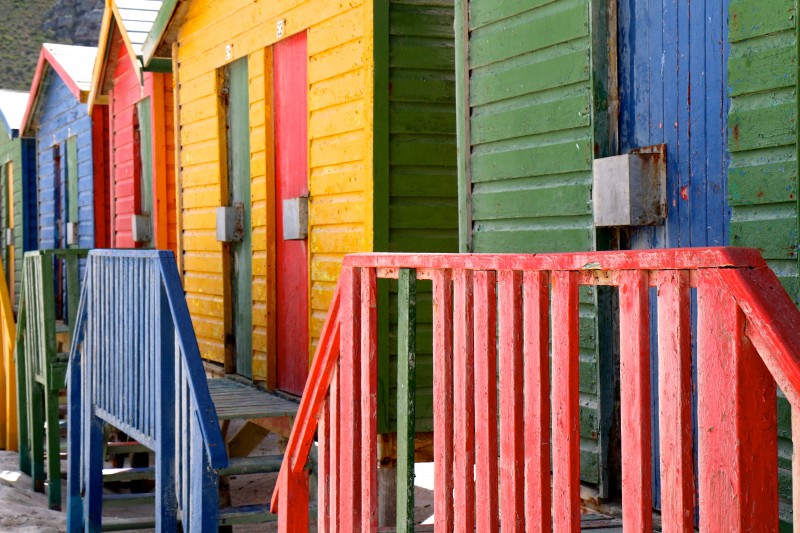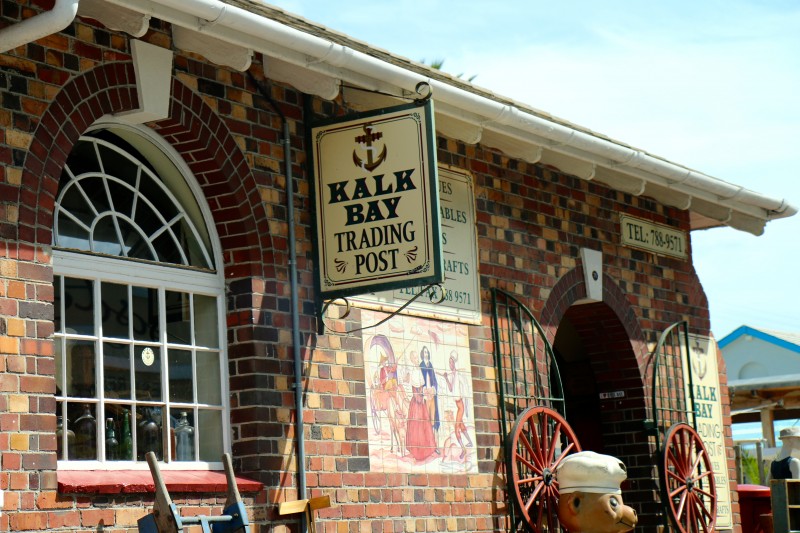 Next stops were Fischhoek, Boulders Beach with its Penguin Colony close to Simons Town, the Cape Point Ostrich Farm, Cape of Good Hope, Noordhoek, Hout Bay, Llandudno and back to Cape Town.
Boulders beach gave some fantastic views …
…not least because I befriended myself with Boulders Beach's extremely famous inhabitants.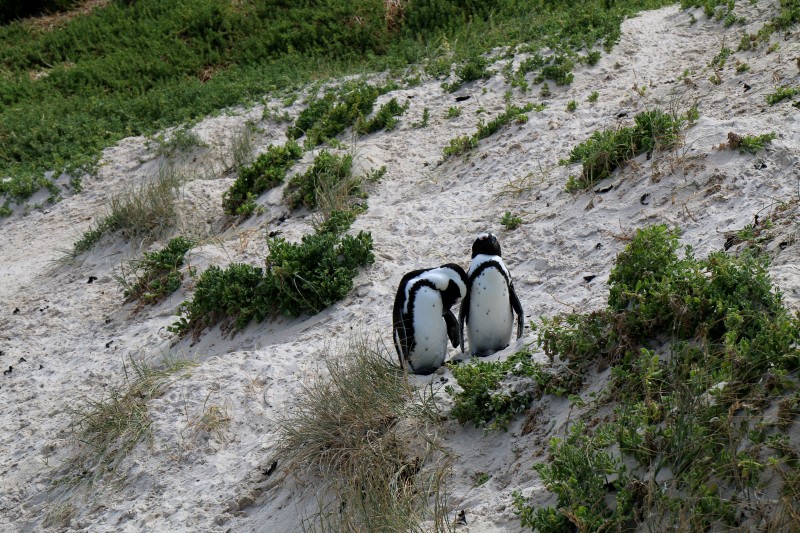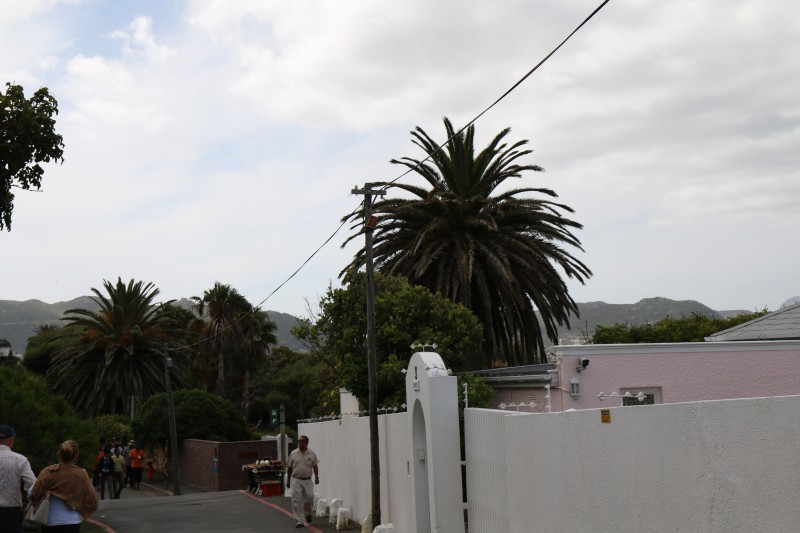 The ostrich farm visit on our way to Chapman's Peak was a bit awkward.
People touched the ostriches and kind of provoked them without any staff even noticing something. It felt like a zoo though these animals are nothing but "normal" farm animals waiting to fulfill their original purpose at this place.
I also found it a little …weird… seeing the animals alive before going into the house and looking at bags and other accessories made of ostrich skin. Not that I don't like ostrich skin but still.
Don't these animals are some of the few that show a dinosaur trace? Just look at the legs, the feet.
After leaving this little visit behind, it was time for Chapman's Peak where my dad promised me to see baboons. No baboon sightings but a beautiful and still horrifying ride on a small road leading around the hill to the other side. The view may be nice during the ride but seriously, if you're not having a head for heights, you are not going to have a carefree time.
My mum and I sounded like doing breathing techniques for an upcoming birth – we're not the best ones to take on such a ride and so, I tried to take some pictures so that this wasn't the a complete waste of rather unpleasant times. ;)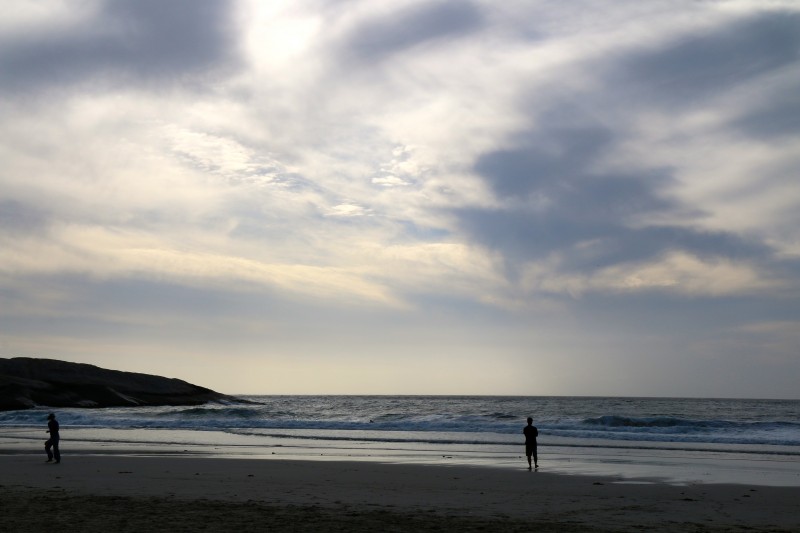 Llandudno beach … almost empty and so beautiful.
And so, my camera hardly stopped clicking wherever we've been. I nonetheless decided to not include all pictures in this post and rather leave them for a better point.