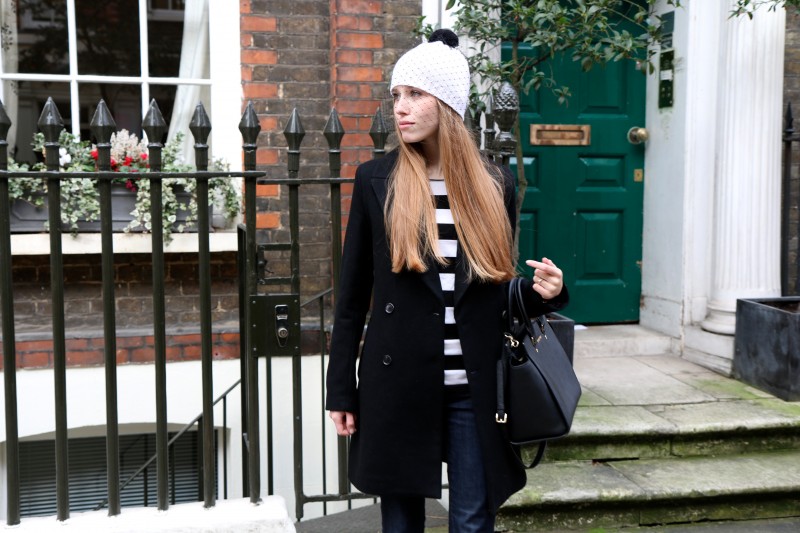 When writing about my Weekly Favourite three weeks ago, I already knew that it probably takes a little more confidence than usual to get out and actually wear this beanie proudly without feeling too arty, funny or slightly irritated.
But what did I also write in that Weekly Fave post? Fashion should be fun. It should make you feel confident, happy, strong – whatever it takes to boost yourself inside coming from the out.
And even if it takes some personal courage to break the unspoken but well driven rules of "usual Monday/Tuesday/Wednesday/…"-looks, I still think that it should be worth the try.
If you're not used to wearing statement headpieces on a more regular basis, you're pretty much finding out whether there's a reason for this or not by wearing such a piece for a few days.
Although I was surprisingly critical at first (all of a sudden, the beanie looked so much more "real" than it did when buying it in store), I started getting over that after realizing its coolness again; dramatic and with that decisive dash of glamour, the most boring look gets spiced up a little.
And that was basically all I needed on a dull day with some final appointments before leaving the city behind and flying back home. :)
Beanie: Bernstock Speirs, Coat & shoes: Zara, Denim: Koral Los Angeles, Top: Hallhuber, Bag: Michael Kors