I probaby live on Asian food most of the time with its endlessly variable kinds of dishes.
And (you guessed it) London is a great place to get lots of delicious Asian food from high-end places to the classic Chinaman next door. But there are especially some spots I visit for years now (on a very continuous basis – don't judge addicts!) and always pull out of my "Where to go" box whenever someone asks me about my favourites in town.
So whenever you happen to be around Portobello Road, Notting Hill or just generally London (it really is THAT worth it)  and crave for a cozy, smart casual, tasteful and, most importantly, delicious place bursting with a range of Asian food from a variety of regions, there's most certainly only one place to go: E&O!
Adjacent to the busy Portobello Market Road and just on the opposite side of the famous Notting Hill Book Shop, E&O belongs to the Ricker Restaurants,owned by Will Ricker, which call their homes in Chelsea (Eight Over Eight), Soho (La Bodega Negra) and Shoreditch as well.
Genereally, I've never been disappointed by any of them (though I have to try La Bodega Negra, which is the newest addition) but as the E&O is one of the oldest and definitely most established ones, I can assure that it's most certainly not going to let you down.
With an open room layout, dimmed lights and a decent interior, E&O asks for a smart casual look that definitely reflects the restaurant's spirit.
A simply comfortable place inviting for family dinners as much as for relaxed dates or the perfect Notting Hill time-out from Portobello Market on a Saturday noon to enjoy one of the city's tastiest uncomplicated food London's Asian cuisine branch offers.
I dare to say that E&O got the world's best Chilli Salt Squid on its menu. Yes, for me it truly is like that and although tastes differ, I believe that I've eaten lots of fried chili salt squids all over the world and none of them came close to what Ricker's restaurants offer.
Crunchy from outside yet soft enough yet firm to the bite to eat it in a proper way…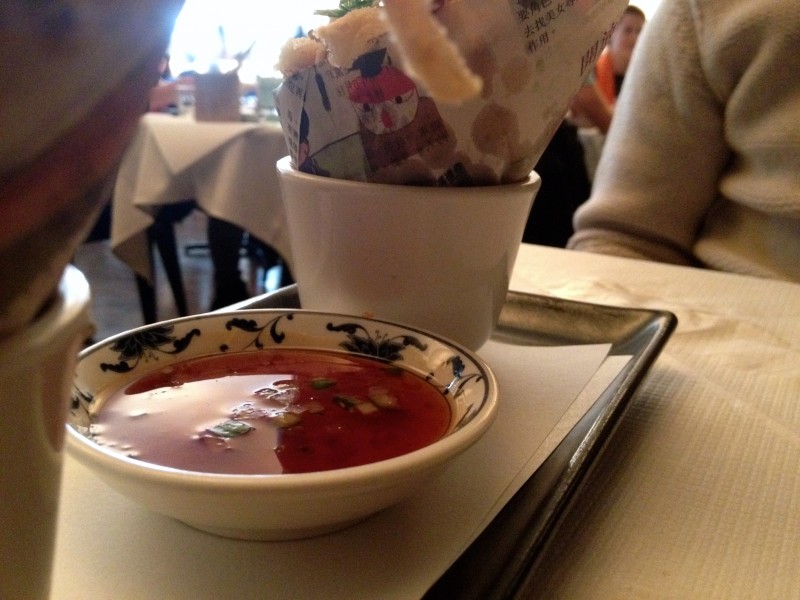 …with a hot and spicy seasoning that is fulfilled when dipping each one of the little pieces in the sweet chilli sauce coming with the in Japanese newspaper rolled fried squids – pure heaven.
Along with this addictive starter, there are the prawn and chive dumplings (down there) that go quite well with the rest of your starters (like the chilli salt quid, which is a must to order, ok!?).
Even if you're slightly suspicious when it comes to dumplings (you never exactly know what's inside and it, after all, is not the most beautiful thing to look at, right?), this prawn and chive will do you nothing less than good.
The prawn is well portioned and easy to be bitten off without loosing all of the dumpling's filling when you dunk it into the accomplishing soy-ish sauce.
(I want you, less-goodlooking but no-words-to-put-it-right starters!)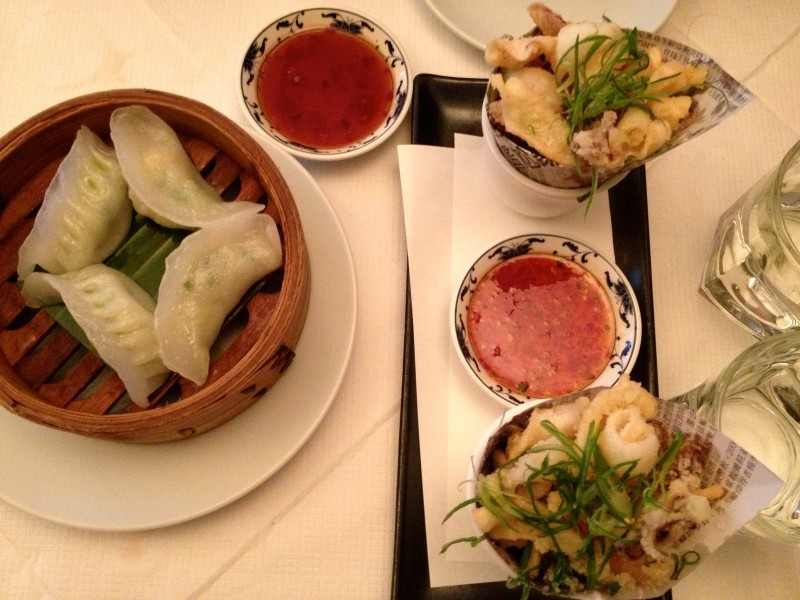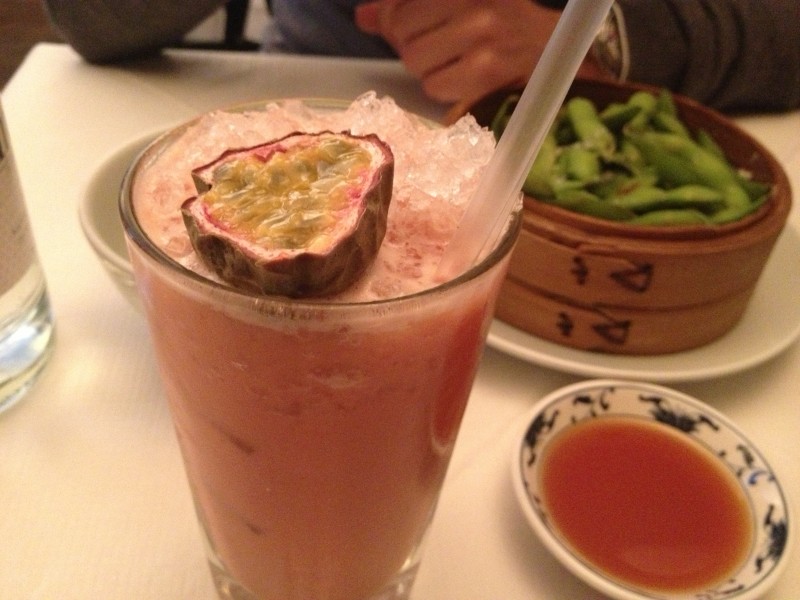 (make sure you order some delicious mocktails as you wait for the starters to show up – my favorite: Passionata)
And the good thing? Everything comes in acceptable portions that were made to be shared with your company. Not that I'd deny my little jealousy about food (and that although I'm a single child who never had to fight for it) and the feeling of not getting enough of my favourites sometimes but the fact that you're able to try out a whole range of different things wipes all fears out ;)
Other nice starters include the crispy pork belly (I don't eat pork besides from some exceptions but my dad avidly loves it so you have to rely on someone who says that this is the tastiest crispy pork belly he's ever eaten), the spicy tuna sushi, the corn on the cob with kimchee chili mayo (not so sexy to look at while eating but OH SO DAMN GOOD!) and basically the whole rest of the starters menu.
You got it – I love this place.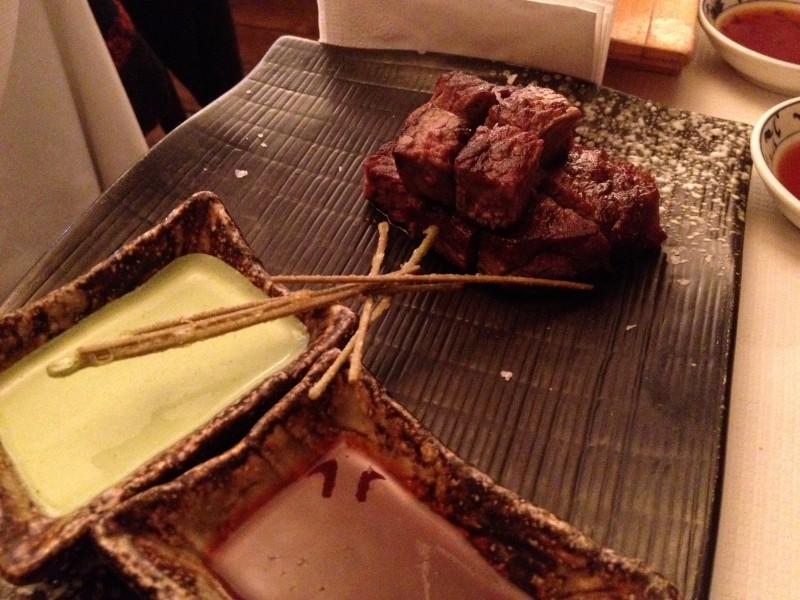 As for the mains, I could actually do the same as I did above with the starters. At the end of the day it really depends on you and your preferences but signature dishes like the prawn/chicken/tofu pad thai, the beef bulgogi (reminds me every single time why I actually love meat) and the black cod sweet miso are building the top of my favourites.
(Soft shell crab)
(Prawn Pad Thai in the back!)
As a side, there's the egg fried rice or the singapore noodles, though egg fried rice beats every side dish!
And for the sweet tooth? The pralines & hazelnut mochi!
This all may sound like a lot to eat but seriously, I'd be the first to scream and say that you should be careful with what you order and how much. There's nothing worse than being in a really good restaurant and over-ordering.
Instead, I tell you to book your table if you plan to go to E&O during evening times, try your luck during noon and afternoon times without a reservation, order an appropriate range of different dishes and just enjoy my number 1 feelgood food!
*
E&O
14 Blenheim Crescent
W11 1NN, Notting Hill
*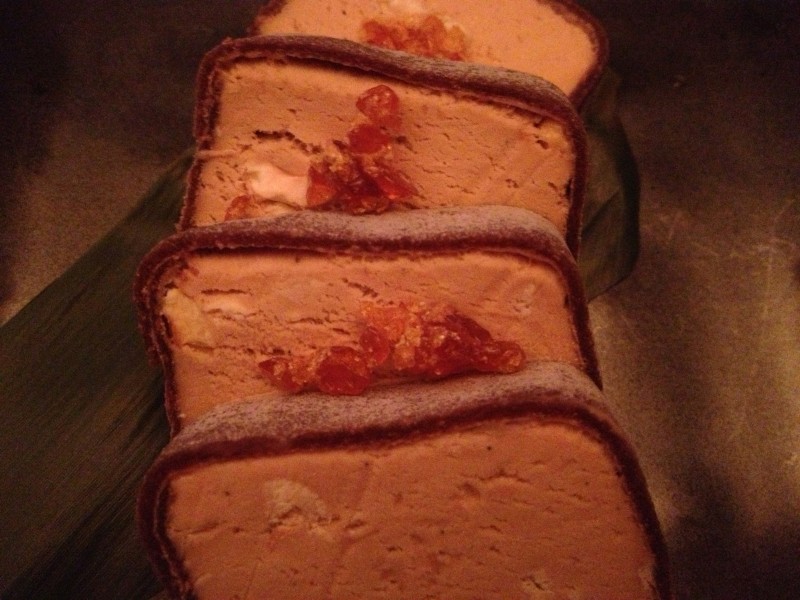 Oh and outfit-wise (as already mentioned above), I'd go for something relaxed .. yet with a little edge to spice it up. You really can never be too overdressed but sometimes it's a good feeling to know that you probably don't need to pull your bodycon dress when you're about to have the best chilli salt squid ("and the rest of the menu") ;)
(Markus Lupfer pullover, J Brand jeans, Dagmar cardigan, Gianvito Rossi heels)