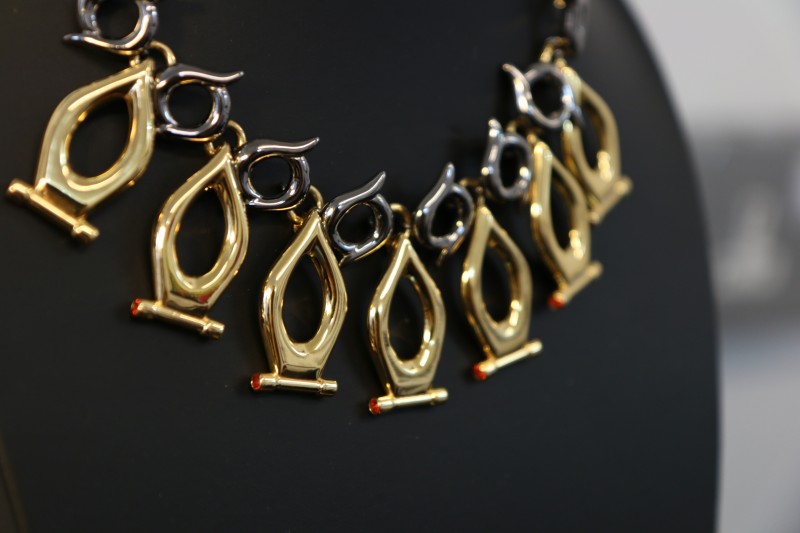 London is exciting. In many ways. But especially when it comes to getting to know up-and coming designers a little more than just their online-shop, PR texts and social media accounts, I'm getting really excited.
Not only because I love to take a closer look generally but also because it's an inspiring chance to look at someone's visions, concepts and ways to translate ideas into reality.
That's why it was a real pleasure meeting jewellery designer Faye Barnfield last week to talk about her current collection and go a little more in depth.
Faye, who founded her same-named label in 2010 after graduating from Central Saint Martins, is, without doubt, an interesting designer who incorporates personal events and her visions of jewellery into each one of her pieces with deepest precision and full devotion.
Uniting precious materials and stones and simplified shapes, Faye creates beautifully timeless collections with a slightly fashion-forward twist that balances luxury and a certain fresh statement. Something I absolutely adore and something, which seems to imply the need of moving away from poorly manufactured jewellery we've all had enough of and rather focus on quality and a certain standard.
And talking about manufacture: Faye does everything by herself, which I found extremely impressive for someone creating such well designed pieces. Spending her time at her studio, she invests all of her creativity and full dedication into her label proving that hard work truly pays off – her current collection, The Firefly Collection, is a diverse if also well recognizable one, which gave me a hard time choosing my favourite piece.
Still in love with statement necklaces? There you go. Or do you rather pick a more delicate piece to give your everyday-styling an easier time yet sprinkle it with something special? There you go, too.
The different pieces make Faye's collection rich in variety when it comes to personal taste yet everything together makes up to a full collection proving a clear recognition value, which just seems as important as assuring quality.
Next to her current collection, Faye is also able to customize pieces and seems open-minded when it comes to taking unique ideas of her customers into account. In times of seeking for own style so much more than ever before, I believe it's a clever if also simply nice thing to consider someone's ideas and wishes while maintaining the designer's signature style.
I could easily go on talking about how much I enjoyed that afternoon with trying all of these pieces on, thinking about different looks for each one of them and simply chatting about all different kinds of things. But let's be honest: There's nothing better than reading what the designer herself has answered to some of my questions, right?
ATW: You said  that you create "fashion-conscious adornments with a narrative". What does this mean? (And particularly, for this collection).
Faye: I combine personal experiences with my ideas of designing jewelry and mostly, it's something that happened in my life and made me do something with it. So when I started working on my current collection, I just connected all of my different ideas and fire opals in connection to fireflies just made sense to me. The bolts, which you can see in this collection is the symbol of connecting people with each other, which was an initial reason to create the Firefly collection.
ATW: So besides from getting inspired by personal experiences and simply living life, where else do you find inspiration? Is there anything that constantly gives you an inspiring push?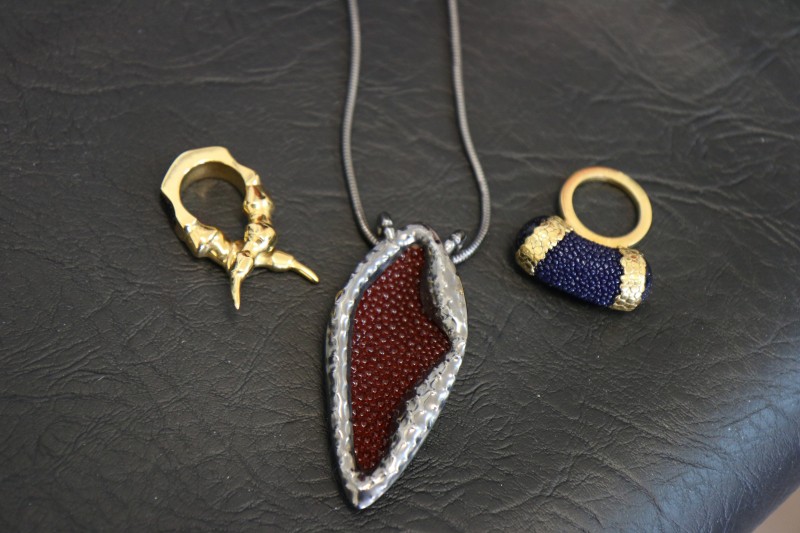 ATW: (A mean question but..) Is there a personal favourite piece of your collection? And if so, how would you style it?
Faye: That's not an easy one but I really like the heart-shaped rings. I personally wear lots of black but it goes very well with almost anything you pull off. It's not too chunky and still you can easily spot it as a small statement piece. Recently, I wore those earrings (see below) to a wedding, which added a really glamorous touch to my outfit but the looped around ear studs are also beautiful, possibly a little easier to wear on a daily basis and still fitting to a variety of occasions.
ATW: How would you describe the typical Faye Marie Jewellery girl? Who is she?
Faye: She's probably between 25 to 35 and she values quality. She likes to live life, she's fun and outgoing.
ATW: And she likes to be able to combine her jewellery to her day- as well as to her night-looks. She's probably got taste ;)
Faye: Right!
ATW: If you had to decide between one of these, which one would you take – statement necklace or delicate one?
Faye: On a daily basis, the delicate one. The statement necklace is, obviously, a little heavier and looks great for a little more dressed up occasions.
(You know me – I've been a statement necklace lover for many years and I think that one of Faye's statement pieces could also be easily pulled off with a day-look. Take some dark denim, a simple round-neck pullover or top in any colour that suits you best (I'd opt for neutrals and leave out any kinds of patterns due to my teint and hair), a pretty jacket (probably with small details that seize the necklace's materials) and there you've got the day-look with a precious Faye Marie Jewellery touch ;)).
ATW: And what about bracelet vs. earrings?
Faye: Bracelet wins. Just because I love wearing it. I just customized one for a client and it's extremely variable.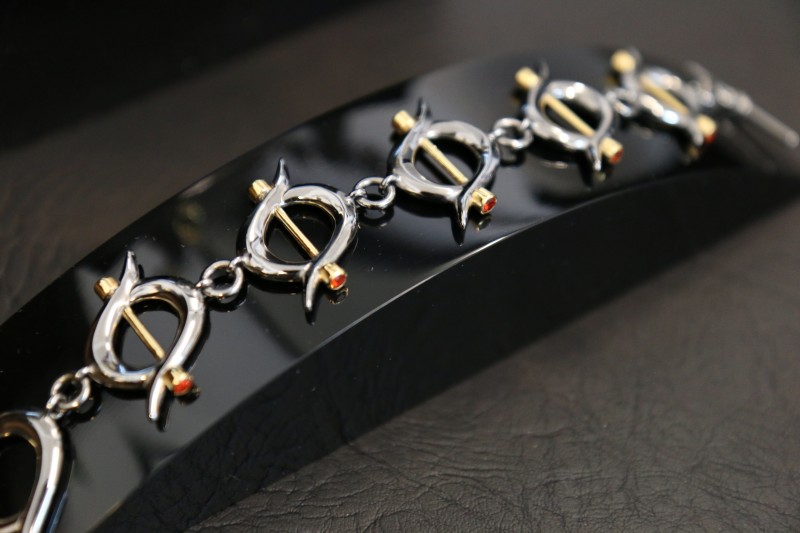 ATW: Did you always know that you wanted to become a jewellery designer?
Faye: No. Initially, I was into sculpturing but I realized that it's not that easy to earn your own money and live of it with something you just "like" but doesn't necessarily feed you at the end of the day. I then thought about becoming a buyer but realized that this isn't exactly what made my happy – now that I'm designing jewellery, I realized that this is really what keeps me going.
ATW: What advice do you have for young designers and those who'd like to become one some day?
Faye: Think carefully about the technical process you do while manufacturing. This is one of the points that will fill a big part of your time designing and producing something and it's absolutely important to take your time and think about this technical process before getting started. Don't forget who you are and more importantly, try to define who you are first. Then think about what you are going to do to keep your goal and initial idea in mind.
ATW: Things of quality need a certain time.
Faye: Exactly and that's why it's important to be clear on certain points before starting the whole process of creating a collection.
Spending time with someone who seems so into doing something so special was really nice and, without doubt, Faye is a powerful and creative mind who does a beautiful job.
To learn a little more about Faye Marie Jewellery & enquiries, please visit her website here.