Cologne people (and everyone nearby): Have you, too, ever wondered where to get the right hair do and beauty treatments in a retreated, stylish atmosphere?!
If so, you're certainly not alone. I did as well…until I mentioned my need for a (finally!) good hair dresser in this city to my mother who's just as picky as me when it comes to hair care.
"Darling, there's only one way to go: Backstage", she said – "Backstage? Where about?!", I asked – "Backstage by Tom Herrmann, one of the coolest hair dressers I've ever been to".
And I must confirm: This was probably one of the hottest hints she could have thrown out of her secret addresses box.
Hidden in a little courtyard of a house located on lively Aachenerstrasse in the Belgian disctrict (it's basically the first bit connecting the inner city with all the nicely alternative cafés like Salon Schmitz), Backstage is the address to hit in order to fulfill the hair and beauty cravings and needs you've got.
Honest, efficient, quick (an hour for  washing, tips cutting, drying and curling all while talking! Therefore: Multitasking as well) and with a warming kindness that comforts you the moment you arrive, Backstage has truly become a little gem in Cologne.
Founded and lead by Tom Herrmann, Backstage offers a variety of services ranging from hair care to make up to cosmetic over to body (mani, pedi, waxing & sugaring) and x-treme lashes treatments.
It's basically everything a women needs to do regardless of how busy she might be. And while I know that most of us are all quite busy, the fact that Backstage comprises all of these services in one place should already be a big, if still shallow, plus.
Supported and extended by his three additional experts, you'll definitely end up being in right hands before wondering whom to choose for what kind of treatment.
All of them are certified professionals in their areas and none has given me the thought of not knowing "what to do" (something I, unfortunately, often experienced whenever visiting hair or beauty salons with multiple people working there).
Oh, and have I mentioned that they're going quite strong with hair & make-up for fashion shoots, TV productions and other fancy things you'd love to hear about the person touching and doing your hair?! It may not be a 100% guarantee that you're going to be happy with the outcome of your booked appointment at Tom Hermann's but … it somehow differentiates, doesn't it?
Working with personally assorted and tested products has somehow given another plus since Backstage is not committed to any advertising products or other promotions. It really makes it more comfortable to know that you're not served with products, which, regardless of their effects and impacts, are used as part of an invisible little contract.
Don't get me wrong; it often happens that hair-and make up stylists try to work with the creme de la creme of products currently available and it surely depends on loads and loads of other factors (last but not least everyone's hair, skin & body is different therefore reactions vary) but it's still a nice feeling to see that your hair stylist is open-minded and willing to test and take the best for the customer.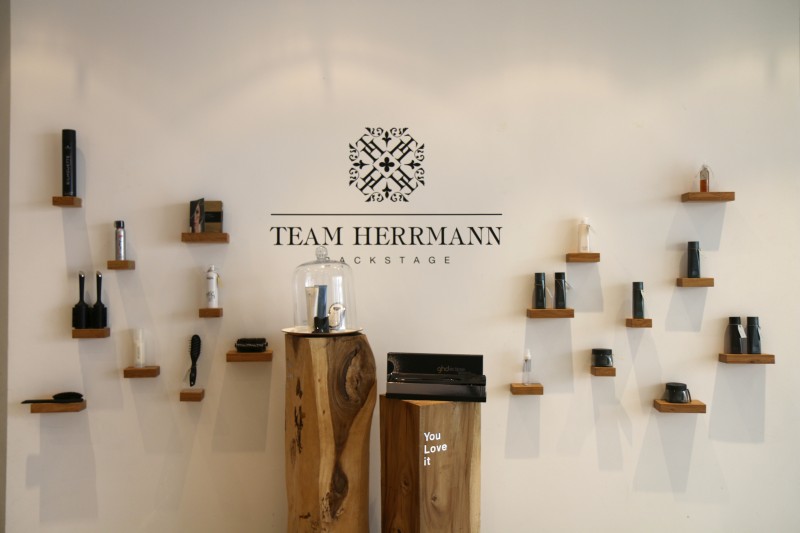 And talking about open-minded: I always keep that secret thought of seriously chopping my hair ONE DAY.
Not that frippery "Oh I'm gonna chop my hair …. but only the tips hihi" but the actual CHOP. A proper one. So, wherever I went to (and I test lots of hair dressers in London, so I've got my little experience with reactions), nearly everyone has done the same thing: Smearing honey all over my mouth and telling me that my hair shouldn't be cut any further than what is necessary to keep it healthy.
Well, yes, at the end of the day I've always been very happy with that decision (in fact, I really do like my hair and how it currently is) but I always wondered "what if I went for that big step" and "how would I look".
So when sharing my chop-thought with Tom Herrmann, I probably got the funniest and quite honest opinion in a long time:
"Chopping your hair to the shoulders you say? IF you want to go for that chop, you go for a proper one. Shoulder-length? So Munich. Neck is New York!"
And since Tom has diagnosed my hair-do (long, straight, middle-parting, no fuss, no unnecessary big deal) as "New York", I decided that if I ever go for the epic chop, I'll stay in the city my hair calls home rather than risking a move to Southern Germany.
But the way my thoughts have been smashed and inspired with an honest comment and a professional opinion is that charming thing I'd like to have every time I doubt about something beauty-or haircare related and ask for real help.
So what is left to say? I went for the tips chopping after getting cold feet about my "New York – The Chop way" kind of thought and was even receiving some wavy hair treatment as a little topping.
The result was extremely satisfying, I was pleased with the efficiency, kindness and positivity surrounding me for an hour and I just rarely left a salon with a smile, some pictures and the relieved thought of Cologne finally offering an amazing team of hair-and beauty stylists.
For more information, please visit Team Herrmann – Backstage's page here.
To get an overview about the different services, click here.
To get an overview about prices, click here.
To get to know the team, click here.