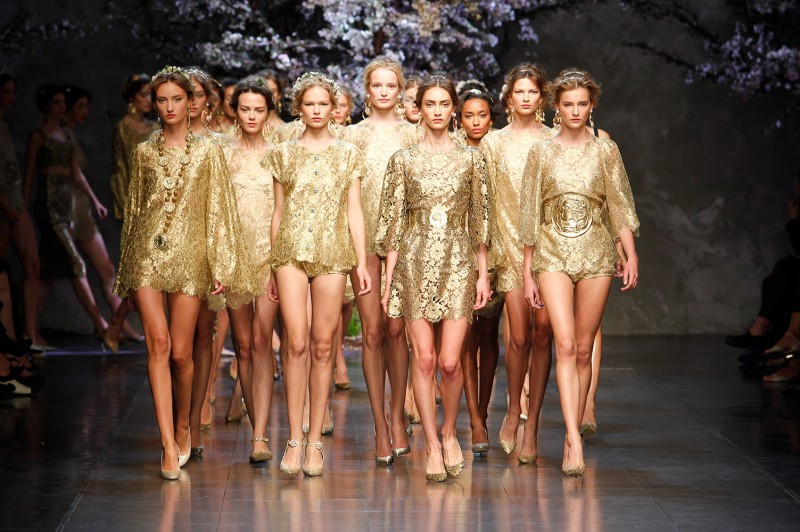 Steadily and with determination, Tchaikovsky's Waltz Of The Flowers sounds, Anna Ewers steps out, the rest of the common Dolce faces follow and my heart beats faster.
Finest fabrics, flowing cuts, matching contrasts compassing variety and fastidious detail precision.
Scintillant jewelry, clean lithography of ancient Greek ruins presaging the roots of Sicily's history and the literally blooming statement pieces – I believe that none could have created a more consistently breathtaking masterpiece of over 70 different looks besides from Dolce & Gabbana.
I don't keep my admiration of Dolce & Gabbana a secret and although I may have been a little critical at first glance, I do fell in love within the first minute.
The show seemed as steadily as this peaking collection, which ended with a golden bouquet of models traditionally assembling for the last walk.
And while they thoroughly included signature materials (lace and brocade)  and patterns (polka dots, florals), they, as with assurance, haven't failed to surprise. Alpaca fur, cherry blossom borders and lacquered silk are just few of the characteristics that make this collection so exceptional.
As I read through Lisa Armstrong's review for the Telegraph, it really made sense to suspect Dolce & Gabbana of honestly having concentrated on the past collections since the their cash-cow line, D&G, has been put down.
Successful craftmanship requires time, love and lots of critical and honest reflection (obviously taking hard work into full account as well). And it seems like they've put all of it in yet another blooming collection, which strikes full reaction across the SS 2014 fashion weeks.
and please, do also watch the preview if the runway takes too long. Heaven.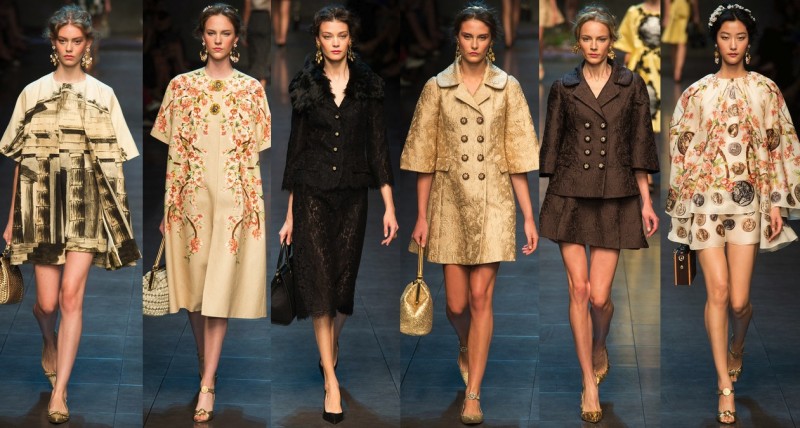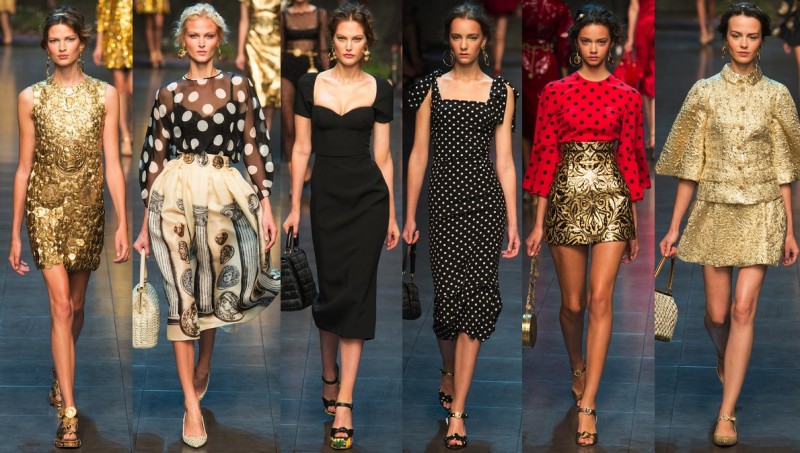 (picture credit: style.com)