Between bikini-lifestyle and the muezzin calls, there lies Türbükü. A small village at the Turkish Riviera, up north to the "city center" of Bodrum that comprises a fair number of better restaurants, bars and boutique hotels.
Just like the incredible Macakizi hotel we were staying in, which offered everything we ever imagined to ask for.
Nestled on a hill connecting straight to a bay, Macakizi is a beautiful fusion of modern styled boutique hotel and the sustainable lifestyle trend accompanying numerous hotel concepts at the very moment.
Perfectly adapting itself into the naturally blooming surrounding, the rooms give beautiful views to the Aegean sea as well as to  the well looked after gardens.
With a comfortable understatement touch, it's clear that "keeping things simple" stands in the focus of the well designed hotel.
Classic Vitra chairs are placed on old, Turkish carpets in the wooden main halls, which are in accord with natural stones underlining the well thought-of interior arrangement. Yet none of the living areas, let it be the poolside, the open living room/hall, the rooms or the sun beds facing the sea, seem to be overdoing it in their stylish context.
Just how you like to enjoy a sunny, relaxing and simply feelgood getaway in a beautiful area.
Rooms are spacious, well thought about and just like everything else seem to make a pretty interior statement with a modern base, a clean and simple room layout and some decisive pops of colours with handmade, exclusively designed Rifat Ozbek cushions and other decor.
Sculptures and paintings find themselves all over the hotel area again proving that art pieces can surely look well in outdoor spaces.
Balance is the key.
Although I may not look like the biggest sun worshipper, there seems nothing better than snoozing away on the comfy creme coloured sun beds while listening to lounge music and having a fruity drink next to you. The sight you get, the atmosphere that surrounds you – there's probably not more to have a relaxing day at the Aegean sea.
Don't be dazzled by this rather chill-out moments I describe though; Macakizi, known for its fortunate, stylish location among frequent visitors and guests, is also said to be the place to meet.
Whether for lunch or sundowners, Macakizi seems popular. As far as I was talking to different regulars, all of them confirmed that Macakizi offers an amazing ambience with lounge to deep house music pumping through the speakers inviting for a frisky-cool mood.
The reason I can't confirm these impressions myself can probably lead back to the fact that mid-September seems already a rather late summer time and most of the people are back to work and normal life rather than celebrating summer's peak.
Not a big luncher but still loving a little bite in between? Just ask for the beach deck menu and you'll get spoiled with a fair choice of different dishes ranging from crisp and tasty Lahmacun to juicy burgers to light salad options (the grilled Calamari salad with Quinoa is a must) and other tasty things not even dared to be listed here to avoid unnecessary hunger right now. ;)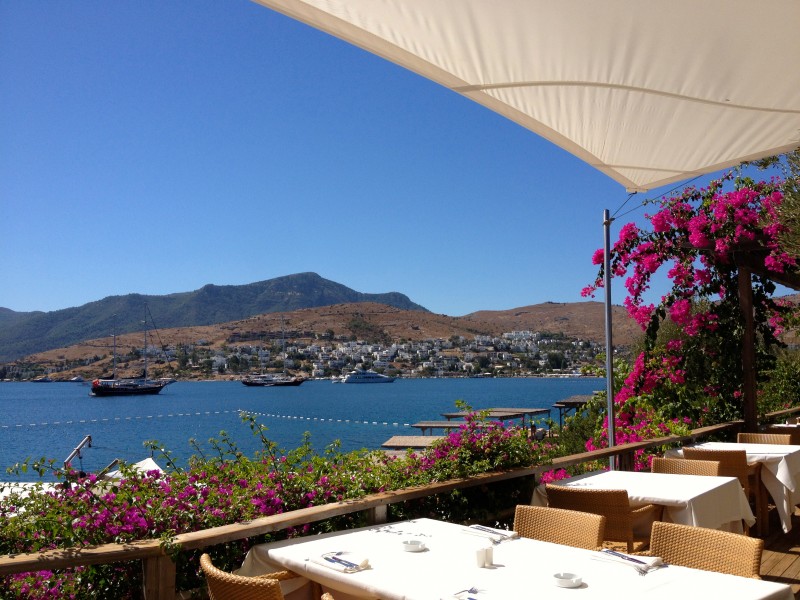 But talking about food at Macakizi, I can assure that you won't be disappointed by their dinner menu as well. Offering a huge variety of different creations, each dish is a delicious mix of Middle European high cuisine and traditional Turkish influence.
The nice "little side" fact next to enjoying your dinner outside in candle light (oh no, don't worry, it's not getting too romantic)? The sight. Again. The bay looks even prettier at night time with only a few yachts and boats lit up and anchoring, houses, hotels, lodges and shops glooming afar.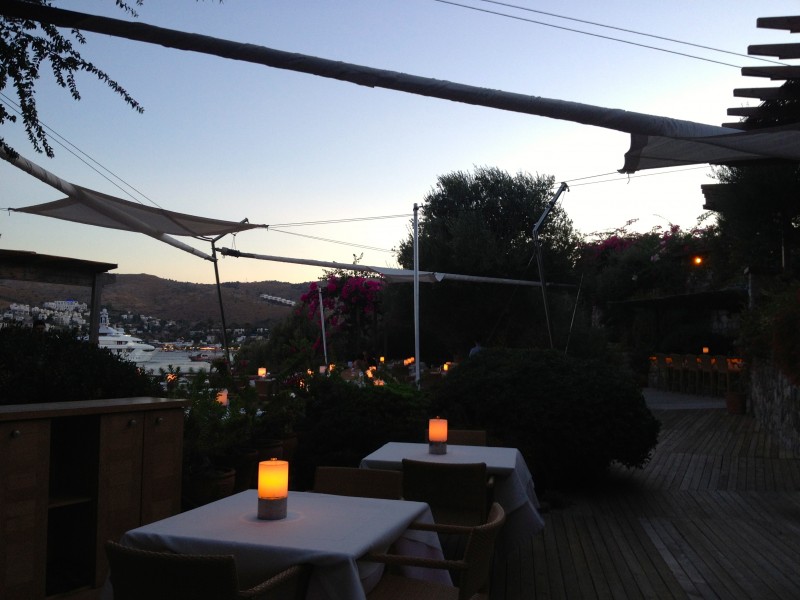 The overall obliging, kind and extremely positive service crucially contribute to your feelgood holidays and I'm really happy that we chose Macakizi as our domicile for our Bodrum trip.
There's nothing that I missed; the location, interior, service and food are brilliant and I will think of this holiday in a long time. I really do hope that I'm able to repeat this getaway again next year.
For more information, visit Macakizi's official home page.
♤♤♤
Maçakızı Hotel
Kesire Mevkii Narçiçeği Sk.
48400 Göltürkbükü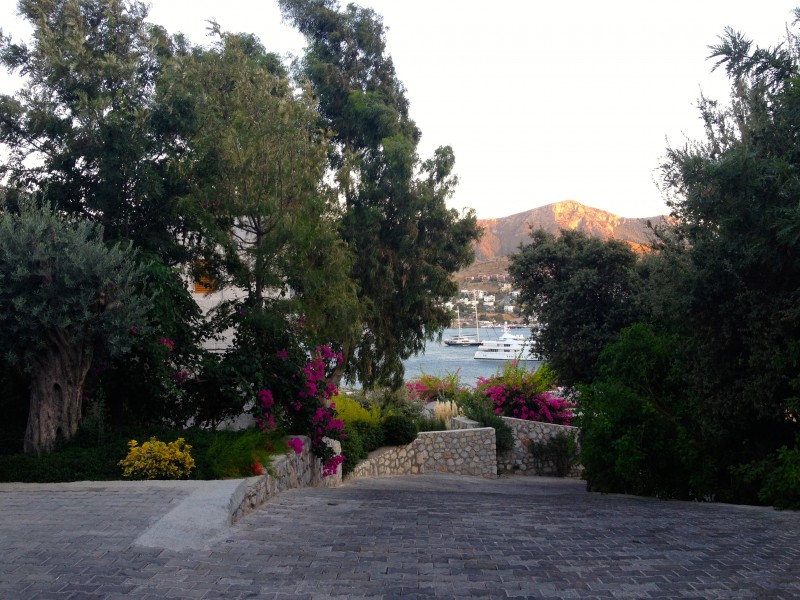 Arriving at Makacizi
The beautiful green way to the reception hall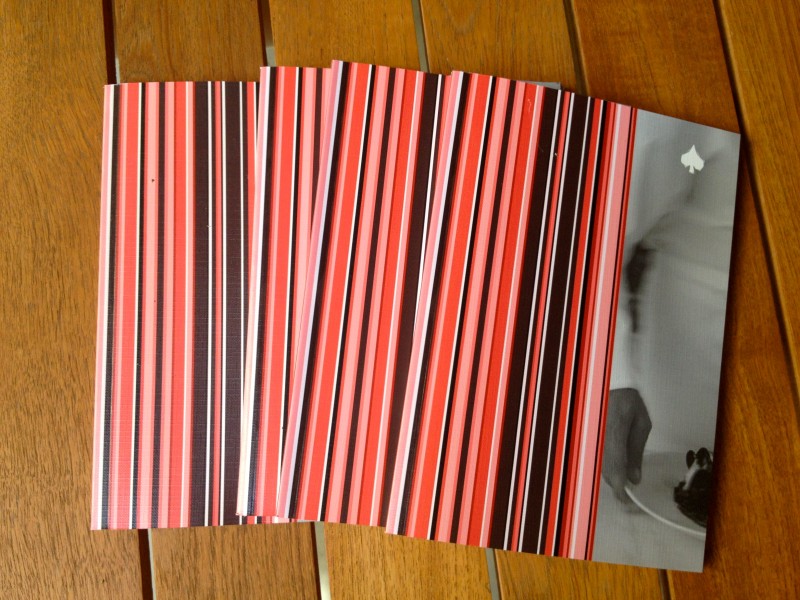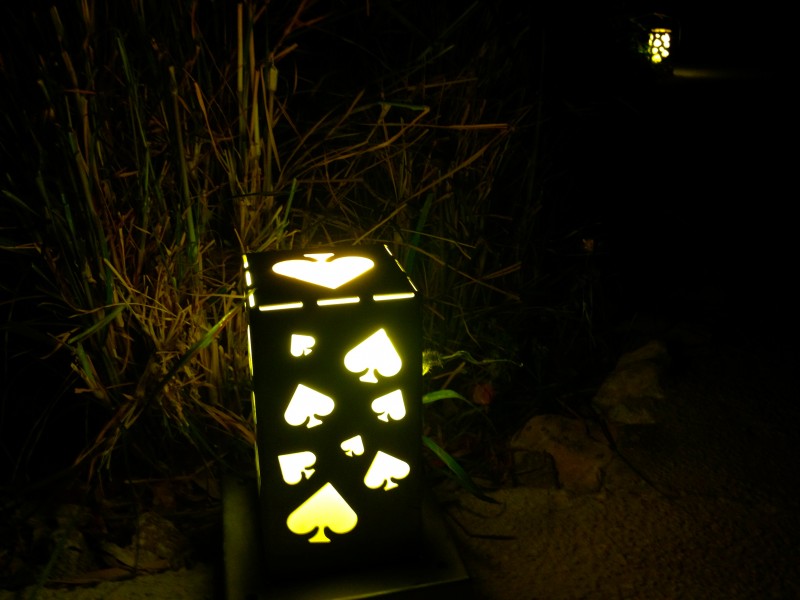 Even the lights are in full Macakizi-style with the unmistakable spade!
A little room insight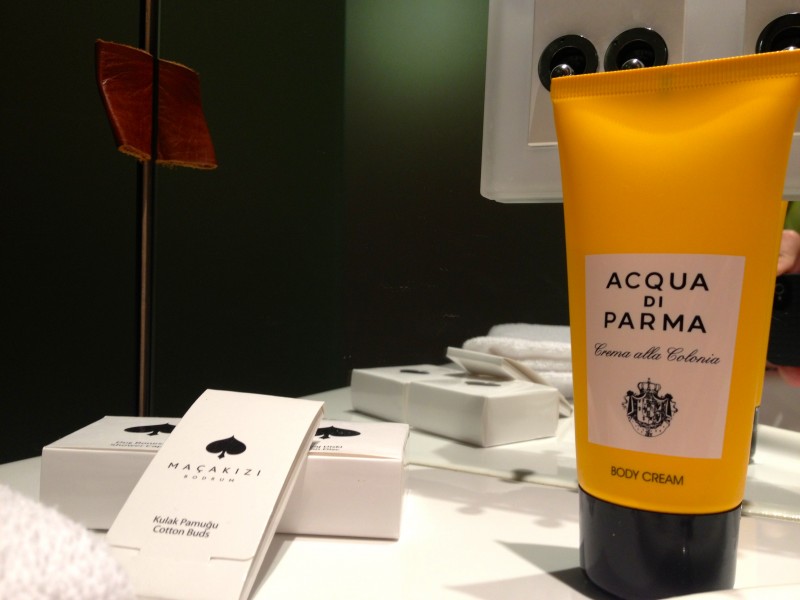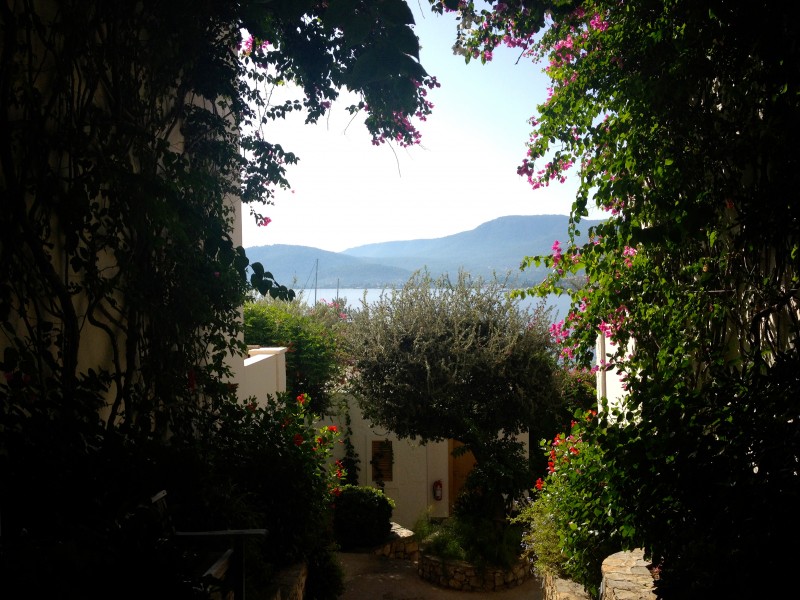 Next morning awakenings…
…and very clear "stay out" sign. ;)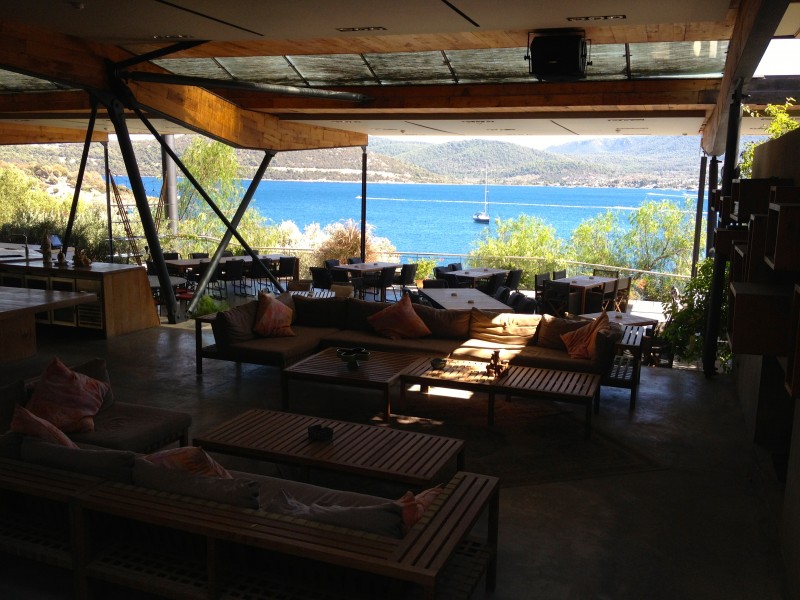 Arriving at the living & breakfast area
One of the incredible sights while having breakfast…
Look who crossed my way…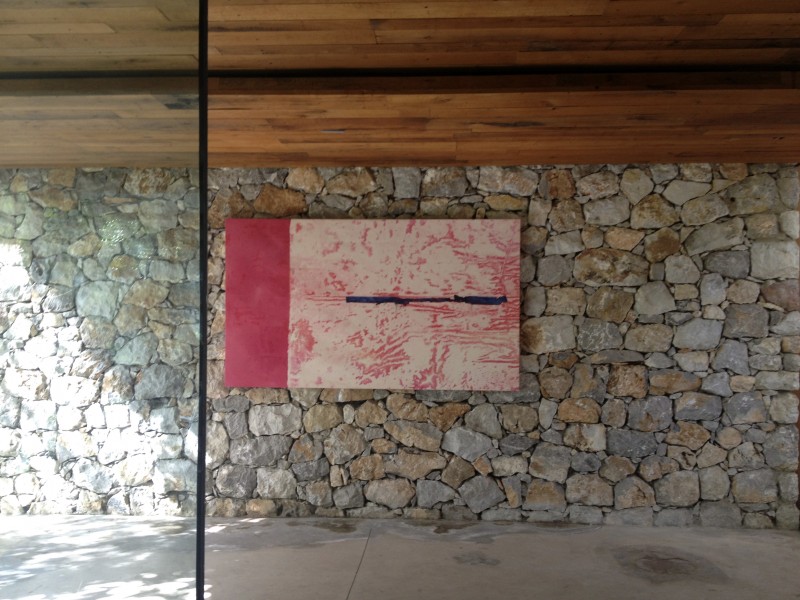 Even on the way to the gym, you find paintings…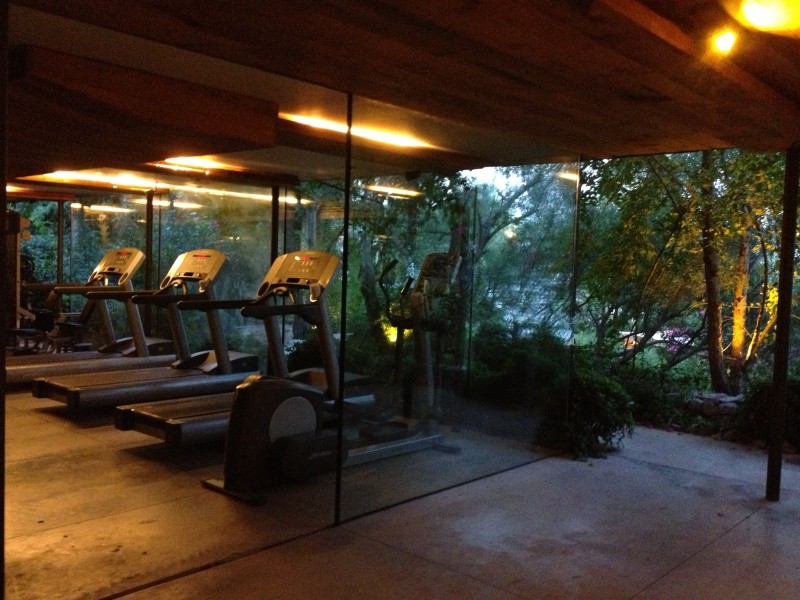 (not that I thought about working out for a millisecond … just to share with you guys ;))
Massage beds facing sea & garden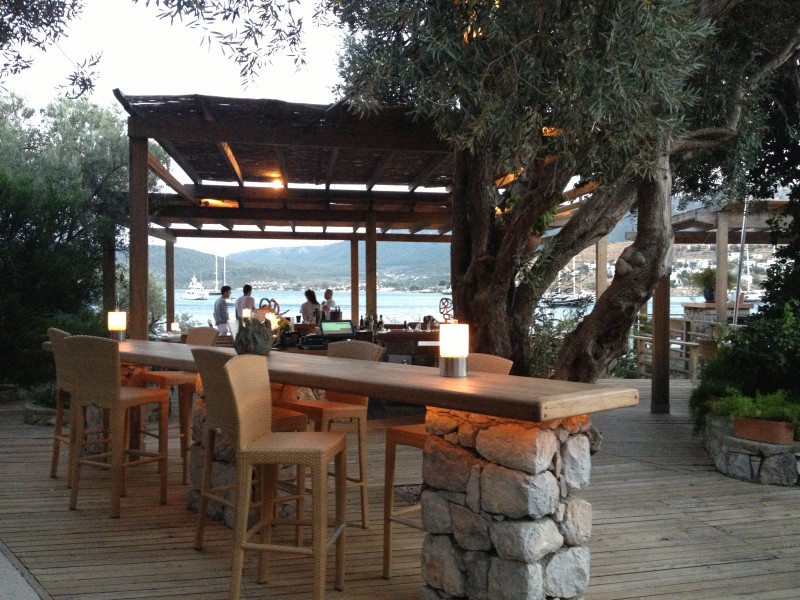 Lunch & dinner venue
And down to the beach deck