Popping over to Greece for lunch? Spotting dolphins on the way? Enjoying delicious food in best company? Having an unforgettably nice day? There you all go!
Never would I have thought of even getting to Greece this summer when Istanbul and Bodrum were the "only" (beautiful) things on my agenda in terms of summer holidays. But it can be all quite easy if you have friends living in Turkey, a boat and a great captain! ;)
A hop on, a slightly bumpy 1-hour-ride, a hop off and just like that I found myself on Leros island again.
Located in the South as one of Greece's numerous  little islands, Leros seems one of the cutest, stereotypical Greek and pretty islands I've ever been to. When arriving, I really couldn't believe that it only took such a short time to go to a completely different place.
As we walked along the promenade of the mini marina, white and blue clearly reigned over houses and other little buildings, little cafes and a sweet little shop selling local things (and Panama hats! Amazing for me!) building a beautiful way to the much looked forward tavern.
Hungry, happy and curious we arrived at Mylos tavern, which welcomed us with a great view! Facing sea and town, we only relied on our friends who regularly come to Leros for a little trip and therefore took over the lunch decision.
And what can I say!? It was very close to perfect. The different dishes ready to be shared, the wine, the atmosphere, the service, the weather, the island – I couldn't have asked for much more.
Always keeping an eye on the sea forecast (rough waves are not too appreciated on such a ride), we got back to the boat and drove to the next little bay to pick up another friend..
…but not before hopping on his moving domicile for the past few days and swimming in the completely forlorn & beautiful bay.
(ok you got me – I didn't go in but I watched everyone else enjoying the clear water and risking an unexpected, 99,9% not likely to happen shark attack!).
Once we finished coffee & got ourselves together, we hopped on our boat again and off we went back to Bodrum.
Flashed from that absolutely magical, impressive and pretty day, we arrived at our hotel & realised that we are all a bunch of very lucky people. Life couldn't have become any better that day!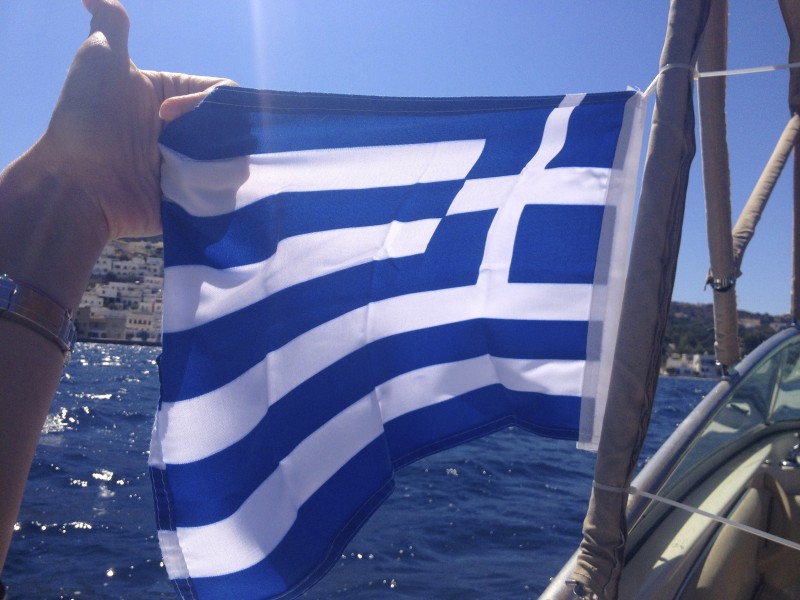 Thumbs up for Greece!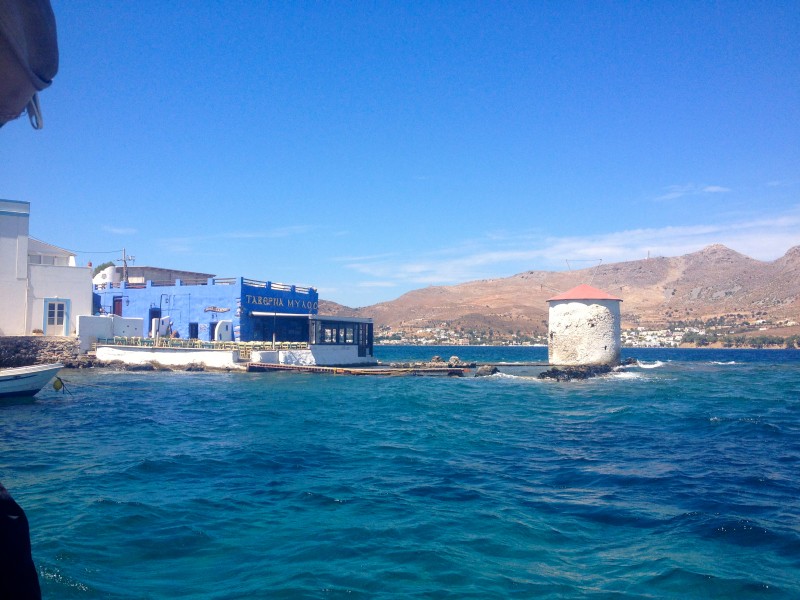 Mylos tavern on the left already waiting for us.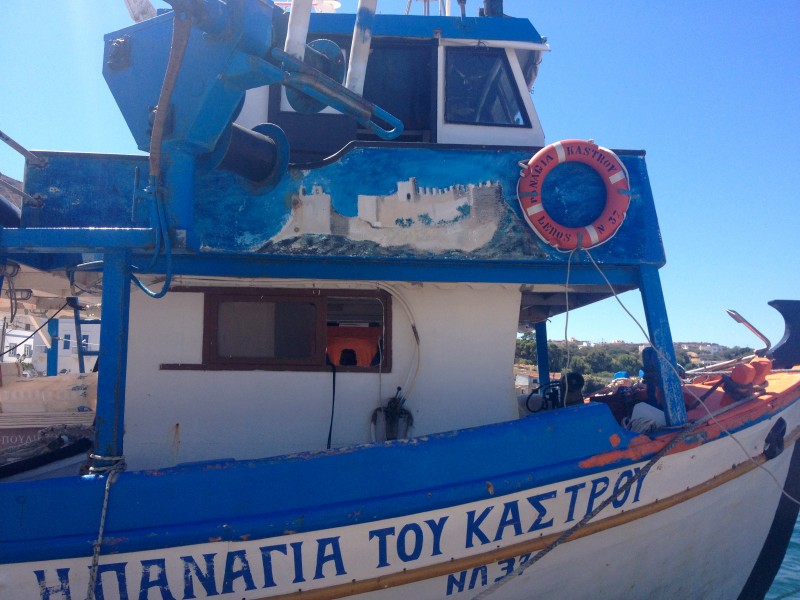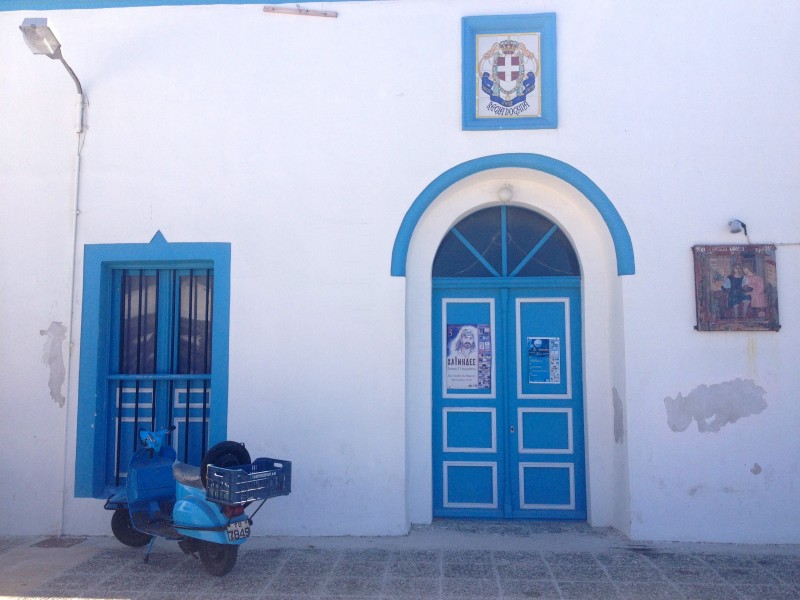 Oh no, green & cream in between the blue! Shame!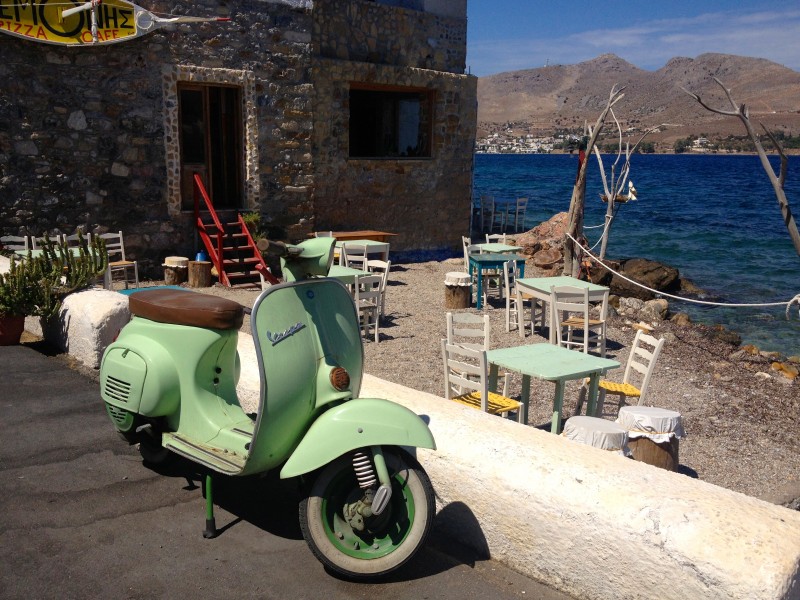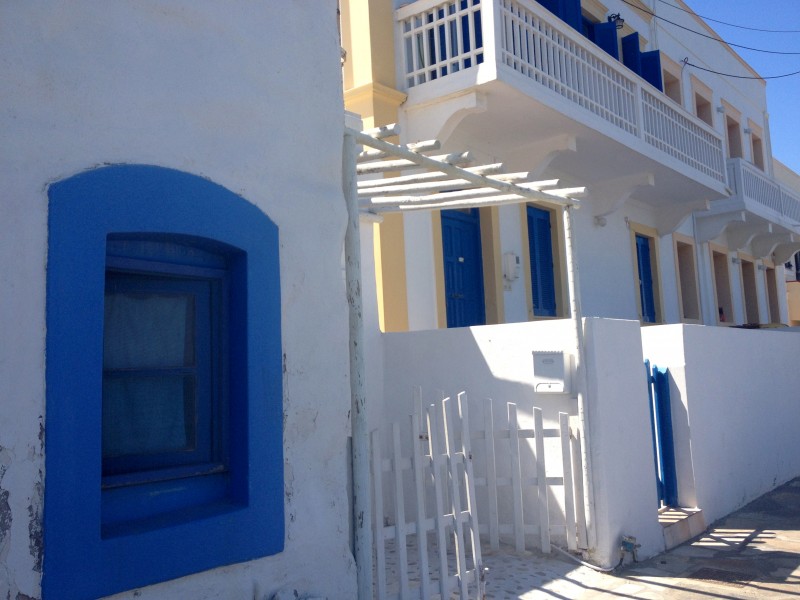 Arriving at the tavern…
…and having this sight!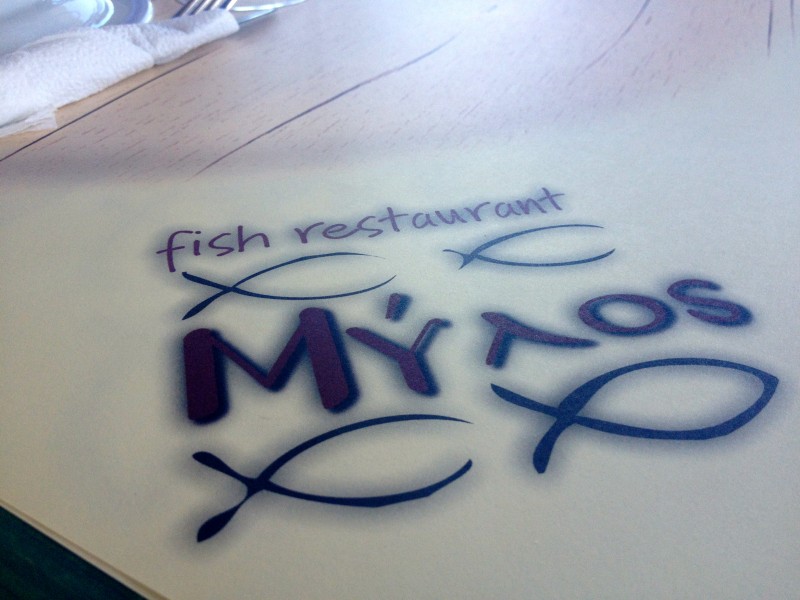 Mylos tavern is a must-go-to if you ever visit Leros!
Squid sashimi
What would a little lunch in Greece be without a Greek salad!?
And local olive oil even tastes better than the Waitrose one … surprise surprise ;)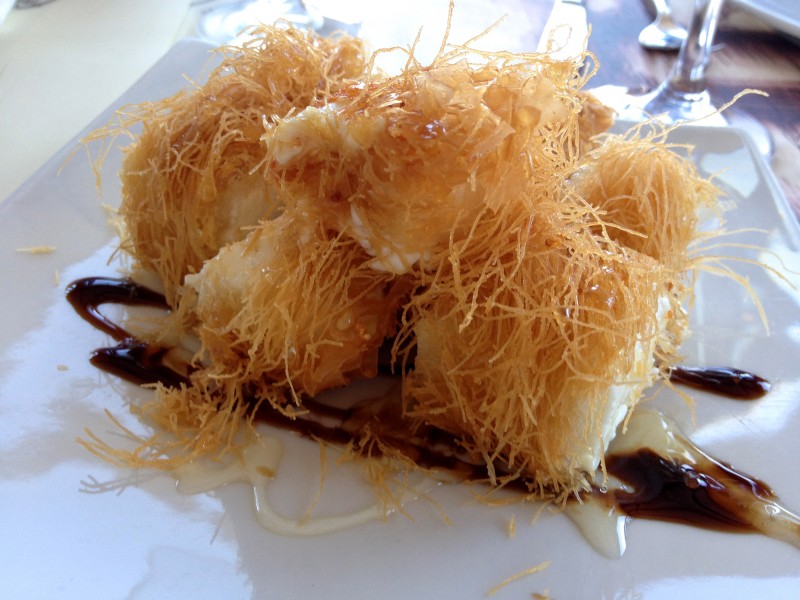 This was probably my favourite of all (next to the Greek salad) – it's feta covered in what I remember was honey sprinkles, placed on additional sticky balsamic. It looks a bit weird but once you take your first bite off a crispy-creamy chunk, you can barely stop. Here the concept of "sharing" seemed very unfortunate for my temporary jealousy about food ;)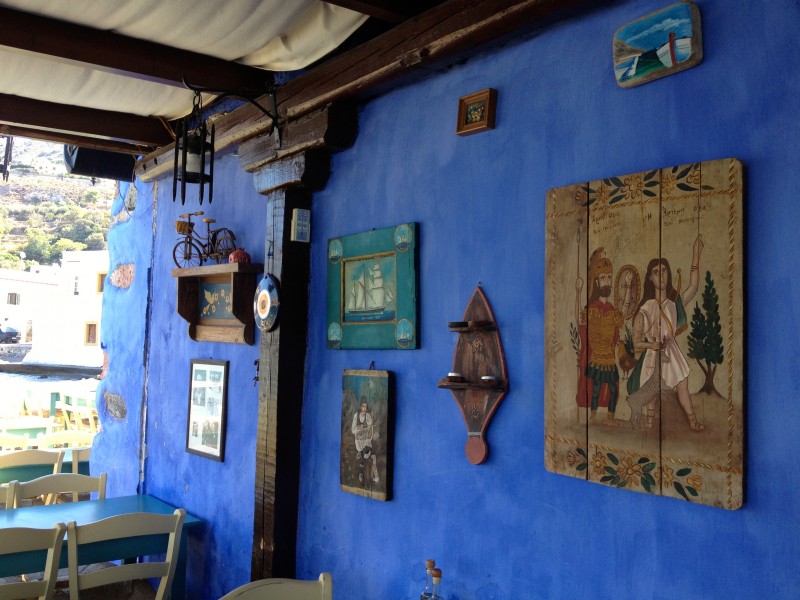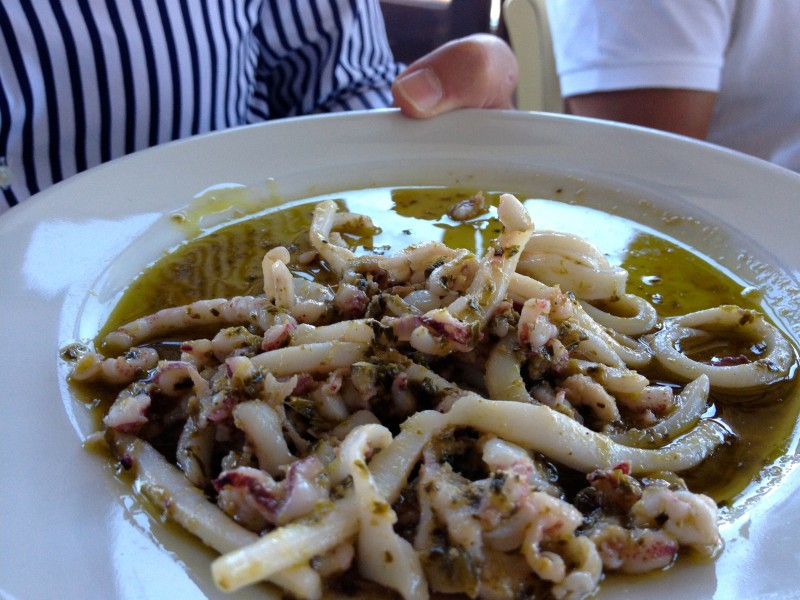 Not the winner of the beauty contest in food drapery but squid in pesto & oil is SO good!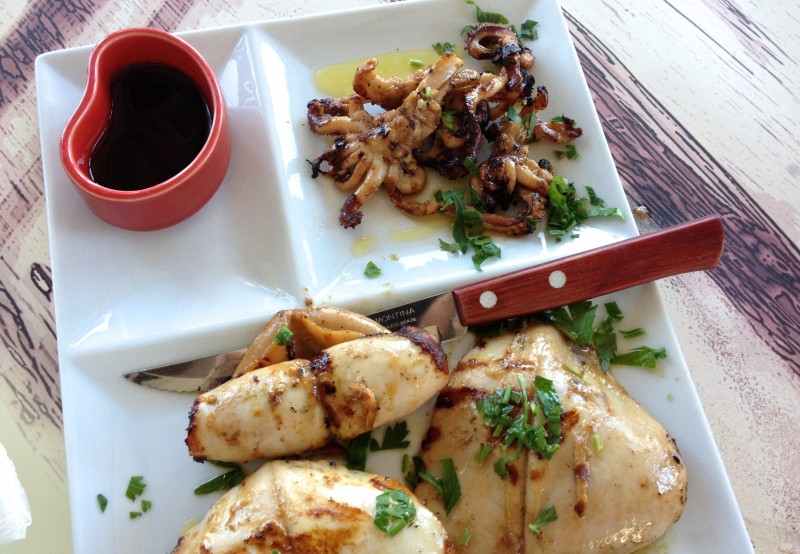 And here's my second favourite – freshly grilled squid pieces flavoured with parsley ready to be dunked in soy sauce – you know me… a slight Asian touch can NEVER be wrong!
One of our final courses before admitting game over: "Risotto" (I'd rather call this here rice & sauce), spicy flavoured and topped with shellfish.
As everyone needed a little break from the incredibly delicious food, I decided to see what's the terrace all about …
…and as I discovered, it was "all about" creative outdoor furniture!
Next to a Singer sewing machine, which was transformed into a great little table, I also spotted this bench! Re-cycling at its best I'd say.
For that day, I chose to wear something to feel comfortable in, not too down dressed, simply fitting and ready to be taken off on the boat. My crochet top from last year's Zara summer collection served me well paired with my Abercrombie & Fitch shorts and the oldest sandals in my shoe wardrobe. Beneath, there was only a bikini from TeenyB Bikini, which I lastly wore in Dubai last year (see the post here).
On the way back  to the tavern, I couldn't resist letting my camera click…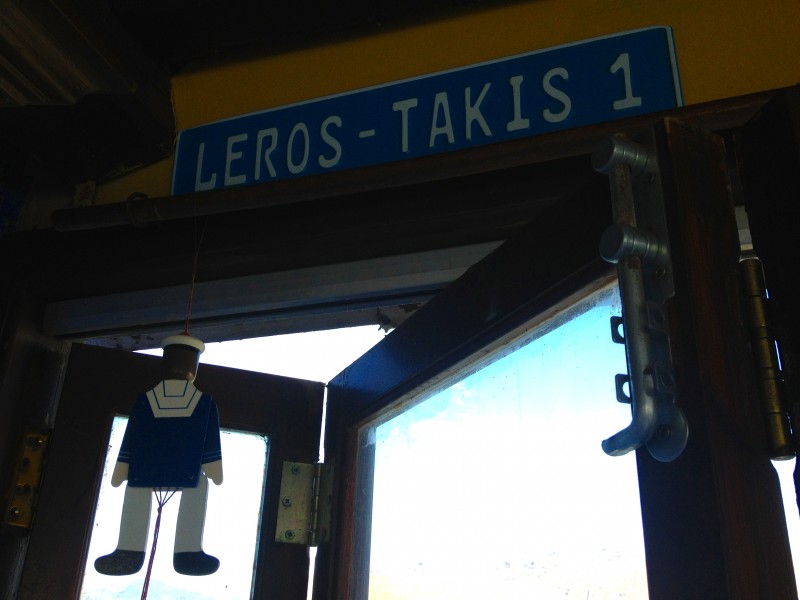 Time for a quick dessert after deciding that main courses will probably end in sending them back (which would have been so wrong!!). Leaving it up to our friends again, we were surprised with this poppyseed-bomb. A juicy, only slightly sticky and naturally flavoured poppy seed cake topped with some homemade ice-cream. Heaven. I coudn't really identify what the ice-cream was actually tasting like but I guess it was a very creamy mix of honey and vanilla!
The languorous face!
Time to leave? Not without taking some local honey with you.
Picking up our dear friend from his little boat trip.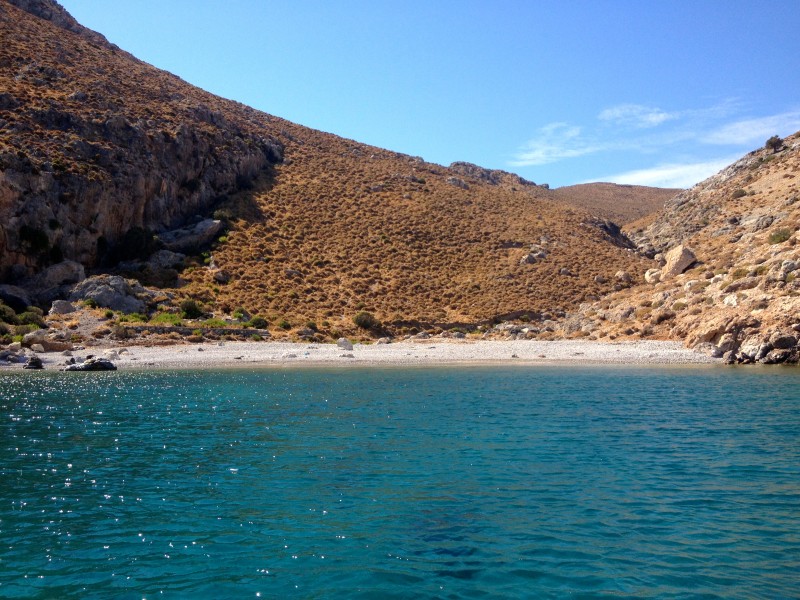 The bespoke forlorn bay .. without words.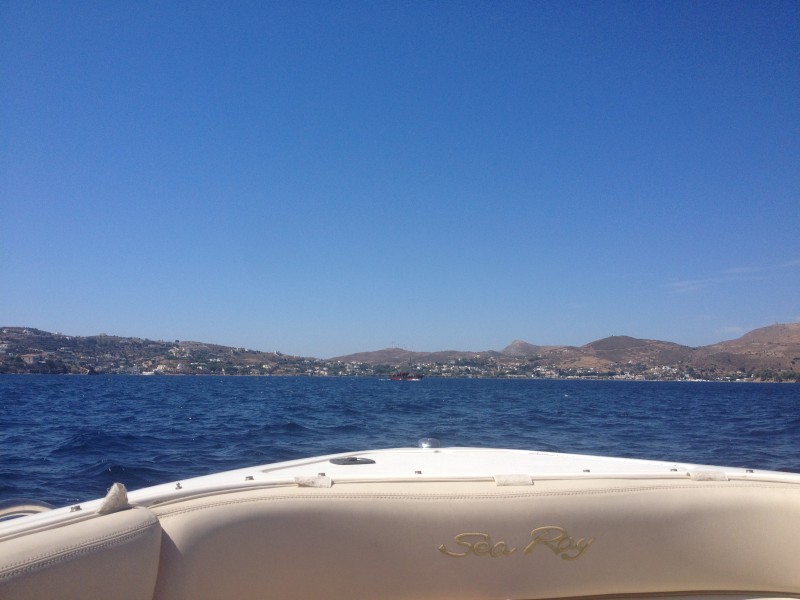 And back to Bodrum!
A HUGE thank you to M and K for showing us this little magical place and sharing a whole day with us. We would have never experienced this without you!