Organic food greatly promoted in loads of London's cafés and restaurants? Nothing new. And still, it happens that I've never heard of places before, which turn out to meet the great compromise of real, good food, fair pricing and a nice location. Like a recent lunch at Daylesford in Chelsea has proven it.
While I wasn't feeling like doing anything that day last week after having a rather unpleasant & decisively revealing morning, I was surprised by a sweet friend of mine who was insisting to show me this place she's been to a few times.
Not knowing where we will end up and expecting nothing after a sleepless night and felt 10 tons of rain dripping down per minute, we found ourselves at Daylesford again.
A nice little 10 minutes walk from Sloane Square and perfectly distanced from the livelier part of Chelsea, Daylesford doesn't only look cute from the outside but indeed offers a great concept.
With its broad range of organic food ready to be taken home downstairs (in fact, it's a pretty little market!*), the café/restaurant finds itself on the first floor in a contemporary rustic atmosphere again.
Light tones of wooden interior (it still smells like it just opened a week ago..which I love) and cupboards partially filled with different kinds of glasses, dishes and here and there some cookbook, we were seated at one of the window places with a green sight.
Having no real appetite (major regret now that I look at the card again), I went for the green salad with garlic flakes and some bread with olive oil as a side while my friend ordered her dessert straight away; a deliciously rich and creamy piece of chocolate naughtiness.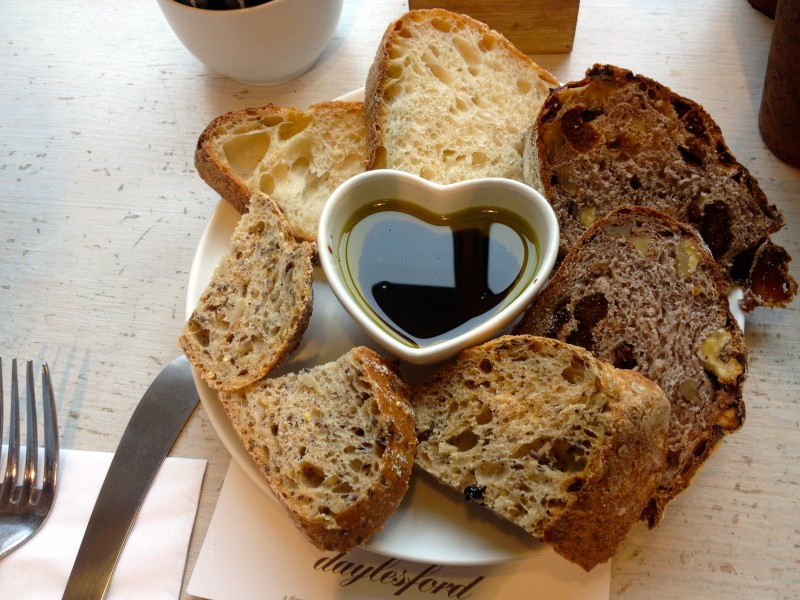 While the salad was nothing to write home about (I will probably never adapt to the British way of eating salad without any seasoning), I still enjoyed all of my carbs which came straight from their own bakery (my  favorite was the fruity bread, which is (among all the others) available to be purchased downstairs).
All of their ingredients and food comes straight from the Daylesford farm in Gloucester Shire; a county in South West England, at which all of their products are grown, cultured, harvested, baked and produced.
It's quite comforting to know that not everything you're served is completely artificial and unhealthy stuff which may taste delicious but in fact does nothing better to your body and health than allaying your hunger for a moment.
With over 60 awards for their food and their concept as well as cafés, Daylesford calls itself (deserved) one of the most sustainable farms in the UK.
I really should have gone for their pasta dishes or the homemade burger as both of them were served to a table behind us… but at least, I've now got some reason to go back and test & update it then over here. :)
I'll leave you with these few impressions for today and can just say that I got a slight crush on Daylesford's concept. I'll come back & can warmly recommend taking a quick & good lunch or a simple meeting with friends if you're around this area.
To get more information, visit Daylesford's official homepage.
*The perfectly draped pasta and the different sauces were probably my highlight; if I hadn't felt that dull, I would have probably taken each of the different things back home & cooked it the following days. Should maybe go back and do that now ;)
**Thanks to dear J for taking me there and comforting me the whole freaking day! I owe you something… like a proper burger dinner ;)