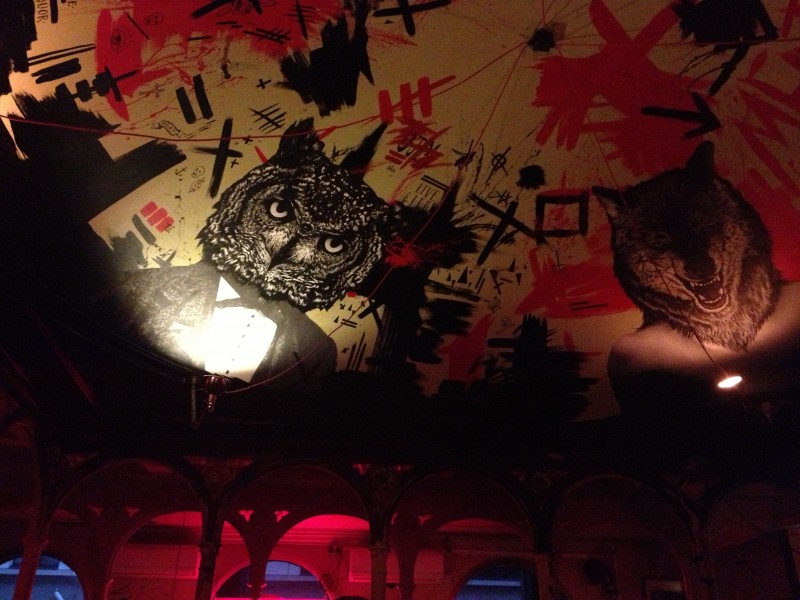 If you don't expect something to be located in Marylebone, then it's probably a trashy non-conventional, all purposely run-down burger bar with a rock'n'roll twist.
How I can still surprise myself was just proven when entering Meat Liquor on a rainy Sunday afternoon for the first time.
I already read several reviews but never gotten farer than saying "heard of it" when I finally decided that the time has come to get myself in there.
Hidden away behind the big high street retailers of neverending, heart-attack-provoking Oxford Street, I didn't really know what to expect when spotting the unspectecular entrance of a very dark looking restaurant.
The important door man was probably the first thing I found bizarre for a 5 o'clock dinner, especially if we're talking about a burger bar. But I was proven wrong and the mystery became reality: There was indeed a huge queue outside when we left the place again and the profession of the all-in-black-oh-so-scaring man was all of a sudden completely justified.
When entering, I immediately associated the place with Berlin's White Trash burger bar. Trash in a cool, low-keyed way. You could already smell the grilled meat, the fatty fries and the need to order a beer immediately has rarely been more urgent in such a normal situation.
There was no big hustle and bustle with the order; salads and all that kind of pretentious healthy stuff was clearly marked as "rabbit food" at the top of the second page and couldn't have been more judgmental. ;) MEAT Liquor is clearly more into meat, thus a burger, a large portion of fries and chicken wings to share it was.
I have to admit that I'm a very picky person when ordering a burger; you could also say that I'm the pain of every chef's skills as I'm always ordering the meat "well well well well done, please" and throwing a "I'm serious" behind.
And HOW well done it was! I guess the waitress understood my desire pretty well while she also understood that my companion likes it medium (they don't do medium-rare due to certain regulations we were told).
I all of a sudden felt the urge to keep it up with normal standards and ordered for cutlery … just to leave it on the side again after the desperate try to cut my nicely placed burger on its paper ground. It just doesn't work, you hear me?
If you're into dining in a decent, romantic, calm and more civilized high-end place, then you clearly lose at Meat Liquor! There's no cutlery, there's your beer, your hands and an awful lot of paper to clean your fatty hands after a while but shall I tell you something?
It's all you need from time to time. It felt so right plugging that well done burger with its smokey taste and the not too fluffy bun in while dipping the well salted fries into whatever you prefer to go with.
The size of the burger was perfect and left enough space for some nice hot chili chicken wings, which are nearly a must. A friend of us actually recommended them as one of the absolute signature dishes and oh boy, they were worth every little wing.
The pricing is quite cheap for a trending burger place in Marylebone; 2 regular burger, 2 bowls of fries and chicken wings with a coke for each was about 30 pounds. That's almost nothing I'd say … yet so feeding ;)
Some last advice? Try to be there before the big crowd will hit (before 6/7 .. I like my dinners early anyways so I've always been there between 5.30 and 6.30 and at both times there was no rush and no queuing but I guess it depends on the days).
***
74 Welbeck Street
W1G 0BA London
+44 7224 4239
YES, the chicken wings are not the prettiest thing to look at but hell, they taste TOO good to not include them!