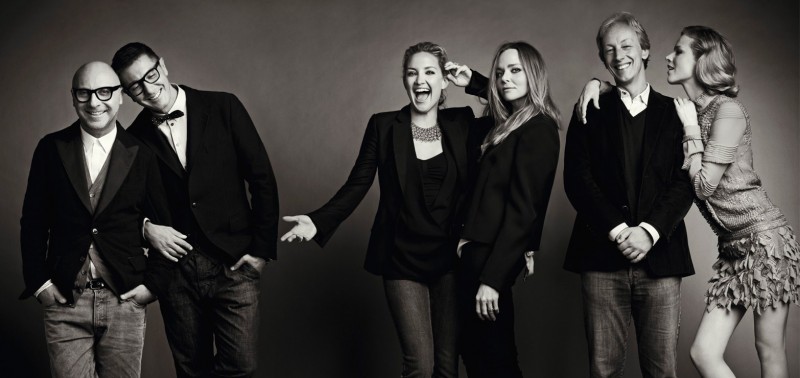 Officially kicked off for the first time last year, the Vogue Festival quickly (or shall I say immediately?!) established itself as one of the events to go to at times of Fashion Week pause.
I quite frankly never got myself through to buy tickets as I wasn't quite sure whether it would seriously pay off at the end of the day but now I can tell: It would have.
Brilliant heads and successful movers and shakers of the industry come together and sit down with British Vogue editor-in-chief Alexandra Shulman to talk about different topics. Being able to address some questions directly to the people themselves would have been just an amazing opportunity to do and I do regret having left this out.
Removing the woulda, coulda, shoulda in these remorseful lines up there, I was beyond happy to see that British Vogue actually recorded all the different talks and uploaded them online.
As London weather turns into rain over the weekend again, I thought this would be a great excuse to snuggle up in bed and watch (okay, I'm guilty, I already watched most of them .. only a few left). Just click on the provided things below or follow the whole overview directly.
My favourites?
So, You Want To Be A Fashion Designer? (Jonathan Saunders' accent is the most sympathic feature ever & Mary Katrantzou seems like one of the coolest people to hang out with on a day and talk about her business!)
Natalie Massenet (There was already a huge stir about Net-A-Porter's birth online, especially via Instagram, but seriously it's a little must)
Mad About the Girl (Interesting for everyone .. not only bloggers ;))
Victoria Beckham: My Fashion Life (Yes, I'm serious here. I was hesitating when clicking on the 45-minutes video but it was really worth it (I actually changed my thoughts). Sincere, kind, outgoing and very honest, I even had a little laugh all by myself while she was talking about her daily life. I really do believe she works hard 24/7 for her label and it's somehow impressive. Take a look & convince yourself).
Too Fat, Too Thin … Will We Ever Be Content? (A very opinionated, interesting discussion about our body images)
To get the full overview of the festival's panel & their recorded material, please click here.
Watch and learn … and have a nice weekend! :)
Picture credit: Courtesy of British Vogue