Since my lack of guilt-free time doesn't allow me to leave my desk (besides from swapping it to a place at a library), I'm slowly but surely getting my retail therapy craves back. It's a hard-knock life, I can tell.
Too many things turn out to be wanted/needed (who actually knows the difference!?) at more concentrated times like these (it's like everything you once wanted to buy, turns up in your head again whenever you start a good sounding sentence in your essay) and I tend to find myself on too many pages lately saving things in the big and secret "Online Shopping!" folder.
Similar to the fact that I found out about the Mid-Season Sale (and so did 3 billion other people I guess), I'm now sharing some of my favourites on Debenham's official homepage!
I hope you like them & I hope you're having a great weekend!
(Left to right: Fanprint Warehouse dress , Zip waist dress by Warehouse, Pique belted dress also by Warehouse)
(Far above: Warehouse dress, Diane Von Fürstenberg sunnies, Jasper Conran flats)
All of these simple but beautiful dresses are more than welcome to wander into my wardrobe (including the whole combination far above). I recently fall especially for easy shapes with small, minimalistic details. Makes some choices much easier to the question "what to wear" and although I spotted another beautiful long dress, I rather keep it short (even with pale bare legs ;)).
All of them work for day and night depending on the accessories.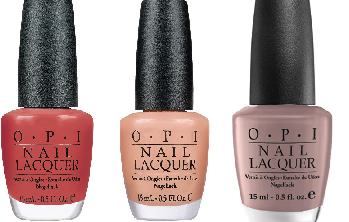 How can I not take a look at the Beauty/Make Up section too?! Easy, quite "neutral" colours always work for me!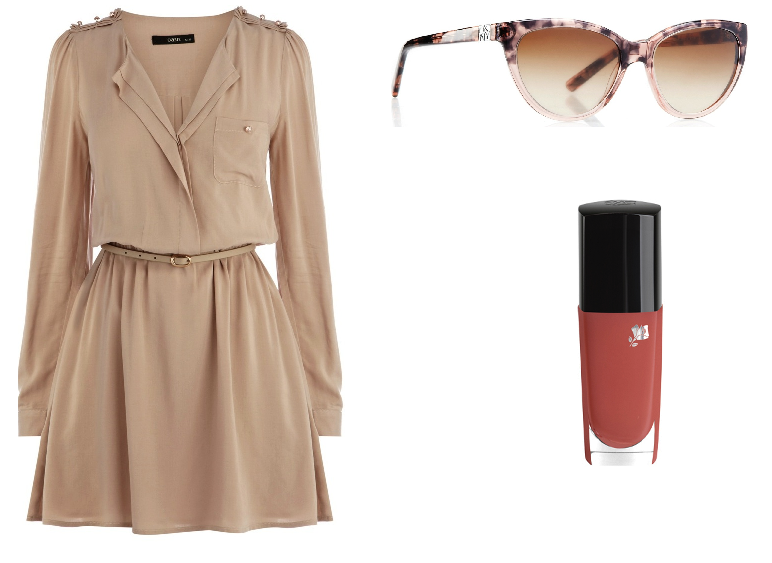 (Oasis dress made of Viscose, DKNY sunnies, Lancome polish)
Not the typical shades you'd see on me but I still had this look on my mind when spotting the dress (which I was hoping to get in black…). It works probably better on a tanned skin tone! (But I can keep on dreaming, right?)
At least I could work with the polish and the sunnies!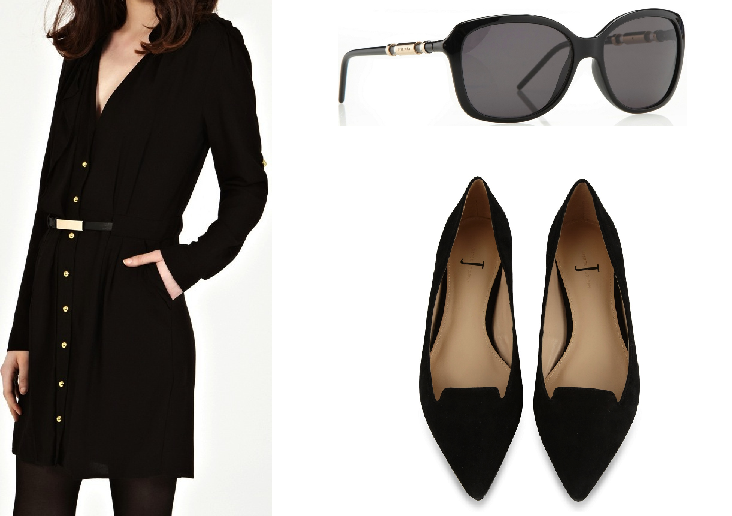 (Oasis dress made of Viscose, Jasper Conran shoes, Givenchy sunnies)
I know .. the second time you see these shoes now but I'm currently obsessed with pointy flats!
Also these beauties never fail to enhance an outfit without being too much. The dress is more of a winter kind of thing but I still can imagine wearing this on a much windier, colder day in spring. The minimalistic but well attention drawing belt matches the details of my chosen sunnies quite well, no? I wouldn't go for any further accessories here I think.
*This is a sponsored post. All of the written content is my own including my combination of the shown pictures. Pictures are the courtesy of Debenhams.