1 day after reading about Dior's current exhibition "So Dior" showcasing at Harrods, I got curious and decided to take a closer look.
And how it was worth it!
Expecting it to be way too hyped to be true & too many people waddling around , I was surprised by airy rooms, an elaborate split-up and actually a REAL exhibition taking place on the 4th floor of the well known department store.
Shamefully, I have to say that I wasn't really aware of the close relationship the french fashion house cultivated with the UK and especially the Royal family in the past. But I was taught different when being fed with various information displayed next to beautiful gowns, interesting designs and pictures of Lady Di and Princess Margaret among other prominent Dior appreciators.
As it says in the leaflet: "Christian Dior loved the English and had great admiration for England and its treasures, with a particular fondness for the department store Harrods."
It shouldn't of big surprise that this must be a huge moment for both of the houses; half of Harrods appears in a Diorish fever filling 3/4 of its window displays with Dior.
Covering every part of its craftsmanship, the fragrances couldn't be left out and although I've never been a true Miss Dior admirer (I prefer herb notes a little more), I somehow started liking it when finding myself in one of the "Dior phone cells" showing their past commercials (I may blame beautiful Natalie Portman for this!).
My absolute favourite must have been the room showing the J'adore commercial with Charlize Theron and past decades movie icons (lookalikes) in the background. Filled with loads of iconic J'adore bottles placed on the ground next to pretty dresses, I clearly recognised the focus on detailing of the curators and spent half of my time in this room to figure out how dramatic it must be if someone accidentally played domino with these bottles by falling down or touching one of them. ;)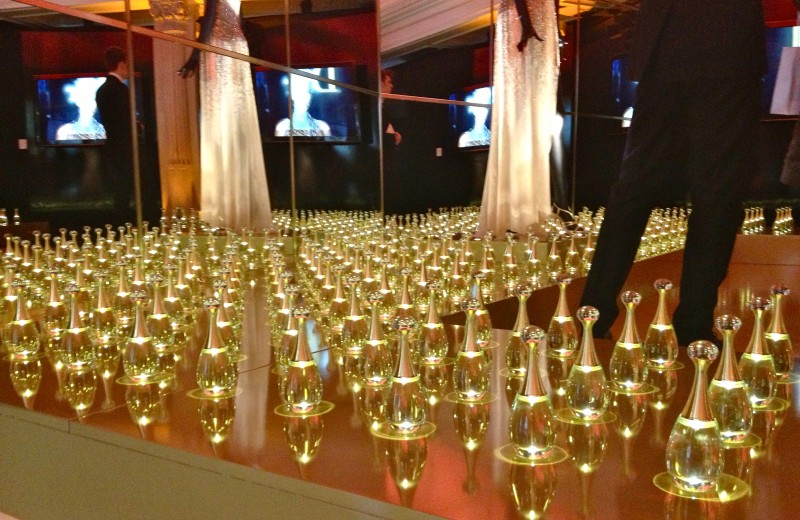 Taking 18 months (!) to create this Dior wonderland, there is not only the exhibtion but also a pop-up shop and a café remaining until the 14th of April.
Partially surprised but then again not (what the hell did I think where I'm living?! Small village without tourists and curious people?! Silly me), you have to book a table for lunch or tea in advance… which we certainly did for the second last day of the café and exhibition being there.
I'm looking forward and will surely report on how such a Dior lunch, the tea and the cupcakes will be (I'm convinced it well be exceptionally different from a regular Harrods lunch ;)).
Putting it in one description: This exhibition should be seen if you're in town!
Even if you're not going to sit down in the narrow Dior café and eat some cupcakes inside (you're still able to purchase them at the counter though).
At the beginning of the exhibition
A doll house with incredibly arranged little Miss Dior & J'adore bottles forming doll interior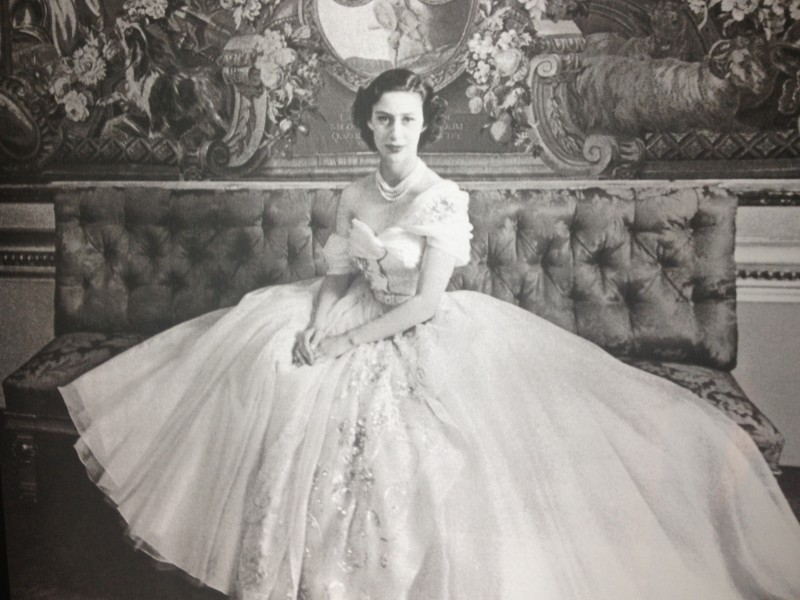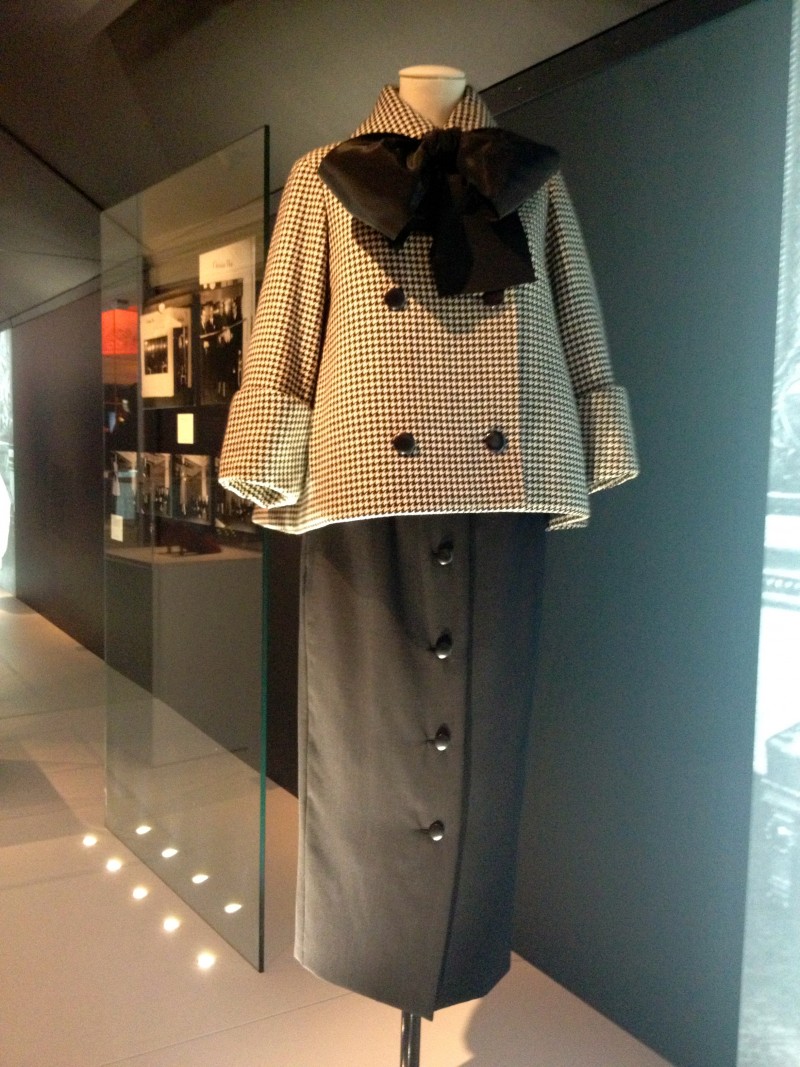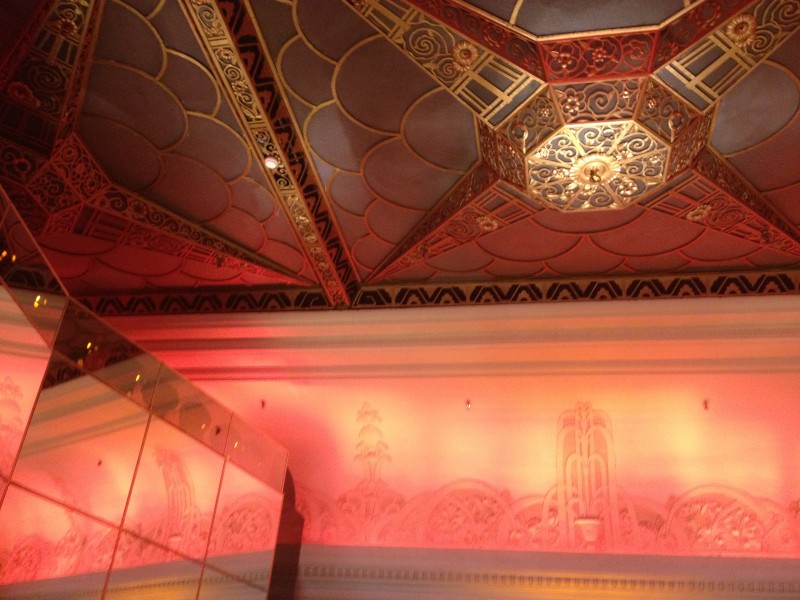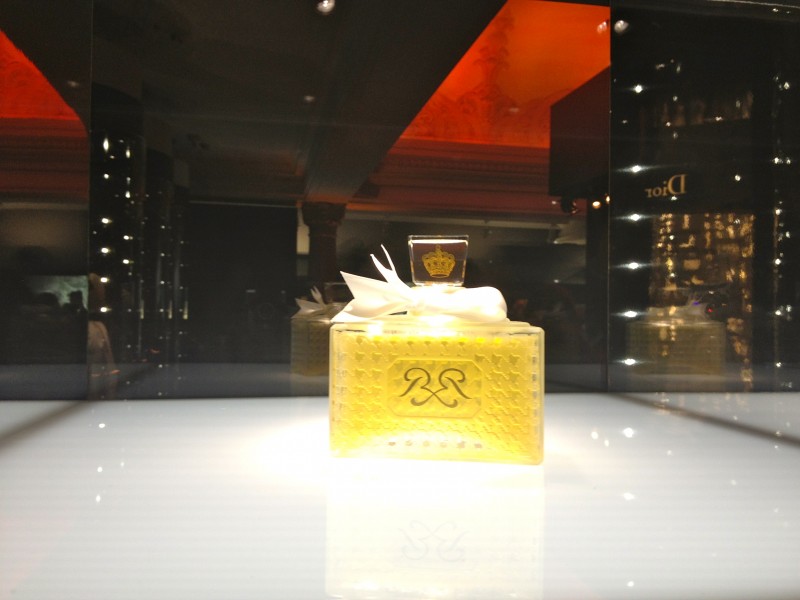 Miss Dior bottle designed for Grace Kelly featuring the Grimaldi coat of arms.
A very small selection of the incredible window displays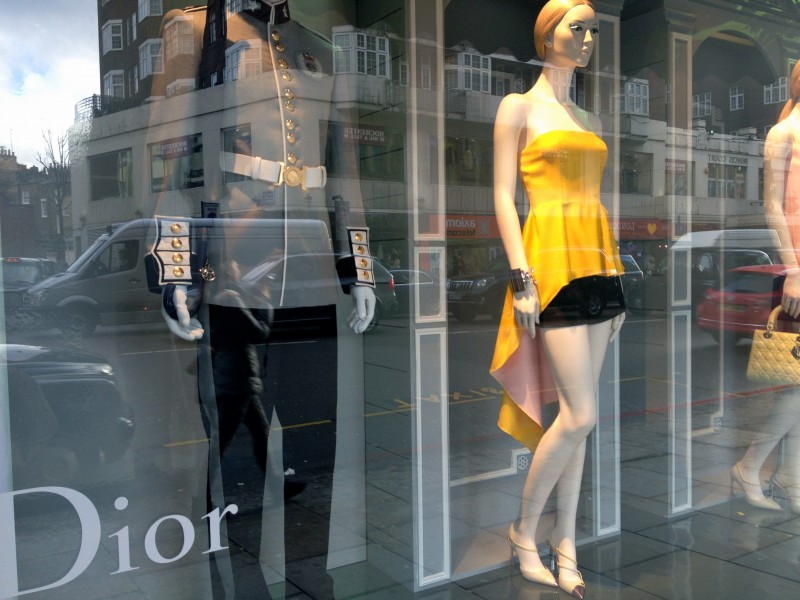 Necklace made of little Miss Dior bottles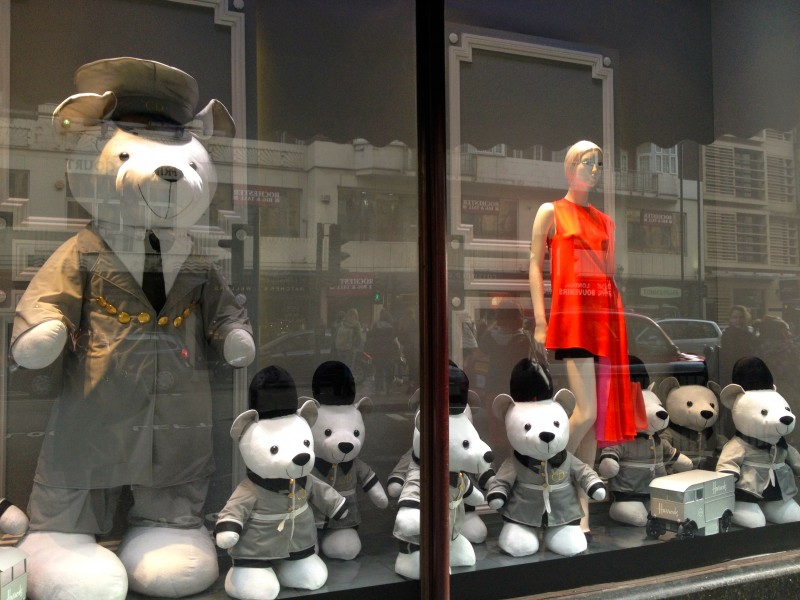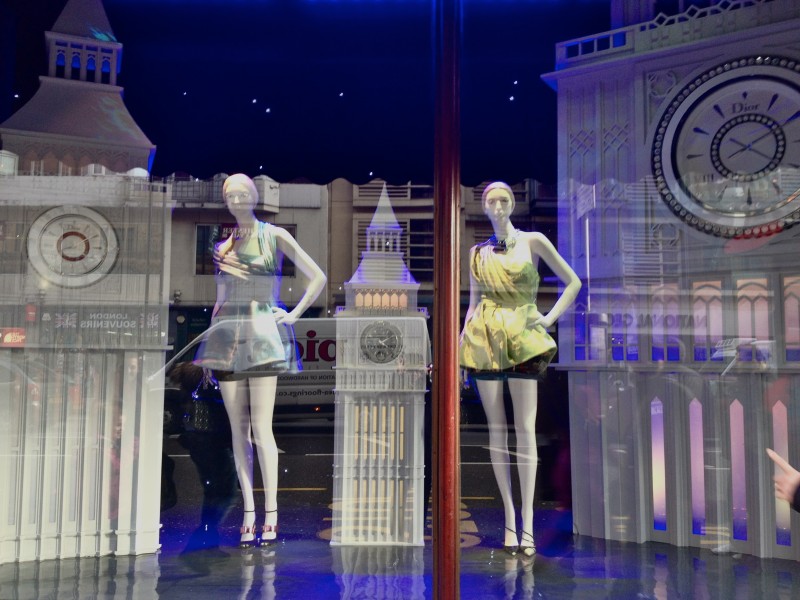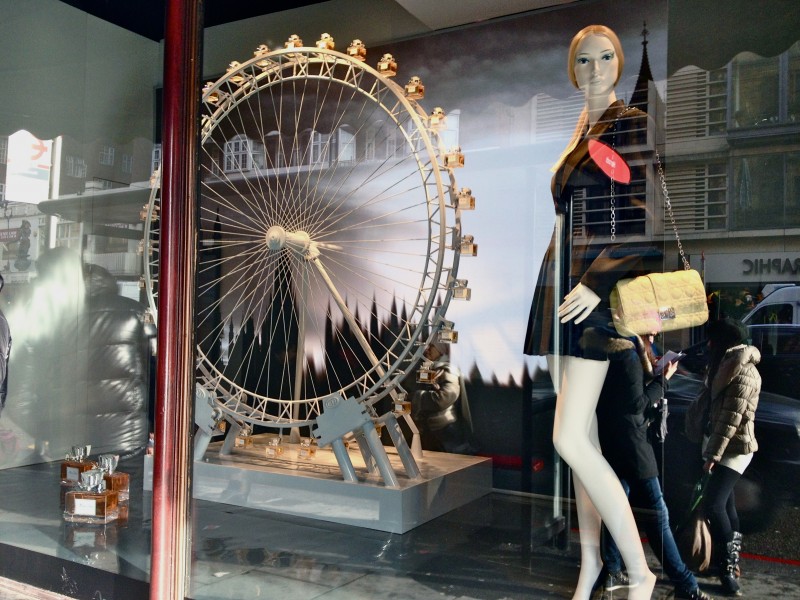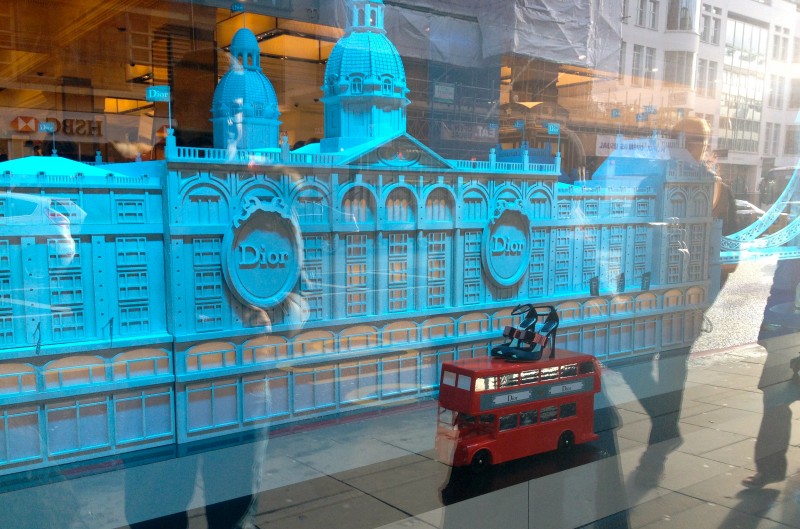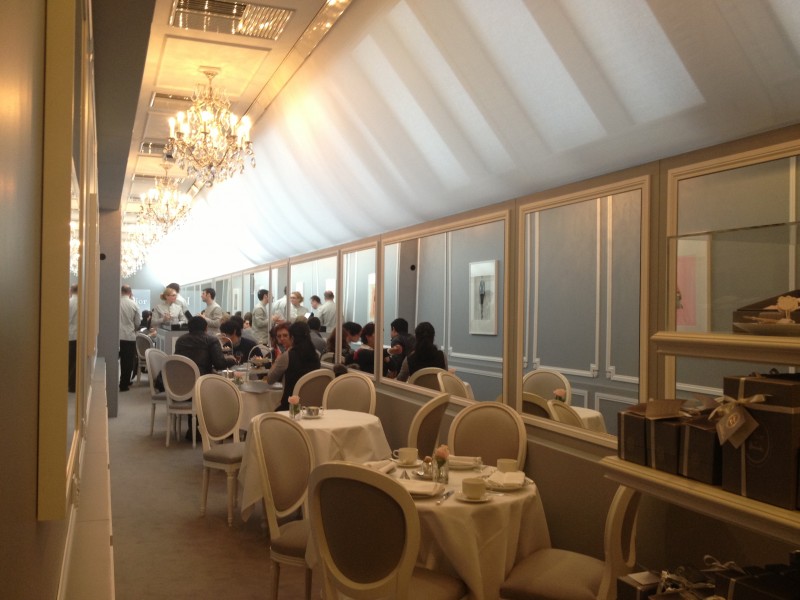 See you soon, Dior café!