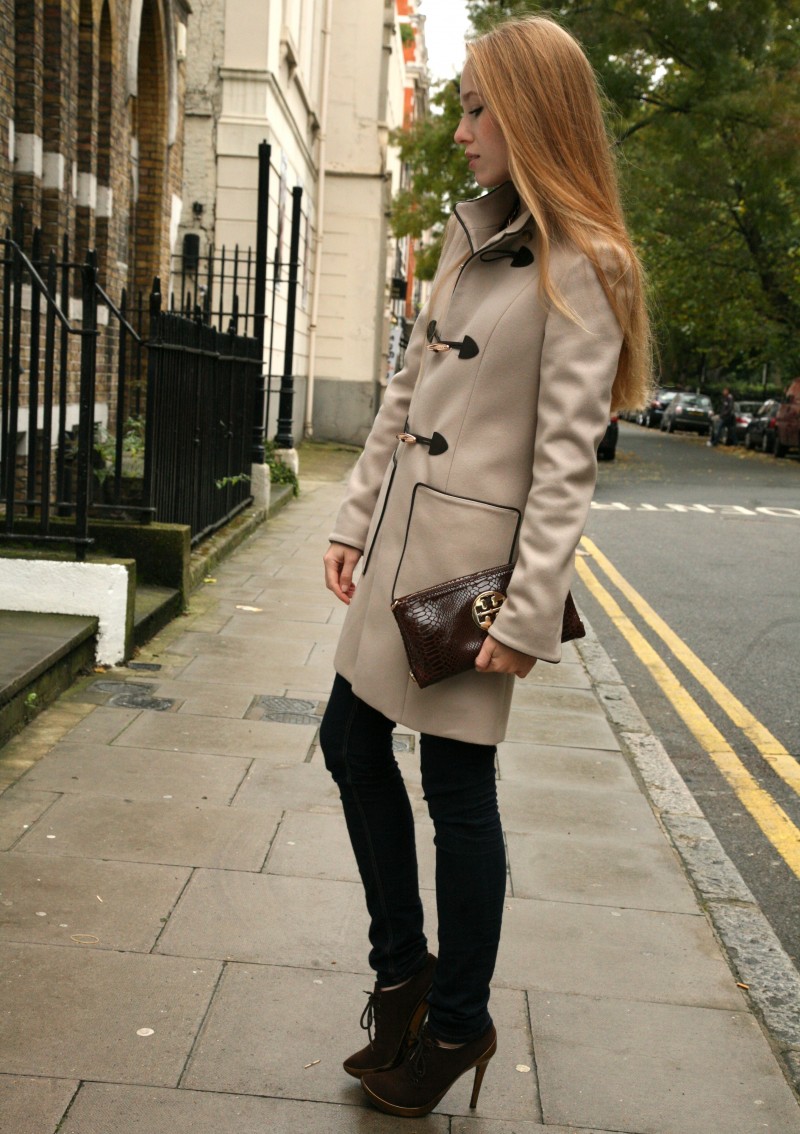 What a Sunday: Sleeping forever and receiving breakfast straight after getting up – could it be any better?!
Ignoring the fact that another even more packed week is about to come was quite hard but didn't make it impossible to keep on procrastinating.
That's why I took advantage of different exhibitions going on at the moment and reminded myself of the second most important thing (after the Frieze) to attend this October.
The Little Black Jacket exhibition I've been already talking about in this post has been finally seen with my own eyes!
I will do a full post about it this week but my Facebook & *DRUM ROLLS* Instagram (still don't think that it makes any sense) as well as my Twitter account have been already revealing some of my favourites on Sunday.
As I was just rolling myself out of the bed for this exhibtion, I decided to take a few shoots before heading to the Saatchi Gallery.
Rainy, cold and simply autumn, I couldn't resist but to take my duffle coat out of the closet.
I got it last year at Rainbow Store in Cologne and immediately (like always) fell in love with it the second it was showed to me.
I wasn't really into rose gold but with this coat and its beautiful detailing (chocolate brown leather tucks, and the pretty buttons…hmm) it fully convinced.
Something, which is not seeable yet, is the beautiful hoodie, which has a chocolate brown fur tuck and seems to make a little, fine difference to the general, classic duffle coats.
As a result of my rose gold doubts, I'm just in the poor possession of a chain necklace I received this summer back in Salzburg and one piece of my trinity ring (which I just put away when sleeping .. it's my alltime love).
And with the trinity ring in my head, I just ignored my rose gold lack and pulled some golden/as-if-golden details into my look.
I lastly wore these heels in March in this post – a real shame. As weird as they appear at first .. I really like them the longer I wore them.
To complete that slightly (and just slightly) mix of chic and casual, I decided to take my good old clutch. Why not wearing it at daytime!?
With some blisters (still they are not fully comfortable I admit) and a lot of impressions in my head, I ended a relaxed Sunday in rainy London. :)
Coat: Space Couture
Pullover: J.Crew
Jeans: Hallhuber
Chain necklace: New One
Clutch: Tory Burch
Heels: Walter Steiger