Bordeaux, Burgundy, charming red – call it whatever you like but it's definitely worth risking a buy on it.
Or solely think about it.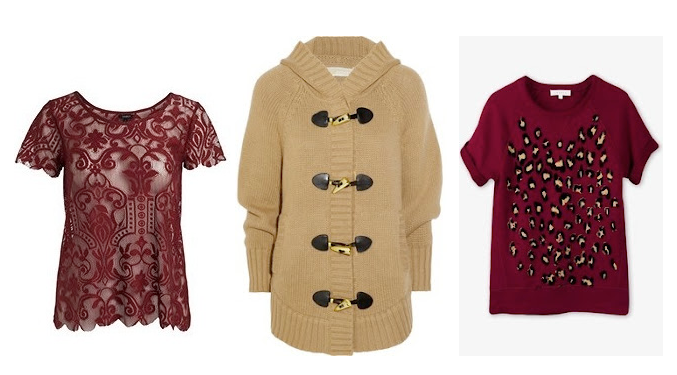 Looking at my Fashiolista loves of last month, I can clearly see an increasing attraction in the hyping colour (although I just possess some loafers in this shade).
Thinking about it a little further has brought me to the summary that this warm and sexy kind of red suits everyone (quite contrary to the spring/summer pastel colour).
Whether blonde, red or brunette, pale, tanned or dark – burgundy is definitely one of the more flattering tones to accompany us through the colder season.
Pairing it up with some beige pieces (preferably some pretty and warm cardigan) builds a super nice mood.
Although it seems as if I'm having enough sweaters of any kind, I still keep on finding pretty pieces which WOULD be more than welcome in my closet.
Especially that sparkling piece of a pullover looks tempting – sparkling bits and an easy cut… me gusta mucho. ;)
My discovery of a very cheap alternative to Dolce & Gabbana's F/W 12 creations (romantic yet super fine flower prints on dark bachgrounds) couldn't really convince to really buy it.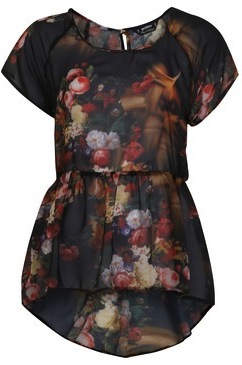 (Never been to Miss Selfridge before – should do that this week maybe…).
However, I still like the way it looks on the picture – the print looks lovely and although the cut is more girlygirl, I like how it is supposed to fall.
Quite similar to this print, yet completely different, appears the McQueen scarves with the typical skulls on it.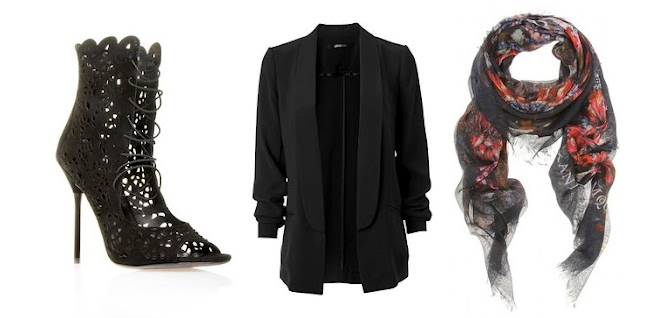 The feminine pattern mixed up with the supposed rocky touch – I really really really like it.
Above all of these likes, loves and finds, I stick to my favourite combinations as it clearly shows in the majority of pieces in September:
Grey and black  – there is no combinations like this, which can appear in so many moods.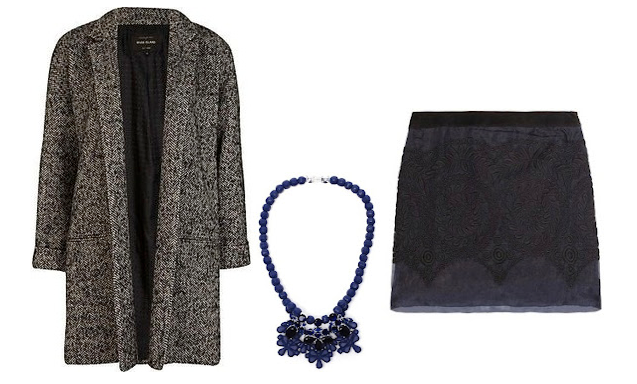 Sexy, sharp, to the point but at the same time cute, simple and puristic – I simply adore these two together in any kind.
Just like black and blue – the second edgy combo which does an effortlessly chic job at any occasion.
And talking about occasions… as my birthday comes closer I couldn't think of anything else since I saw that pretty dress by Allsaints (left, below).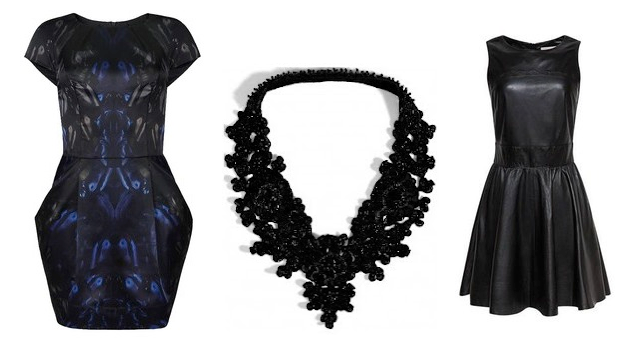 Although I'm having two beautiful dresses to be worn to such occasions just like my birthday (or Christmas or New Year's Eve… but that's another topic), all I'm currently seeing are dresses in any kinds.
Perfectly matching to these two combinations, I found two pretty statement necklaces (both displayed above in outfit thoughts), which (obviously) enhance every outfit.
Another shade which holds on through fall is definitely orange. Easy to combine but still an eyecatcher – I'm loving the pleated mini skirt and the (once again) pretty Matthew Williamson dress (above).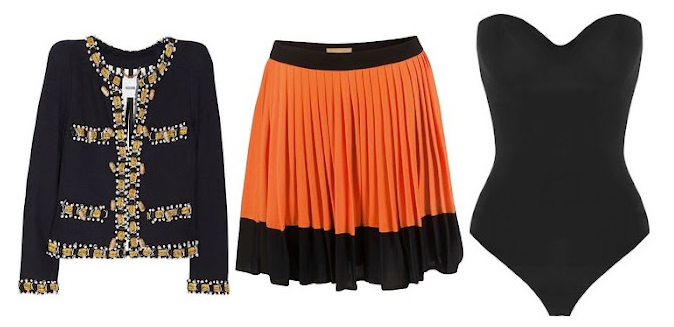 And last but not least, I'm heavily in love with these Kurt Geiger heels (shown above already). Although summer is beyond over, I've been searching for such heels for a few months and seriously think about taking them.
We'll see… .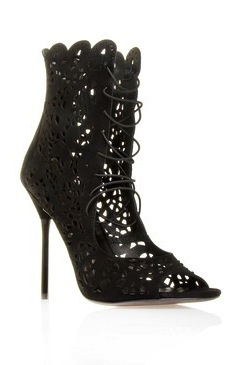 For now I'll leave you with these September loves. :)
Have a nice Tuesday!