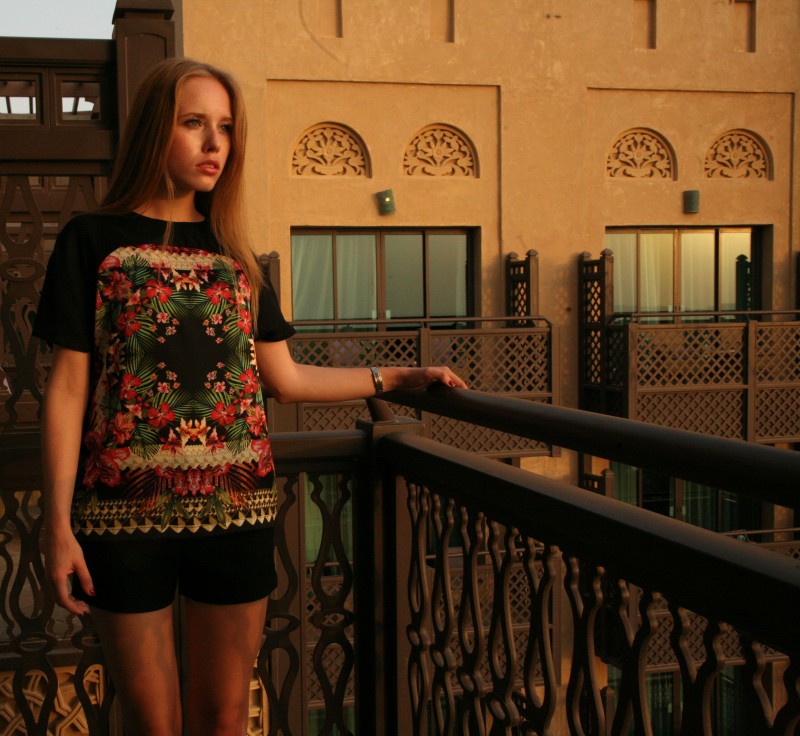 The last night here in Dubai… and I once again found myself in the obligatory what-do-I-want-to-wear question!
That's why I firstly went for this look, then changed later to something different (a long, bodyconscious dress (knee-length) with an exciting stripe pattern .. will surely wear it some other time again).
The whole symmetric flower/tropical pattern hype started much earlier than the follow-up of myself.
But I never saw any pattern (besides from Givenchy Menswear! (and let's face it… even the smallest size would look a little sad on me)) which would have convinced me to drown myself in it.
That's why I was quite happy when discovering a super pretty, feminine (!) print some months ago. Exactly what I've been desiring every time I looked at all the streetstyle fashion week pictures, which were much filled with similar if not exactly the same prints over and over again.
Combining this super loud shirt to simple black pieces added a certain elegant tone (although it might appear tricky to achieve without landing in a try-so-hard scheme).
All of these pictures were taken on our balcony while having a super nice last view of the sun going down.
I love how the light was giving everything an even stronger expression – whether it's the shirt, the black pieces or my hair.
There is still one very last and probably my favourite post of my Dubai trip to come… and I'm thrilled to release them the upcoming days :)
(A little reflection of my stay will surely follow with this!)
For now, I'll leave you with the balcony-meets-sunset impression :)
Shirt: Mango
Shorts: Ralph Lauren
Heels: Casadei