Again, I decided to announce two interesting dates that can't be left out the upcoming month!
MAWI Summer Sample Sale @ Mawi Studio
My jewellery-crush Mawi is doing another sample sale and how could there be any better chance for all Londoners (and those of you currently just being in town) to drop by and get yourself a classic piece of Mawi's most beautiful creations?!
I've been already attending the Spring sample sale (for a propper review, click here), found my beautiful babies and still love them to the max!
Sample sale runs ONLY on th 5th of July, from 9am to 8pm @ 2 Nimrod Passage, N1 4BU London!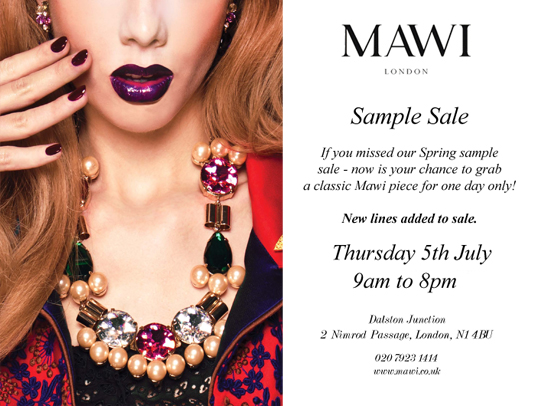 ******
Ball Gowns: British Glamour Since 1950 Exhibition @ V&A Museum
The Victoria & Albert Museum celebrates its renovated Fashion Galleries and displays a vast selection of the most beautiful ball gowns and red carpet robes from the past six decades.
Designers creating these gowns include names like Alexander McQueen (surprise surprise), Hussein Chayalan and Gareth Pugh as well as celebrities wearing them like legendary Bianca Jagger or Liz Hurley.
Although the exhibition runs until January 2013, I will try my best to visit it in July during my one week stay (while doing some flat searching – yay).