Voluminous and unexpected shapes, dark shades and a mysterious cool tone. Feathers and leathers -he wants it all. Georgian fashion designer George Keburia loves the unusual and surprises. Not least with his story.
Quite randomly I got to know George last week and after reviewing some of his past (and current) works, impression immediately hit me. After telling me a little more about his visions this whole feeling of being impressed resided on an even higher level.
Born in Tbilisi, the only 21 year old passionate designer can already look back on several mile stones that built his path into the industry.
Kicking off with his surprising win of the Tbilisi Fashion Week newcomers award in 2010 the self-taught designer received a chance that changed his life.
"It was an amazing feeling winning this.  I had no experience at all and not only received a huge chance but also gained motivation and self-confidence."
Self-confidence that led him to completely new visions and dreams that seemed (all of a sudden)even a little more realistic than they were before.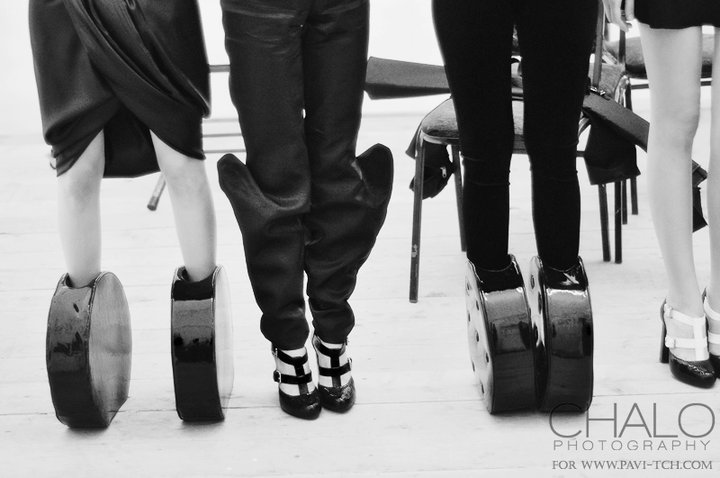 After winning the TFW newcomers award, Georgi's motivation transferred into his F/W 2011/2012 collection, which was only realisable due to a connected sponsorship coming from the award that ultimately let him present his collection at Tbilisi Fashion Week again.
" I think this kind of event can be a trampoline for young designers. Expressing oneself  but also showing what one is capable of seem to be two of the most important points  that should encourage others to try their best.", he said.
And what about his beliefs in fashion? "I can't say what fashion means to me but I know exactly what it means to the people out there. It's like religion or politics and influences people with the same strength." That are, what he said, the utimate factors that keep on motivating him throughout his different creations.
Defining what inspires seems to be hard. "There are way too many factors" that randomly approach him and so each of his produced collections appears to be different and with a certain character. Just like his icon  Nicolas Ghesquière does it.
Not having any team and just relying on himself, he created the current collection "Bird Nest" for the BE NEXT contest, which he once again successfully won. Using feathers, chains and organza make up to the collection's theme and will be sold worldwide at the French online shop CARNET DE MODE.
Chatting with George gave a clear impression  – ambitous and full of ideas he seems to be far away from any misunderstood  designer allures or wrongly placed arrogance.
I'm looking forward to hearing more from him soon. Watch out – this guy is ready to mingle all the way from Tbilisi!