The tacky thing about resort collections? Honey is striven all over your sweet little mouth so that you always expect more than it will be for the actual collections.
It's always  the same with me. I try to avoid looking at resort collections (besides from those that each online platform is talking about…) just to do myself the favour of misleading expectation.
Resort collections tend to be amazing and foreshadow a great variety of beautiful trends and pieces that make me crave for similar designs at a more tangible/realistic level.
But when I spent a few minutes on Fashionising, I couldn't resist when reading "Classical meets futurist" showing  Bette Franke in absolutely breathtaking designs.
I already somehow predicted this whole downed futurism path to slowly grow into the common names' houses and build a way straight to the runways.
So here we go with J. Mendel's resort, which is by far one of my favourites for various reasons.
Generally, Mendel's signature look has been slightly broken by a new way of creating (what he calls) "more bodyconscious" and "very tight" shapes which get rounded by clear cuts and semi-futuristic spins.
The peplum shape the outer world currently starts to get used to is continued in a new way by Mendel making it more fortunate to different body types due to the just slightly touched peplum-ish end at some of he top pieces.
Lively tones integrated in a dark setting find their statement as blurred flower patterns and are perfectly starting the new direction of Gilles Mendel's collection.
His great eye for detailing has been also proven with snake patterned lines perfectly finding themselves on a cold but sexy shade of matt mixed light blue and taupe. That tight leather dress already blows the wind but combining it to that striking leather jacket with an even stronger absolutely kills it!
To continue that cool, super strong look classic black in black combinations together with a burgundy toned note are pulled and this is finally the point that catches me.
To play all cards, he then also proof the lighter, elb like note of he label by designing beauiful gowns with the classic pleated detailing we were already engaged to in former collections.
I just started asking myself: Is there something Mendel has not pulled in this resort?! Ah-mazing!
 Black & blue  – still one of the chicest combinations!
 Special favourite: Fur vest in a perfect winter shade with shiny trousers & strappy heels!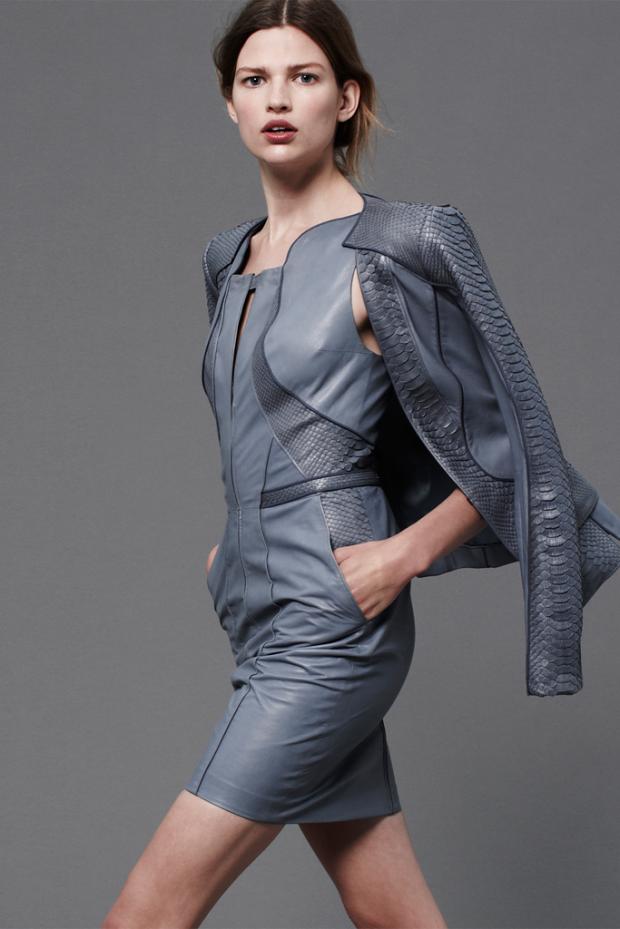 Jacket & dress – killer!